Sesame Street Live Brings More Than a Show
July 24, 2013, 2:42 PM HST · Updated July 24, 5:33 PM

0 Comments

By Vanessa Wolf

This Friday, Saturday and Sunday, Sesame Street Live: "Can't Stop Singing" performs at the MACC.

However, before taking to the Castle Theater stage, the show's actors will be paying a visit to invited clients and families of Imua Family Services, a non-profit organization based on Maui and Lana`i.

Imua services those facing challenges pertaining to their child's development, behavior or disability. Since 1947 they have been engaged in family-centered, community based, therapeutic services for infants, toddlers and preschool children (birth to age six) and their families.

The visit is a thrill for the kids.

According to Dean Wong, executive director at Imua Family Services, "Our children and their families face many challenges and issues, often they are going to therapy or doctors' visits from the time they are born, it becomes a part of their daily routines. Having an opportunity to take a break from all the therapy and just get an in person visit from Elmo or the Cookie Monster can bring so much joy to their lives."

The event also allows the children an opportunity they might not otherwise have.

"Many of our children at Imua Family Services would not be in a position, or possibly have the ability to see a show like Sesame Street Live," Wong explained, "but because of the generosity and community outreach of the MACC and the cast of the show this visit is made possible and will have a lasting impact and create great childhood memories."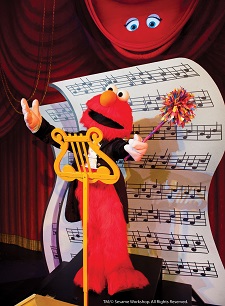 The show itself features many familiar characters in a musical context and is a multi-million dollar production.
Accordingly, the characters are no simple rag dolls either.
Big Bird is made up of 4,000 dyed turkey feathers individually sewn onto a piece of yellow organdy fabric that is attached to the body of the puppet and Abby Cadabby's hair is made up of 2,900 individual strands of tubular horse hair and her skirt has 100 sequins.
Each show takes seven to eight hours to set up. It comes in two 48-foot semitrailers that travel nearly 20,000 miles each season.
Sesame Street Live is produced and presented by VEE Corporation, and a portion of every ticket sold goes to Sesame Workshop to fund educational programs for children in the United States and around the world.
You can catch performances Friday night at 7 p.m., Saturday at 10:30 a.m., 2 and 5:30 p.m. and Sunday at 1 and 4 p.m.
Tickets are $10, $20, $33. There is also Gold Circle Seating for $48 and $75 Sunny Seats, which come with a pre-show photo opportunity.
Have an idea for a fun, funny or thought-provoking story or topic? Get in touch: we want to hear from you. – Vanessa (@mauinow.com)