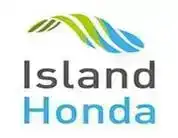 Lube Technician - Class D
Island Honda - Kahului, Maui
Lube Technician - Class D
Monday - Friday, 7am - 4pm & SOME Saturdays
Pay starts at $18/hr but will be more if you have experience!!
Responsibilities:
As an Automotive Lube Technician, you will perform vehicle maintenance as assigned in accordance with dealer and factory standards.
Perform minor maintenance, e.g., changing engine oil and filters.

Perform complete vehicle maintenance inspection including tires, brakes, and all fluid levels.

Communicate appropriate customer vehicle repair and maintenance recommendations to the service advisor liaison.
Qualifications:
Basic mechanical understanding of an automobile.

Experience as an express/quick lube technician preferred.

Operate a wide variety of cars, light trucks, and vans, with ability to drive both manual and automatic transmissions.

Acceptable driving record and a valid driver's license in your state of residence.
Email our recruiter at [email protected] for more information!!
We have an extensive list of benefits including PTO, Medical/Dental/Vision/Life Insurance, 401k and Employer Match, Employee Stock Purchase Plan and more!