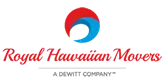 $18 / hr Packer / Helper
Royal Hawaiian Movers
KSM, 400 Hana Highway suite d, Kahului, HI, USA
Royal Hawaiian Movers has immediate openings for highly motivated Packer Helpers. If you are a high performer and want to join a dynamic company with over 250 employees and locations on all the major Hawaiian Islands with plenty of future growth opportunities, we should talk.
WHY YOU WANT TO WORK FOR US:
You will be working for a family-owned company that prides itself in investing in its own people
We value safety and with over 30 years in the business, we offer job stability and growth
Job Title: Furniture Mover / Packer Helper
JOB SUMMARY:
The Furniture Mover / Packer Helper will load and / or unload household goods / personal effects, products, parts, materials, crates, boxes, pallets of freight or commodities in and out of containers, warehouse, storage units, jobsite(s), and /or possibly customer / member(s) homes.
ESSENTIAL DUTIES AND RESPONSIBILITIES:
Pack/wrap Household Goods safely and securely

Unload/Unpack Household Goods and place into residence at customer request

Ability to use ALL moving equipment safely

Adhere/follow ALL company safety practices, policies, and procedures

Report all damages and/or injuries in a timely manner
REQUIRED SKILLS / ABILITIES:
Ability to read, understand, follow, and enforce safety procedures

Ability to foster a cooperative work environment

Ability to follow routine verbal and written instructions
The ability to give and receive verbal instructions

Pass pre-employment drug screen and criminal background check
EDUCATION AND EXPERIENCE:
High school diploma or equivalent.

Previous transportation experience preferred
PHYSICAL REQUIREMENTS:
Requires heavy lifting, pushing, or pulling required of objects over 75 pounds

The ability to respond quickly to sounds

The ability to move safely over uneven terrain or in confined spaces

The ability to see and respond to situations
The ability to work in extreme weather

The ability to walk, crouch, or kneel
BENEFITS
Medical and Dental
FSA and Guardian benefits
401K
Paid Time Off
Paid Holidays
Equal Opportunity Employer - Minorities/Women/Veterans/Disabled