South Shores Hold, North Shores Fade
April 23, 2015, 1:41 AM HST · Updated April 22, 9:56 PM

0 Comments

By Meteorologist Malika Dudley / Email: [email protected]

Alerts

A High Surf Advisory is posted for the south and east facing shores of Maui and Moloka'i through 6:00 p.m. Thursday and the south shore of Lāna'i. Surf of 6 to 8 feet is expected. Expect strong breaking waves, shore break and strong longshore and rip currents making swimming difficult and dangerous.

Small Craft Advisory is posted for all Maui County channels, Māʻalaea Bay and windward waters through 6 p.m. Friday. Southeast winds up to 30 knots and rough seas up to 13 feet are forecasted. Inexperienced mariners should avoid navigating in these conditions.

**Click directly on the images below to make them larger. Charts include: Maui County projected winds, forecasted swell direction, height & period, tides, a surface map and expected wave heights.**
+
Maui County Surf Forecast
North: Wave heights are expected to be knee/waist high today. Breaks catching the trade swell could see a few sets to head high.
West: Wave heights knee to waist high at the breaks open to the northwest swell early on. Otherwise, pretty flat conditions are expected today for spots shadowed from the swells.
South: Chest to shoulder high waves are expected today. Best breaks could get shoulder to head high sets early in the day.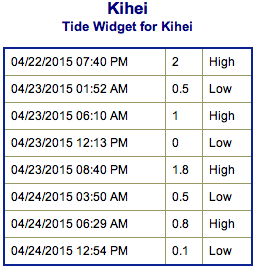 Our current northwest is expected to continue to fade Friday. A small boost out of the west-northwest is expected to build Friday for Saturday. Another boost is expected Sunday into early next week out of the northwest.
Combo of southwest and south-southwest swells expected to hold through Thursday and fade out Friday into the weekend. Next week is looking pretty quite out of the southern hemisphere.
Keep in mind, surf heights are measured on the face of the wave from trough to crest. Heights vary from beach to beach, and at the same beach, from break to break.  
**Click here for your detailed Maui County weather report.**