Viral Tinder Couple Enjoys First Date on Maui
August 9, 2017, 12:19 PM HST · Updated August 9, 12:22 PM

0 Comments

College students Michelle Arendas and Josh Avsec started exchanging messages on Tinder back in 2014. Three years later, they went on their first date, paid by Tinder, to Maui.

The two started messaging on the app but would take months to respond back to one another, coming up with creative excuses for the long delay. The first message "Hey Michelle," was sent by Avsec, and two months later Arendas finally responded saying, "Hey, sorry my phone died!"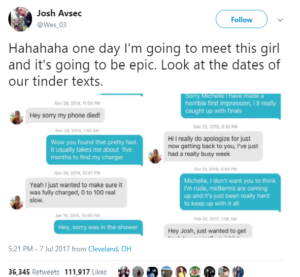 The duo kept their joke going for years which led Avsec to post a screenshot of their Tinder messages on Twitter saying, "Hahahaha one day I'm going to meet this girl and it's going to be epic. Look at the dates of our tinder texts."
The tweet went viral and when Tinder caught wind of it, they responded by offering to send the two to any location in the world for their first date. The pair chose Maui as their romantic destination.

Although they attend the same college, the two didn't meet until they flew to New York to be on "Good Morning America" in July.
Now, photos of the two enjoying their first date on Maui have been released. And, according to the Daily Mail, the Tinder match spent a full week together soaking up the sun and looking enamored with one another the entire time.
ABC News spoke with the couple, who stayed at The Grand Wailea Resort and Spa, about their once-in-a-lifetime first date.
+
"Never did I imagine our first date would be on a resort like this … it's like something from a postcard. It's amazing," Avsec, 22, said.
"On this trip I have learned about Josh's incredible energy. He is just always excited and always energetic, even on like a hot day like today, he's always ready to go," Arendas, 21, told ABC.
"You should hear her talk about her dreams and her passions and her career path … [her] determination and perseverance, it's really rare and awesome to be apart of," he said.
Both parties told ABC News they are hopeful they will see each other again.
"We're heading back to Kent soon and I know we don't have any concrete plans yet," Arendas said, "but I'm sure our paths will cross once we get back there."
"With everything going on, it's been hard to talk about the little things like when we do go back. She's so much fun I know once we get back home we're gonna want to meet up again," Asvec told ABC.