Maui's Art of Trash Receiving Day, March 31
February 14, 2018, 11:49 AM HST · Updated February 14, 11:51 AM

0 Comments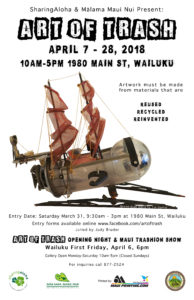 Maui's 2018 Art of Trash show will be accepting entries for the annual juried art exhibition from 9:30 a.m. to 3 p.m. on Saturday, March 31, 2018 at 1980 Main Street in Wailuku, next door to Native Intelligence.
Art of Trash, held during the month of April to celebrate Earth Day, features everyday discarded recyclable items that have been given new life in art pieces.
Artists are encouraged to start collecting, creating, designing, and saving recyclable materials that will inspire their artwork.
Artists entering the competition should be mindful that pieces made from natural materials, water feature pieces and works that include food will not be accepted. Judy Bruder, owner of Duck Soup, will jury the show.
Art of Trash is presented by local nonprofits Mālama Maui Nui and SharingAloha.
This exhibition seeks to change environmental awareness of what is trash and gives new perspective on how we might reduce our footprint by finding creative ways to keep reusable items out of our landfill.
There is a $15 per piece entry fee.
Entry forms are available online. For more information regarding the Art of Trash 2018, call Mālama Maui Nui at 877-2524. For creative inspiration, click here.
The public is invited to the opening festivities at Wailuku First Friday on April 6, at 6 p.m.
The gallery exhibition will run from April 7 – 28, from 10 a.m. to 5 p.m. The gallery will be open Monday through Saturday (closed on Sundays).