Maui News
Students find innovative solutions at Kīhei Charter's Engineering & Fabrication Lab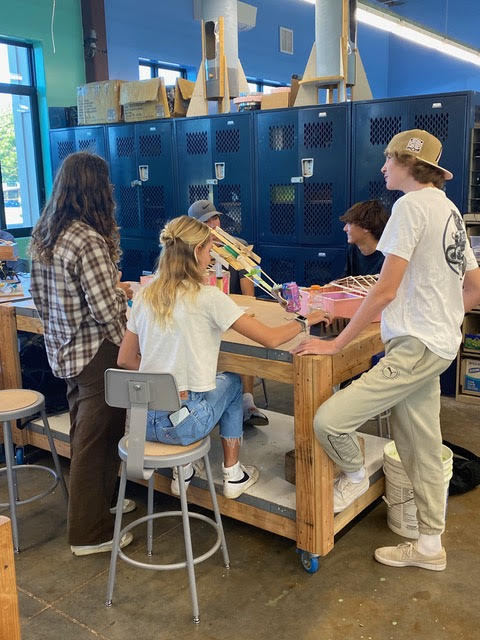 Students at Kīhei Charter School are finding innovative solutions at the school's Engineering and Fabrication Lab.
The engineering and fabrication shop initiative started in October 2022 and is led by Branden Hazlet.
"Our Engineering and Fabrication Lab is creating kids who are competent problem solvers, to figure out what is needed and identify steps to solve the problems. Teaching them to be technical problem solvers," said Hazlet.
ARTICLE CONTINUES BELOW AD
ARTICLE CONTINUES BELOW AD
One of the projects at the lab is being conducted by Lily Weinstein, a junior, who is working with a dog named Stewie, provided by the Hawaiʻi Animal Rescue Foundation, a nonprofit located in Waiheʻe.
Stewie was born without front legs and Weinstein has made it her project to design, test and build an innovative wheelchair for Stewie that can accommodate his disability. Most wheelchairs for dogs are made for dogs without hind legs, so this loving project is both innovative and will help countless dogs in the future, according to program leaders.
"Kīhei Charter is a special school, open to all families while supporting individual students who step-up to challenge their own excellence on a pathway to an adventurous life. The student body is very diverse and very motivated to imagine a better world, to challenge themselves, to hone their skills, and to solve the problems their generation must face," said Hazlet.
ARTICLE CONTINUES BELOW AD
Michel Stubbs, Head of School, and Gene Zarro of South Maui Learning ʻOhana prioritized building the hands-on engineering workshop for the community, in keeping with the long-established project based applied learning ethos at the school.
The Maui Facilities and Engineering Leadership Council is a partner with the Charter school project and has members from the biggest employers on Maui; hotels, the hospital, restaurants, supermarkets, any kind of business that has a large facility on Maui. They report that their members cannot find enough qualified applicants for engineering jobs paying as much as $40 per hour.
Stubbs said he hopes for an exposure to the trades as not all the kids are going to college. Of the 37 graduates of the Kīhei Charter School in 2022, 19 went to college and 3 joined the military.
ARTICLE CONTINUES BELOW AD
Stubbs said, "I stay up at night thinking about the needs of all our students. It is our responsibility to prepare them for that next step post-high school."
The Lab provides an opportunity to try something different, and they may be able to utilize skills learned in engineering and fabrication classes and launch an internship with a local organization, utilize some of those skills, gain some new skills, do some networking, and eventually enable them to obtain employment here on the island and fulfill the workforce need we currently have.
Skills taught by a team of teachers working with middle school and high school students include computer use, computer software, writing software, physical science, 3D modeling, 3D printing and tool use.
Program administrators say students will experience the frustration, joy, and pride of problem-solving and collaboration skills all while preparing themselves for the active ownership role their generation must inherit. "They will not just be consumers, but producers."