Maui News
500 UPW workers vote to strike in dispute over pay; Maui Health hopes for agreement
By Wendy Osher

February 16, 2023, 8:05 PM HST
* Updated
February 17, 5:44 AM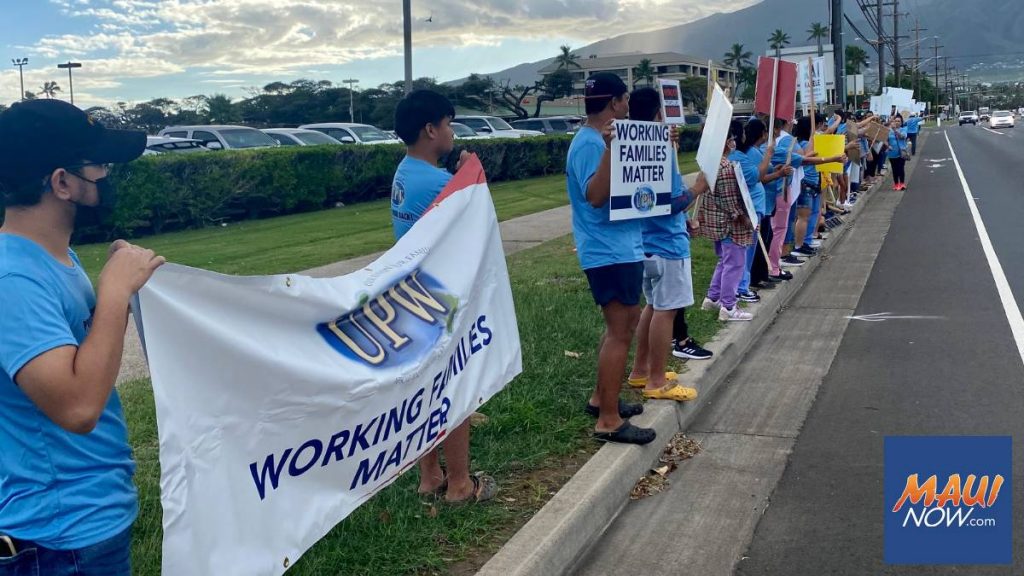 Nearly 500 frontline healthcare workers at Kaiser's Maui Health System have voted to strike in a dispute over pay, but Maui Health hopes an agreement can still be reached.
Nurses aides, respiratory therapists, housekeepers, cooks and other workers at Maui Memorial Medical Center, Kula Hospital and Lānaʻi Community Hospital are set to walk out and begin organized picketing at all three locations on Wednesday, Feb. 22, 2023, at 6 a.m., according to the union representing the workers.
United Public Workers AFSCME, Local 646, AFL-CIO said its members voted by a 97.6% majority to authorize the strike. "These workers deserve to be paid fair wages after laboring through the pandemic, enduring staffing shortages and dealing with soaring inflation," said State Director Kalani Werner in a news release.
ARTICLE CONTINUES BELOW AD
ARTICLE CONTINUES BELOW AD
Maui Health reports it received the strike notice on Friday, Feb. 10. Maui Health spokesperson Tracy Dallarda responded to Maui Now's request for comment saying the strike notice does not necessarily indicate a strike will commence, but if the union intends to actively strike, the start date will be Wednesday, Feb. 22, 2023.
In a statement on Thursday afternoon, Dallarda said, "Maui Health continues to bargain in good faith and is committed to reaching a fair and equitable agreement. While it is uncertain a strike will take place, the Maui Health team has prepared a contingency plan to minimize disruption to patients, visitors, and overall operations."
The union, meanwhile said, "After nearly nine months of trying to work with Kaiser to ensure a fair work environment, the workers have lost confidence in the hospital's management." Union representatives say workers elected to strike after contract negotiations and subsequent mediation failed.
ARTICLE CONTINUES BELOW AD
The Maui Health System workers have been working under a contract extension since June 30, 2022, according to the UPW.
"Our workers generously gave their all in the spirit of cooperation and lōkahi to support the community through the pandemic and beyond, but there has not been any appreciation by the hospital," said Werner who called the union requests "fair and reasonable."
Maui Health continues to hold onto hopes that an agreement can be reached. "We will continue to negotiate in good faith in hopes of reaching an agreement soon," according to Maui Health.