Maui Arts & Entertainment
Maui Film Festival announces 2023 honorees and film slate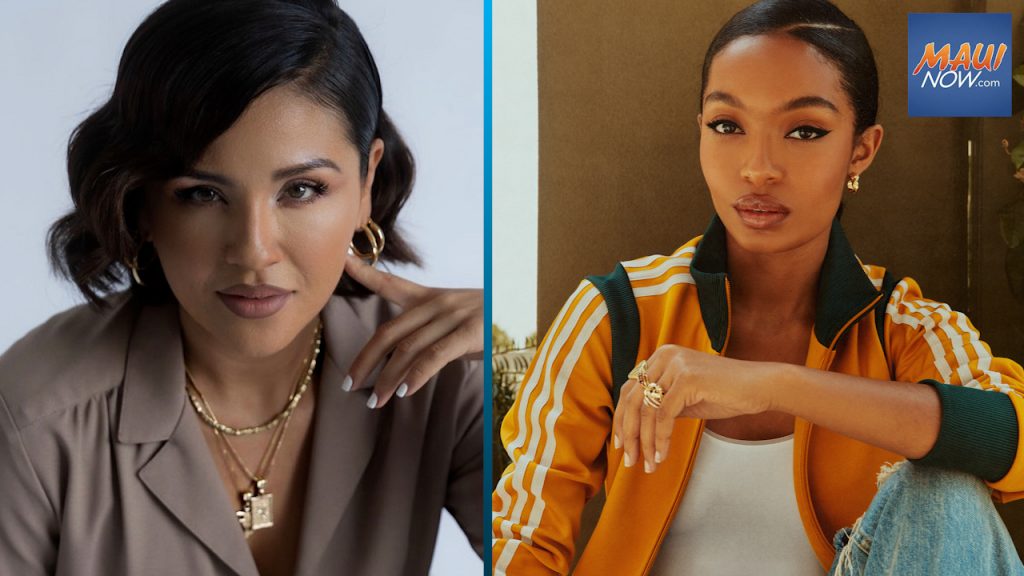 Maui Film Festival announced today its 2023 honoree and film line-up for its 23rd annual event, taking place June 28 to July 2 at the Maui Arts and Cultural Center in Kahului. 
The festival honors: Annie Gonzalez, starring as 'Judy Montañez' in Flamin' Hot, with the Rising Star Award; and Yara Shahidi, starring as 'Tinker Bell' in Disney's live action film Peter Pan & Wendy, will receive the Shining Star Award.
The festival celebrates the art of storytelling with five days of films, festivities and honoree tributes.
"We're so excited for this year's Maui Film Festival, celebrating exceptional filmmaking in the service of compassionate and transformative storytelling and recognizing our honorees who have made extraordinary contributions to cinema," said Barry Rivers, Founder & Director, Maui Film Festival.  "Our slate is filled with compelling, entertaining, and magical stories that will inspire our Maui community – all to be enjoyed at our magnificent Stardust Cinema under the sun, lit by the moon and powered by the sun," Rivers said.
Yara Shahidi, who can currently be seen starring as 'Tinker Bell' in Disney's live action film Peter Pan & Wendy, will receive the Shining Star Award which recognizes "a film artist who dares to dream big and delivers brilliantly charismatic and revelatory performances every time that opportunity knocks."
ARTICLE CONTINUES BELOW AD
ARTICLE CONTINUES BELOW AD
An award-winning actress, producer, and the breakout star of ABC's Emmy and Golden Globe-nominated series black-ish, Shahidi currently serves as executive producer and lead of Freeform's black-ish spinoff series, grown-ish. She also executive produces and stars in Meta's new interview show, Yara Shahidi's Day Off, where she joins her celebrity peers and gets a glimpse into their lives through a variety of experiences that reflect their authentic interests outside of their fame.
Next up, Shahidi will executive produce and star in Amazon Studios' upcoming romantic-comedy Sitting in Bars with Cake. She will also appear in the upcoming action-thriller Ballerina Overdrive, alongside Lana Condor and Lena Headey.
Off-screen, Shahidi is a champion for inclusive media programming, and an advocate for equity. Identified as a leader of the New Hollywood guard, she has received numerous accolades for her work outside of entertainment, such as TIME Magazine's 30 Most Influential Teens, Forbes 30 Under 30, British Vogue Forces for Change, Glamour Magazine's Women of the Year and Essence Magazine's Black Women in Hollywood to name a few. Inspired by her extensive work with President and First Lady Obama, Shahidi founded Eighteen x 18, now called WeVoteNext, to shine a light on Gen Z and BIPOC inclusion in the political process. A sought-after public speaker, Shahidi has appeared in conversation with university peers and thought leaders such as: Dr. Angela Davis, President Obama, Harry Belafonte Jr., former Secretary of State Hillary Clinton, Dr. Cornell West, Senator Cory Booker, and Senator Rev. Raphael Warnock.
In May 2023, Shahidi graduated from Harvard University with a B.A. in Social Studies and African American Studies with a concentration in Black Political Thought Under a Neocolonial Landscape.
Annie Gonzalez, who can currently be seen starring in the lead female role of 'Judy Montañez' in Eva Longoria's feature film directorial debut, Flamin' Hot, for Searchlight Pictures, will be presented with the Rising Star Award which recognizes an actor or actress for abundant creativity to support honest and life-changing art.
ARTICLE CONTINUES BELOW AD
Flamin' Hot is the inspirational life story of Richard Montañez, the Frito-Lay janitor who utilized his Mexican American heritage to develop Flamin' Hot Cheetos and ultimately created a pop culture phenomenon that disrupted the food industry. The film premiered at this year's SXSW and received the "Audience Choice" award. It is currently the #1 movie streaming premiere in Searchlight Pictures' history and the first film to get a simultaneous release on Disney+ and Hulu where it premiered on June 9 and is currently streaming.
Gonzalez will next be seen starring in the upcoming highly anticipated Jenni Rivera biopic, where she plays the incredible Jenni, herself. She will next be seen in the upcoming independent thriller Body Language and an untitled Ethan Coen project.
"Gonzalez's charisma, beauty, comedic timing, and strong dramatic performances continue to cement her as one of Hollywood's new leading talents. She is an outspoken advocate for civil rights and Latinx culture," according to a festival news release. Gonzalez resides in East Los Angeles.
Stardust Cinema: June 28 – July 2
The one-of-a-kind Stardust Cinema includes 11 feature film premieres taking place June 28 – July 2 at the Maui Arts & Cultural Center.
ARTICLE CONTINUES BELOW AD
This year, guests will enjoy a magical open-air cinema experience outside under the stars, lit by the moon and powered by the sun, live music, dance, kahiko style hula, festival tributes and more.  Each festival pass includes all films and festivities on chosen nights at the Stardust Cinema.
This year's festival will include 11 feature film premieres. View the complete film slate at MauiFilmFestival.com/2023StardustCinema.
To purchase tickets and view the schedule for the Stardust Cinema, visit: MauiFilmFestival.com.
Speed-of-Light Virtual Cinema: July 3 – July 30
For film lovers who wish to stay home or anywhere else in the world, 50+ short and feature films are available to stream through the Maui Film Festival Speed-of-Light Virtual Cinema taking place July 3 – July 30. This year's Virtual Cinema showcases a colorful array of feature films highlighting politically, culturally and socially relevant topics from diverse storytellers from around the world. Passes are available now for a limited time at: MauiFilmFestival.com/2023VirtualCinema
Festival Sponsors
The 2023 Maui Film Festival is made possible by the continued support of a number of local, national and international organizations.  As of June 13, this year's Official Sponsors include: Community Partners: County of Maui, Maui County Film Office, Maui County Office of Economic Development; Legacy Partner: Engaging the Senses Foundation; Lead Partner/ Official Airline Alaska Airlines. Lead Partner: Four Seasons Resort Maui at Wailea; Silver Screen Partners: Pacific Media Group, Maui Now; Spotlight Partners: Maui Ocean Center, Kai Kanani, Hawaii Life; Signature Sponsors: Maui No Ka Oi, Spago, Maui Wolfgang Puck; Maui Ocean Vodka, Lei Flooring America; Industry Partners: Variety, Film Hawaii, Picture Mill, Wix; Media Partners: Akaku: Maui Community Media, Hawaii Public Radio, KAOI Radio Group, Mana'o Radio, H. Hawaii Media, The Maui News and MauiTimes.org; Key Kama' Aina Partners: Maui Arts & Cultural Center, Levin & Tabon: Certified Public Accountants, Isla James Salon, MANA Foods, Rivers to the Sea: Maui Surf Lessons, StellaRivers.com, Timeless Apothecary, Maui Economic Development Board, TS Restaurants, Leilani's, Duke's Maui, Kimo's, Maui Oil Company, Moon + Salt and Marco's Grill and Deli, Smile Hawaii, Smooth Movers, Mala Tavern, Down the Hatch, Pizza Paradiso and Hi Duckine.
The Maui Film Festival was founded in 2000 by Barry Rivers as a festival committed to the celebration and exploration of cinema "at the intersection of smart and heart."
Since its inception, the Maui Film Festival has screened more than 1,500 narrative and documentary feature length and short films from around the world to a diverse audience of industry luminaries, filmmakers, cineastes and movie lovers of all ages.
Over the last 23 years the festival has honored such talents as Elizabeth Banks, Angela Bassett, Connie Britton, Adrien Brody, Pierce Brosnan, Tim Burton, Jessica Chastain, Bryan Cranston, Lana Condor, Claire Danes, Geena Davis, Laura Dern, Zooey Deschanel, Viola Davis, Adam Driver, Clint Eastwood, Scott Eastwood, Zac Efron, Colin Farrell, Andrew Garfield, Karen Gillian, Jake Gyllenhaal, Woody Harrelson, Garrett Hedlund, Helen Hunt, Michael B. Jordan, Brie Larson, Bill Maher, James Marsden, Mike Myers, Lupita Nyong'o, Freida Pinto, John C. Reilly, Rob Reiner, Christina Ricci, Dennis Quaid, Emma Roberts, Paul Rudd, Luke Wilson, Owen Wilson, Olivia Wilde and Evan Rachel Wood among many others.
Learn more at mauifilmfestival.com.