Maui News
Lt. Gov. Sylvia Luke visits Wailuku Elementary as public preschool prepares to open
By Wendy Osher

July 27, 2023, 4:59 PM HST
* Updated
July 27, 6:33 PM
Maui's Wailuku Elementary is one of 11 public preschool classroom sites across the state that are slated to open this school year, thanks to Lieutenant Governor Sylvia Luke and the Ready Keiki Initiative.
The Lt. Gov. visited the Wailuku site Thursday morning, where she announced that two more classrooms at the school will be brought on as part of the program next year, to serve as a hub for Central Maui.
"The special thing about this classroom is Wailuku Elementary has seen a decline of population over the years," according to Lt. Gov. Luke. This has opened up classroom space for the campus to serve as a hub for the area, instead of having preschools on every campus. It also allowed for classroom renovation, instead of a brand new build, saving time and money in the process.
"I'm very excited. We've been working hard to set up and reach out to the community," said Kim Holokai, who will teach the Pre-K class in Wailuku.
In Hāna, plans are underway to open a Pre-K classroom at Hāna High & Elementary School as part of the initial rollout, serving residents of the rural East Maui community. The Hāna classroom is a standalone site vs. a renovation, so the exact start date for that site is pending further assessment.
ARTICLE CONTINUES BELOW AD
ARTICLE CONTINUES BELOW AD
When the program was announced earlier this year, state leaders touted the project as one that will prepare children for educational success, while saving money for families who need their kids to have a safe space during working hours.
Beside Wailuku and Hāna on Maui, other schools included in the initial rollout are: Waimea Elementary School on Hawaiʻi Island; Kīlauea Elementary School on Kauaʻi; and seven sites on Oʻahu—Fern Elementary School, Honowai Elementary School, Kaʻewai Elementary School, Lincoln Elementary School, Pope Elementary School, Sunset Beach Elementary School, and Wahiawā Elementary School.
Demand identified; Expansion envisioned
The Pre-K program is available at no cost to parents, with each participating site serving 20 children. The demand as evidenced through applications, has already proven there is a need.
"Just from what we have learned, we announced these 11 classrooms just about a month ago, and most of the classrooms are already filled. So that tells us how in demand these preschool classrooms are," said Lt. Gov. Luke.
ARTICLE CONTINUES BELOW AD
The site at Honowai on Oʻahu had 45 applications within just a few weeks. That's more than double the number of applications than slots available. "So that tells you, we as a state, have an obligation to fill the need for many of our working families," said Lt. Gov. Luke.
Maui County's outlying islands of Molokaʻi and Lānaʻi are not included in the initial launch, but the program is expected to expand to those islands eventually, and to several other communities on the island of Maui, including prospects in Kula, Pukalani and Kīhei.
Lt. Gov. Luke said there's a possibility that some of the 28 additional sites identified around the state could open in the winter, instead of waiting until next school year to accommodate demonstrated community needs.
"I'm excited that Principal [Nikan] Arapoff [of Wailuku Elementary] is open to doing more classrooms, because that's what it's really going to take," said Rep. Troy Hashimoto, who represents District 10 (portion of Waiehu, Paukūkalo, Wailuku, Wailuku Heights, Waikapū) where Wailuku Elementary is situated.
"We're actually competing against the rest of the state, so we need to have willing principals on Maui to want to open more of these Pre-K classrooms. We have the money in place from the legislature, so I think a lot of things are lining up, and now we've just got to work together to help better our community, and make sure we can deliver in educating our youngest keiki," said Rep. Hashimoto.
ARTICLE CONTINUES BELOW AD
Act 46 in 2020 established the goal to provide all keiki ages 3 to 4 with access to Pre-K enrollment by 2032. Act 257 in 2022 appropriated $200 million to expand access to Pre-K by building new school facilities and renovating existing ones to increase preschool capacity.
Under the Ready Keiki plan, a single classroom renovation was budgeted for $1 million, but the first 11 classrooms will cost under $500,000 each. By focusing on renovating existing classroom space vs. starting new construction, government leaders say they save both time by bypassing permitting, and money by using existing infrastructure.
When the program was announced in January, Lt. Gov. Luke said the goal is to have 80 new classrooms statewide ready by next year, and 465 preschool classrooms by 2032.
Making universal access a reality while addressing inequities in early education
Lt. Gov. Luke reflected upon her own experience saying, "My son is now 21, and when he was young, as soon as he was born, people were telling us 'you have to get him on a wait list for preschool because preschool is so competitive,' and 'if you want to send your kids to preschool, you've got to already start looking for it.'"
"You know how it is as a young mother, thinking back—you just gave birth and you're already under pressure to ensure that your child has the same leg up in life as other people," she said. "I was fortunate that we were able to send my son to preschool. Not everyone is in the same situation."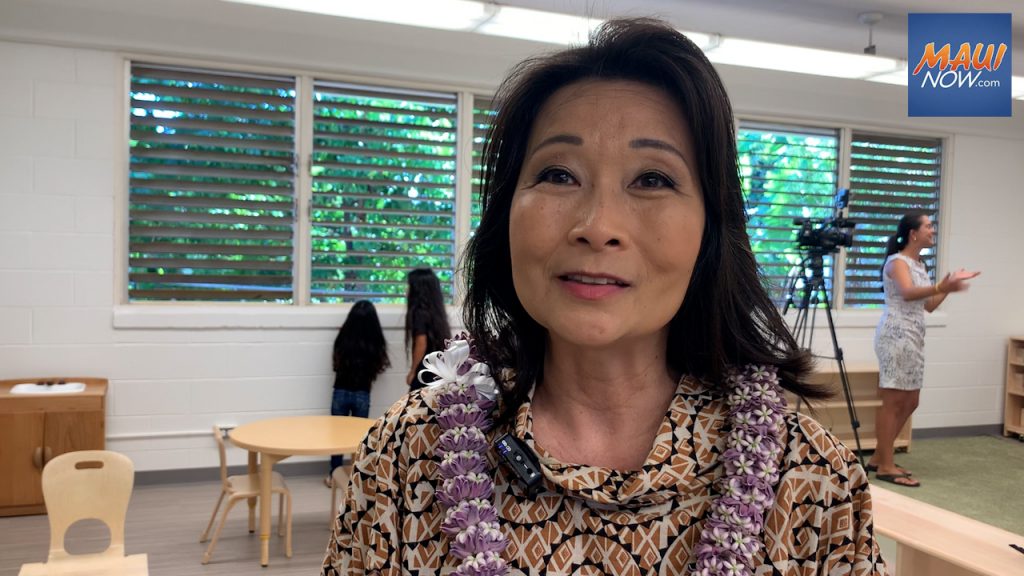 "Early childhood is a huge barrier for a lot of families just because of the cost," said Rep. Hashimoto. "And so I think the initiative to bring down the cost and give free seats to families will be tremendous."
"For most of our community we're having parents that are trying to get back to work after COVID, and it's a huge help," said Senator Lynn DeCoite (District 7—Hāna, East and Upcountry Maui, Molokaʻi, Lānaʻi and Kahoʻolawe). "We've had many instances where people do not want to go back to work because of the cost of child care. So this is going to be huge."
A long time coming; Goals and outcomes discussed
"I think it's a long time coming," said Rep. Hashimoto, who thanked Lt. Gov. Luke for driving the effort to launch the program ahead of schedule and under budget.
"Thanks to the efforts of many of the people here—not just the department, but the legislators, many of the stakeholders and applicants who pushed, making sure that we have preschool access for many of our kids—[they] are so happy that we were able to open 11 ahead of schedule, and we're on track to open many more in the next several years," said Lt. Gov. Luke.
"The ultimate goal really is about parent choice. There will be parents who may not want to send their kids to institutionalized or structured preschool, and we honor that. It's to make sure that we have available seats for anyone who is interested in sending their kids to affordable and sometimes public pre-preschool, have the opportunity and the ability to do it," said Lt. Gov. Luke.
According to research detailed on the program's website, 85% of brain development occurs from birth to age 5. "Preschool provides children with opportunities to develop social, emotional, cognitive, and physical skills. It will also prepare these children to be school ready for kindergarten, which has long-lasting impact on their future education and development," according to the site.
"We know that studies have shown that if you can get young students educated, it will carry throughout their life. It will give them a head start, and the needed education that is so critical at this early age," said Rep. Hashimoto.
Ready Keiki is working on developing after-school programs for Pre-K across the state. While this is currently unavailable, Ready Keiki is working with its stakeholders, private partners, and federal initiatives to develop opportunities for future school years.
"At the end of the day, you have the different partners for those that will need longer care, because it will be standard hours for the school… Additional after programs could hopefully assist," said Sen. DeCoite.
Each Pre-K classroom will operate on the set hours of the respective campus where they are located, including breaks and school year schedules.
"As we are ramping up the number of public Pre-K classrooms, we are looking at opportunities to work with private partners to provide before school and after school care," said Lt. Gov. Luke, saying the ideal situation would be to use federal funds or child care grants to facilitate care outside of normal hours.
Eligibility and priority admission:
The program accepts 3- and 4-year-olds, including the two years prior to kindergarten entry. So they have to turn 3 or 4 on or before July 31 of the applicable school year, but they do not need to be potty trained, according to administrators.
Priority is given to: children in foster care; those experiencing homelessness or unstable housing; kids whose family income is no more than 300% of the federal poverty level; children experiencing at-risk situations which may impact their development or learning; children who are eligible for special education services under the Individuals with Disabilities Act and whose Least Restrictive Environment is determined as general education; and children who are dual or multi-language learners.
A website portal readykeiki.org, provides information for families wishing to enroll their keiki in preschool. The site features an interactive map to locate preschools and childcare centers, a live tracker for Ready Keiki funding and classroom status, and enrollment information.