UPDATE: Kāʻanapali brush fire 90% contained; Hawaiian Electric reports power restored to all customers
Updated at 8:38 p.m.
According to an X post at 6:55 p.m. Saturday from Hawaiian Electric, power has been restored to all customers in Kāʻanapali. Anyone still experiencing an outage can report it to the Hawaiian Electric trouble line at 808-871-7777.
Updated at 6:13 p.m., 5:42 p.m.
According to a post on Maui County's Facebook page, the Kāʻanapali brush fire burned 7 acres of vegetation and as of 5:17 p.m. today was 85% contained. A news release issued at 6:13 p.m., indicated the fire containment had reached 90%.
Firefighters on-scene continue to reinforce containment lines. Forward progress of the fire is stopped. A U.S. Army Chinook CH-47 helicopter will make at least one water drop to help improve containment lines.
As of 5 p.m., the evacuation order was lifted and residents were free to return home, but should use caution while traveling through the area as emergency personnel are still working.
ARTICLE CONTINUES BELOW AD
ARTICLE CONTINUES BELOW AD
The fire was first reported at around 12:45 p.m. near Kāʻanapali at Kualapa Loop and Anapuni Loop mauka of the Kāʻanapali resort area. The Maui Emergency Management Agency activated four sirens around 1:10 p.m. from Wahikuli to Honokōwai to notify the community, according to a county update.
The cause of the fire is under investigation.
Updated at 4:45 p.m.
The Kāʻanapali brush fire is about 90% contained. The Maui Police Department has opened W. Mahi Pua Place and Kualapa Loop to traffic and the evacuation is lifted. Residents may return home.
Updated at 3:30 p.m.
ARTICLE CONTINUES BELOW AD
Anyone displaced from todayʻs brush fire in the Anapuni neighborhood of Kāʻanapali can see refuge at Napili Park, according to the Maui County Facebook page.
Hawaiian Electric said at 3:10 p.m. that 677 customers were without power in the Kāʻanapali area.
Also due to the power outage, the Family Assistance Center for Lahaina fire survivors at the Hyatt Regency Maui will be closed the remainder of Saturday. It will reopen at 10 a.m. on Sunday, according to the Maui County Facebook page.
Updated at 2:30 p.m.
Maui firefighters have stopped the forward progress of a small brush fire in Kāʻanapali on Saturday afternoon that has burned about 5 to 7 acres, according to information on the Maui Fire Department scanner.
ARTICLE CONTINUES BELOW AD
At about 2:30 p.m., the fire was about 70% contained.
The Maui Emergency Management Agency issued a Level 3 evacuation order at about 1:20 p.m. for residents at Anapuni Loop and West Mahipuna Place. That evacuation order remains in place, Maui County officials said on a Facebook post.
"While the fire situation has stabilized and is not posing an active threat at this time, firefighters are still working in the area," the post said. "Officials advise evacuees that they should stay clear of the area until it is safe to return. Residents will be advised when evacuation orders have been lifted."
Traffic also is closed in the W. Mahi Pua Place and Kualapa Loop area due to the fire, the county said in a traffic news alert.
Sirens sounded in the area to alert people of the fire.
The brush fire is in an area less than five miles north of Lahaina, where a fire on Aug. 8 destroyed much of the town, with a death toll of 115, which is expected to rise.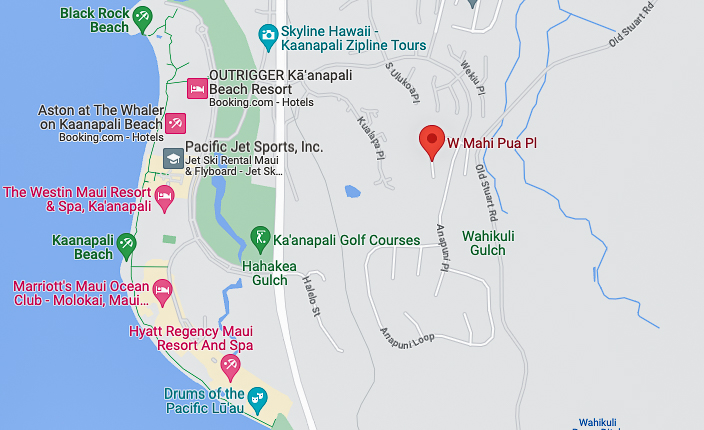 Shortly after the fire began, Hawaiʻi Gov. Josh Green said on his Instagram: "KA'ANAPALI: Evacuation order on Maui Island for Anapuni Lp to West Mahipulu due to a brushfire. Evacuate your family and pets now, do not delay. Expect conditions that may make driving difficult and watch for public safety personnel operating in the area."
More information will be provided as it becomes available.