Chief Pelletier to Maui Police Commission: 'We saved lives'
By Cammy Clark

September 20, 2023, 4:38 PM HST
* Updated
September 20, 4:42 PM
The Maui Police Department's preliminary after-action report of its response to the deadly Aug. 8 wildfires will not be completed for a few more months, and the final report may take up to two years.
"That will be a dive into what went right, what went wrong and how can we improve," Maui Police Chief John Pelletier told the Maui Police Commission on Wednesday during its meeting in Kahului.
"But it is also going to talk about some of the incredible acts [of heroism] that took place."
The Maui police response on that chaotic and windy day — with fires breaking out across the island in Lahaina, Olinda, Kula and Kīhei — has been roundly criticized on social media posts, by residents and others in media interviews, and in discussions between people on Maui and elsewhere.
But Pelletier passionately told the Police Commission: "We saved lives."
ARTICLE CONTINUES BELOW AD
ARTICLE CONTINUES BELOW AD
In Lahaina, while the fire was raging and moving fast in dry conditions and in winds up to 75 mph, the chief said his officers went up and down neighborhoods, using their PA systems and bullhorns, to tell people to urgently evacuate. Officers also went door-to-door, pounding on them when necessary, to make sure people knew about the immediate danger.
Pelletier told the story of one officer who pleaded with a resident to leave: "Begged him. The person didn't leave. [The officer] came back later and recovered him."
Pelletier also said his officers "literally used their bodies as rams" to break down gates and get people out: "They are absolute heroes."
How chaotic was Aug. 8 for first responders?
Maui dispatchers received 4,523 calls or texts — on an average day they receive only 1,685.
ARTICLE CONTINUES BELOW AD
The dispatchers received 1,421 calls and 72 texts to 9-1-1, with another 131 "overflow calls from Maui" going to Molokaʻi's 9-1-1. There also were another 2,796 calls to the Maui police non-emergency number, "evident that 9-1-1 was backed up."
"It is almost impossible that they answered the calls — they did everything they could to get that information out," Pelletier said. "Thatʻs what the heroes in communications were doing. They are the lifeline for first responders, not just for police, but also for fire and medical."
With the information coming in fast and furious, Pelletier said police personnel were doing the best they could to absorb the ever-changing information and get people out of harm's way with the many challenges.
Those challenges included multiple utility poles, which were toppled by the high winds and blocking several key evacuation roads.
He said not even a "tank" could get past some of the downed utility poles.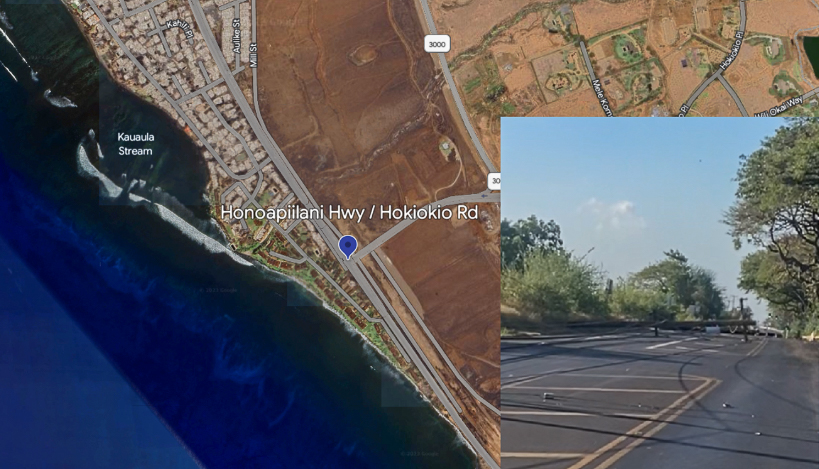 ARTICLE CONTINUES BELOW AD
It also was a challenge directing traffic away from the fire that ultimately would burn five square miles when a mass exodus was underway of an entire town — and an old town with narrow roads that has only one main road leaving the area going north and south and no evacuation routes going east and west. Gridlock was inevitable.
Maui Police Sgt. Chase Bell presented a power point showing major intersections in Lahaina and how the officers were trying to direct people away from the fire.
This included officers directing people — who were trying to leave West Maui by going south through Lahaina — to turn around and go north, away from the fire.
Officers were trying to keep the roads open only for people in Lahaina trying to evacuate, Bell said.
Police personnel also were spread thin that day with the multiple fires. Pelletier said he could not relocate all officers away from the Upcountry and Kīhei fires because "they were actively doing everything they could to save lives in those areas as well."
Those officers also were 30 minutes or more away from Lahaina. The main fire in Lahaina ripped through the town in about 17 minutes.
He said the officers who were in Lahaina acted bravely. He said some went into buildings that would burn to the ground or where people would have died from smoke inhalation if his officers had not "got them out and threw them into cars and caravanned them to safety."
Pelletier told the Police Commission: "I think what we were able to do in a little amount of time really shows how much [officers] were trying to get people out of harm's way. … These are cops that lived in that area, their own family members died, and for anybody to say that we were not doing everything to get folks out is a lie. It is false. And the facts will show that."
He also wanted to debunk a rumor that there was a lot of looting and pandemonium after the fire, citing August crime statistics that showed violent crime was down 22% and property crime was down 27%.
While the Maui Police have begun its after-action report from the fires, Pelletier said the department is still "very much" in the action part of the incident with a main mission of identifying every person who died in the fire.
As of Sept. 20, there were 80 people identified of the 97 remains found, with 23 open cases of "unaccounted for" people — down from more than 3,000 at one point.
Pelletier closed his report to the Police Commission by passionately saying: "I could not be more proud of the men and women in this department. … This agency absolutely has represented this county with honor, with courage, with valor and with compassion."