Four county mayors visit Lahaina disaster zone; Next phase of reopening set for Nov. 1
Four County mayors make sobering visit to disaster area
Mayors from Kauaʻi, Oʻahu and Hawaiʻi Island visited Front Street, Lahaina Harbor and a re-entry zone together for the first time on Monday. The site visit comes 11 weeks after the August 2023 Lahaina wildfire that claimed the lives of at least 99 people.
"I don't think I've ever used the words heartbreaking, tragic and devastating so much as we have in the last couple of months. It's hard to even describe an emotional feeling for all that has transpired here," said Honolulu City and County Mayor Rick Blangiardi.
"What is truly unimaginable is now left in its wake an incredible reality… We're all in this together. If there's anything else that gets said today, we feel this. This is not just a Maui situation. This is for all of us… We recognize it's going to be a long road ahead. It's only just begun the recovery. But in that spirit, we want people of Maui to know that they're not alone," said Mayor Blangiardi.
"We are one state and I think we're so fortunate to have everybody pretty much on the same page in support because that's who we are in Hawaiʻi," said Hawaiʻi County Mayor Mitch Roth.
"It's hard to find the words that will express what my heart is feeling being here today," said Kauaʻi County Mayor Derek Kawakami. "All I can think about is I was 15 years old when Hurricane Iniki hit. At that time I thought that Kauaʻi was going to be destroyed forever. I guess my message is to our young people and our people of Maui that this is not the end of it—that all of us here from every island is here to support Maui and that West Maui is not in it alone. We will be here for you folks until as long as we need to be here."
ARTICLE CONTINUES BELOW AD
ARTICLE CONTINUES BELOW AD
"As mayors, sometimes all we can to is to be here to instill hope in people—to try to help uplift the community, even if it's not our community. I'm not from Maui, but I think right now, all four of us, our heart is with Maui," said Kawakami.
The group also toured a Kahului Distribution Site and spoke at an afternoon press conference held in West Maui at the Lahaina Civic Center Amphitheater, where the Maui Invitational basketball tournament is traditionally held each year on Thanksgiving week. But because of the ongoing recovery, the event was moved to the SimpliFi Arena at Stan Sheriff Center on the campus of the University of Hawai'i at Mānoa from Nov. 20 to 22. 
The Civic Center is currently being used as a Disaster Recovery Center for displaced residents.
"We walk into a building like this and see all these various resources here to help people. It's humbling. It's heartwarming, and it's a great reminder of who we are as a people. I'm honored to be here today, but none-the-less very saddened for what's happened. This has just simply been, I think in my lifetime, the most terrible thing I could ever see up close and personal," said Mayor Blangiardi. "To have walked through the devastation today… to meet with some of the families was sobering."
Next phases of West Maui reopening on Nov. 1
During the press event, Mayor Richard Bissen announced the remaining portion of West Maui to reopen to visitors will be from Kahana to Kāʻanapali on Nov. 1.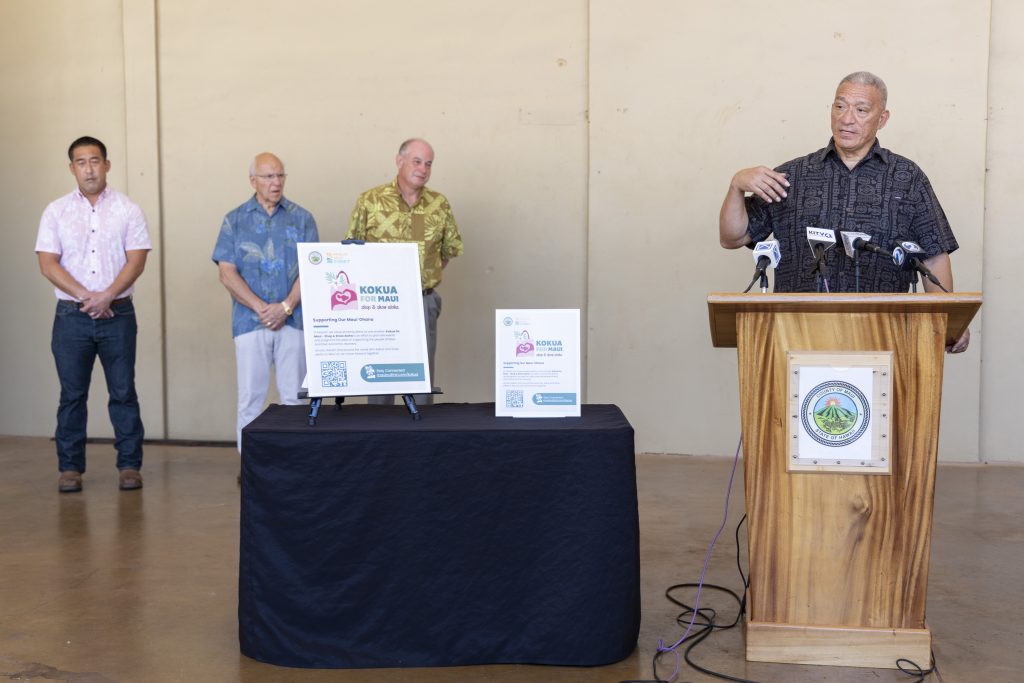 ARTICLE CONTINUES BELOW AD
"We know there is a concern of housing for our displaced and impacted families. We are assured by the Red Cross that their housing will not be in jeopardy with this opening," said Mayor Bissen. "The issue of childcare especially early childcare is a concern to our families who would need to return to work. We have a commitment from some of our partners to work on that piece as well."
According to the Bissen administration, the decision comes following "many discussions with the Mayor's Lahaina Advisory Team, the American Red Cross and other partners, as well as listening carefully to community feedback describing the overall transition as smooth during the first phase of reopening."
Mayor Bissen said the reopening next week Wednesday will combine the remaining two phases that had been planned and is intended "to signal a time when businesses and workers can make their preparations."
"Sheltering close to 7,000 survivors remains a critical focus of our efforts and their needs are our priority," said Mayor Bissen. "I appreciate the help our hotels have provided these past several weeks, and we'll continue to work together with the hotel properties and American Red Cross."
The first reopening phase included hotel and resort properties extending from the Ritz-Carlton Maui-Kapalua to Kahana Villa. The mayor's phased reopening was announced following the governor's plan to reopen West Maui on Oct. 8.
ARTICLE CONTINUES BELOW AD
"We had, I would say, fairly good results of the Oct. 8 opening. The interaction between our visitors and our local community has been positive. That also went into our decision as well," said Mayor Bissen.
The phases were developed to provide for residents to return to work, establish needed childcare, settle children into the temporary state Department of Education elementary and intermediate schools and Lahainaluna High School, and provide for a more deliberate process to help with housing needs for the thousands in temporary shelter at many hotel properties.
"Those that are not ready to go back to work should contact their employers as they continue to seek the help and the attention that they need," said Mayor Bissen.
November is Kōkua for Maui Month: Shop & Show Aloha
Lieutenant Governor Sylvia Luke, who was acting governor when the Aug. 8 wildfires occurred, said although the islands are divided by oceans, Hawaiʻi is one island state. She said that beyond monetary donations and people want to help impacted small businesses and families.
She announced that November will be Kōkua for Maui Month where people across the state can 'Shop & Show Aloha.' The effort is aimed at promoting events and programs focused on supporting the people of Maui and their economic recovery.
"November is generally the month of giving, and with this website on Maui Nui First, it will list all the events that impact and help Maui vendors, businesses and people."
Mayors across the state will host Maui vendor events on all islands including an event on Nov. 19 at the Neal Blaisdell Center on Oʻahu and another Nov. 20-21 in Waikīkī. Planning is underway for similar vendor events on Kauaʻi and Hawaiʻi Island. "What we want to do is feature Maui's people on all the islands and how the entire island, the entire nation can connect to Maui vendors and its people," said Lt. Gov. Luke.
"What we always hear when I'm here on Maui, I hear about the winds of Lahaina; and right before the press conference started, it was really muggy and hot. As the mayor of Maui started speaking and all the mayors took turns coming to the podium, we felt the Lahaina winds coming through… you feel this breeze just coming through. Having this calm and serenity at this very moment… shows the amount of love and compassion that not just the mayors have with each other, but how much compassion and aloha that the people of Hawaiʻi have for each other."