28 grassroots organizations launch 'Fish-In for Dignified Housing' at Kāʻanapali Beach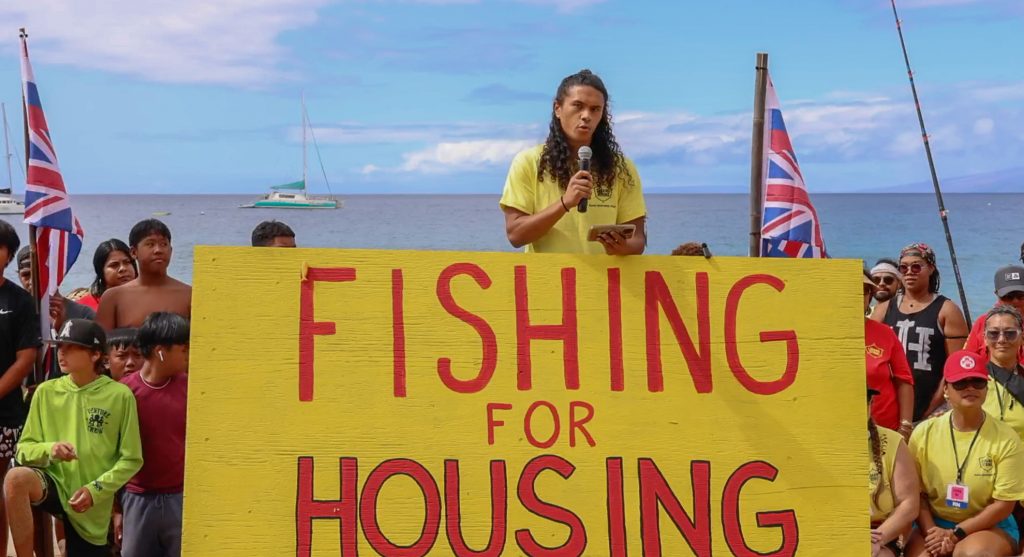 On Kā'anapali Beach, next to touristy Whalers Village, 28 grassroots community organizations under the new "Lahaina Strong Hui" on Friday launched "Fish-In For Dignified Housing."
The West Maui organizations set up pop-up tents and fishing poles on the sandy beach, with plans to stay "for as long as it takes" until demands for long-term housing solutions for people displaced by the Lahaina fire are met.
"We even talked about where we could put a Christmas tree," said Jordan Ruidas, an original organizer of Lahaina Strong in 2018, after a fire that year burned down about 15 houses.
The new growing coalition, Lahaina Strong Hui, is united for a Lahaina recovery that centers the prioritization of kama'āina and local need over corporate greed, and a restoration of 'āina and wai (land and water), according to its press release.
The coalition is asking Maui County Mayor Richard Bissen and Hawaiʻi Gov. Josh Green to use their power and authority to provide dignified housing solutions to displaced residents by:
Converting the West Maui short-term rental properties on the Minatoya List into long-term rentals
Extending protections for renters against rental increases and evictions for at least a year
Pushing for an immediate mortgage deferral for all homes completely lost in the fire, and back end mortgage abatement of all properties that are not engaged in short term rentals.
ARTICLE CONTINUES BELOW AD
ARTICLE CONTINUES BELOW AD
The Minatoya List covers condominiums, apartments and planned developments that are not hotels but that can lawfully conduct short-term or vacation rentals without any type of state or county permit. Organizers say there are about 2,400 units in West Maui that are on this list.
The coalition said it is urgent that these steps be taken due to the impending sheltering crisis, with many of the West Maui hotel contracts with the Red Cross to house fire survivors set to expire on Nov. 30, potentially leaving thousands of families currently housed in the hotels with no place to live.
The coalition said many in the community feel they have been ignored for the sake of tourism, so it is bringing its demands to the front door of the very hotels in West Maui that they are at risk of being displaced from.
By Friday afternoon, there was about 20 pop-up tents set up on the beach in front of the restaurant Leilani by the Beach, with tourists sitting in matching Tommy Bahama chairs to the north of them.
Many kids played in the ocean, with some dads trying to show little ones how to fish. Hawaiian flags were neatly placed in a row, and organizers were selling Lahaina Strong T-shirts. Fishing poles were also lined up on the beach with lines running out to the ocean.
ARTICLE CONTINUES BELOW AD
At the coalition's news conference Friday at the beach, Paele Kiakona, former hospitality worker and advocacy and communications coordinator for Lahaina Strong, said: "The haste to reboot tourism brings with it the specter of displacement and further indifference to those already suffering. Countless of our kin linger in temporary shelters, with the looming threat of being uprooted yet again.
"That is why today, we plant our feet firmly, vowing to remain steadfast until our voices are heard, our needs met."
Kiakona urged Bissen to harness his influence to transform short-term rentals into stable homes for those displaced, and to enact policies that protect the displaced fire survivors from the variabilities of the housing market.
"Lahaina's beauty stems not just from its landscapes but from its people," he said. "Yet, the trajectory we're on threatens to drive our people away, threatening the loss of the core essence that makes Lahaina an extraordinary destination in the first place."
The coalition said there is an immediate, viable solution that utilizes the current short term rentals to house many of the thousands of people displaced in a dignified way, with access to kitchens, laundry, space to live, beds for each family member and the peace of mind knowing that they will not be evicted or have to pack up again in a few weeks to move to another temporary location.
ARTICLE CONTINUES BELOW AD
This dignity and security will allow Lahaina to truly heal, and allow the community and economy to begin getting back on its feet, the press release said.
Using emergency powers, the coalition said Bissen and Green can convert the thousands of Transient Vacation Rentals and Short Term Rentals on the West Side into Long Term Rentals, and continue and enhance the controls on rent to ensure affordability to residents and relief agencies.
The coalition said this authority is granted under HRS 127A-12(c), (4) and (6):
(c) The mayor may exercise the following powers pertaining to emergency management:
(4) Utilize all services, materials, and facilities of nongovernmental agencies, relief organizations, community associations, and other private-sector and nonprofit organizations that may be made available;
(6) Purchase, make, produce, construct, rent, lease, or procure by condemnation or otherwise, transport, store, install, maintain, and insure, repair, renovate, restore, replace or reconstruct, and distribute, furnish or otherwise dispose of, with or without charges, materials and facilities for emergency management; and to procure federal aid therefore whenever feasible.
The community leaders in the coalition intend to continue their peaceful "Fish-In" and exercise of customary and traditional rights to draw attention to the long-term housing crisis facing thousands of residents until dignified long-term housing is secured, the release said.
There is a law in Hawaiʻi that loosely states: If you are fishing at the beach (a pole in the sand, with fishing line cast into the ocean), you are legally allowed to stay at any public beach overnight any day of the week.
It also is inviting other West Maui residents to join them over the weekend and beyond.
To watch the press conference, click here.
Lahaina Strong Hui is a growing coalition of 28 organizations that includes: Lahaina Strong, Kakoo Haleakala, Save Honolua, Kaibigan ng Lāhaina, Nā 'Aikāne o Maui, Ka Malu O Kahalawai, Maui Housing Hui, Maui Medic Healers Hui, Maui Hale Match, Tagnawa, Roots Reborn, Kahana Canoe Club, Napili Canoe Club, Lahaina Canoe Club, Save Kaanapali, Rebuild Maui, Malama Olowalu, Malama Na Pua O Haumea, Napili Noho Hub, Na Leo Kako'o, Maui Rescue Mission, Maui Nui Resiliency Hui, Hui O Kuapā, Tuf Hawaii, Maui Rapid Response, West Maui Preservation Association, Na Papa'i Wawae 'Ula'ula and Polanui Hiu.