Maui Arts & Entertainment
Holo Holo Music Festival Las Vegas: featuring J Boog, Iam Tongi, Maoli, The Green and more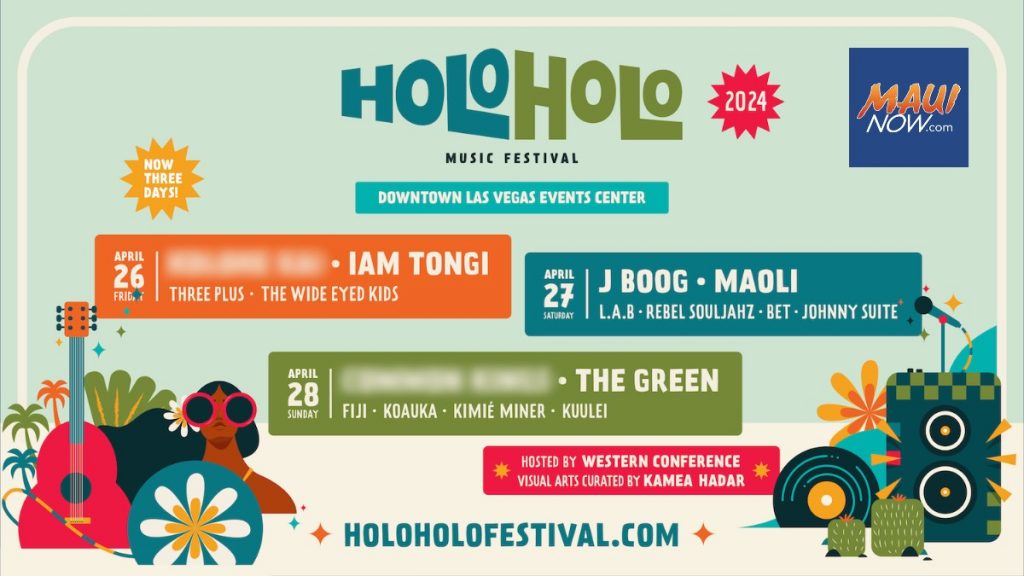 Good Vibez Presents and Live Nite Events recently released the lineup for Las Vegas' 2nd annual Holo Holo Music Festival.
The event will include performances from J Boog, Iam Tongi, Maoli and many more. Two additional headliners will soon be announced.
Expanding to three days in 2024, Holo Holo will once again bring a taste of home to the "ninth island" with music, food, and friends, transforming the Downtown Las Vegas Event Center into an island oasis.
ARTICLE CONTINUES BELOW AD
ARTICLE CONTINUES BELOW AD
Tickets for the 2nd annual event are on sale now.
Holo Holo Music Festival Las Vegas Lineup:
April 26 at 6 p.m.: Iam Tongi, Three Plus, The Wide Eyed Kids
April 27 at 2 p.m.: J Boog, Maoli, L.A.B, Rebel SoulJahz, BET, Johnny Suite
April 28 at 2 p.m.: The Green, Fiji, Koauka, Kimié Miner, Kuulei
Artist Kamea Hadar and his team will be onsite curating live visual art all three days of the festival.
ARTICLE CONTINUES BELOW AD
"Growing up in Ewa Beach, O'ahu, island music and reggae were the soundtracks to my childhood," said Dan Sheehan, Good Vibez co-founder. "These styles of music- the heartbeat of the islands- are the backbone of my work as a festival producer and venue owner, and we're stoked to holo holo back to Vegas in 2024."
Holo Holo is an all-ages event. Tickets are available for purchase at holoholofestival.com.
Limited travel packages from Crewfare, including hotel and ticket bundles, will also be available on Nov. 3. Six tiers of tickets are available, from standard general admission to premium VIP cabana.