Community impacted by repeated wildfires honors first responders
The same day as four wildfires sparked on Maui, including the Lahaina fire, firefighters were also battling seven hurricane wind-driven fires on Hawaiʻi Island.
Every year recently, major fires have happened, according to the state Department of Land and Natural Resources: Mana Road in 2021, Leilani in 2022, and the series of fires this year, on Aug. 8. The conditions that day were described by Hawai'i County Assistant Fire Chief Eric Moller as producing fires "unlike anything our firefighters had ever fought in their careers."
On Wednesday, for a seventh time, the Waimea Community Association organized a dinner and recognition ceremony for Big Island first responders.
Firefighters from the island's volunteer teams were highlighted. Hawaiʻi Island is the only one in the state with volunteer firefighters to supplement the county's force, with 16 active volunteer fire groups on the island.
ARTICLE CONTINUES BELOW AD
ARTICLE CONTINUES BELOW AD
One such volunteer, Capt. Steve Grasso of Waikiʻi, was remembered as someone who exemplified the selflessness demonstrated by firefighters, both volunteer and career. He passed away suddenly on Tuesday. A large photo of him draped in lei took center stage as some of his colleagues recalled his giving spirit.
On Aug. 8 firefighters from across the island responded to the seven wildfires, including one of four in the two Kohala districts and three in Kaʻū. In North Kohala, a fire broke out just below the homes of Kohala Ranch.
Though it did not burn on state land, more than 20 personnel from the Hawaiʻi Island Branch of the DLNR Division of Forestry and Wildlife battled flames along the highway below multimillion-dollar estates and parked water tenders in driveways to provide structure protection in case flames threatened homes.
Nick Agorastos was one of three DOFAW firefighters presented with certificates of appreciation and gift bags from Mayor Mitch Roth and members of the Hawaiʻi County Council.
ARTICLE CONTINUES BELOW AD
Agorastos said, "Once we received a request for assistance, we were ready to mobilize. We fill a specific niche at times, but it is not limited to wildland firefighting. Our equipment is designed for that type of firefighting and that's what we train for."
Agorastos also said the ferocity of the Kohala Ranch fire, driven by 50-60 mph winds, was unlike anything he'd experienced in his life.
Wednesday night, local restaurants provided an extensive dinner for firefighters from county, state, and federal agencies as well as emergency services and hospital workers, and the community.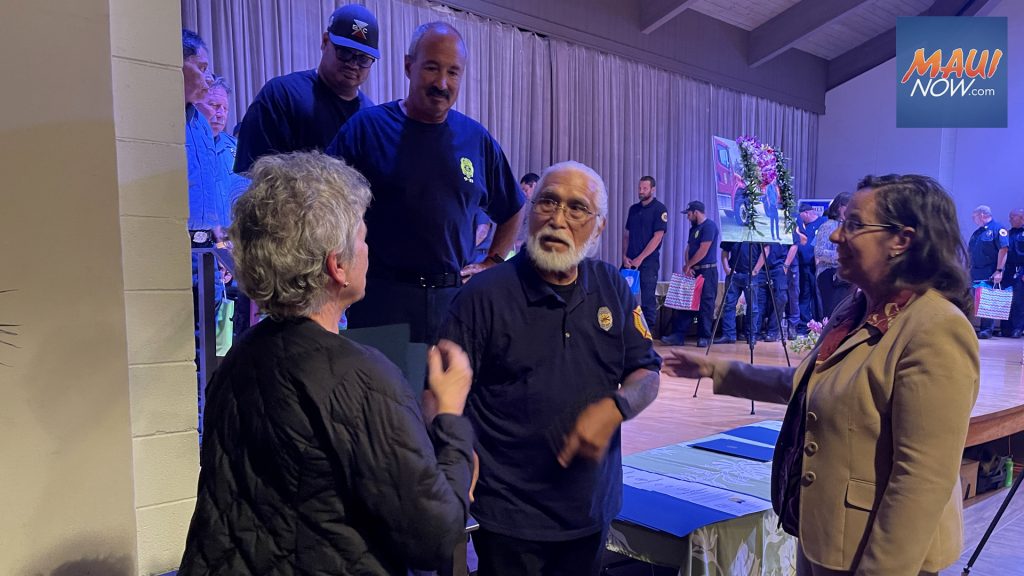 Those gathered at the event heard from Laura Mallery-Sayre, who with her husband Dr. Frank Sayre, founded the Daniel R. Sayre Memorial Foundation, named for their 25-year-old son who died in a hiking accident in 1999.
ARTICLE CONTINUES BELOW AD
Over the past two years alone, the foundation has provided more than $26 million dollars to buy fire apparatus for both volunteer and professional firefighters, including a new $5 million dollar rescue helicopter for the Hawaiʻi County Fire Dept.
The Sayres announced last night, based on a request from Maui Fire Chief Brad Ventura, that their philanthropy is now being extended to Maui County.
Nancy Carr Smith, one of the organizers of the annual first responders' dinner and recognition said, "Whether it's the Sayre Foundation donating millions to upgrade wildland fire equipment, firefighters from different agencies who respond even when a fire is not in their jurisdiction, or the volunteers who protect their neighbors' homes and property, it's hard to overstate the contributions Hawai'i Island first responders have on our communities. We are always in their debt for their service."