Lahaina's Vision for the Future, Part 2: Navigating a sail plan, Finding comfort in the shade of Lele, Pushing the reset button
By Wendy Osher

November 18, 2023, 1:18 AM HST
* Updated
November 18, 6:25 AM
Three residents of West Maui joined in a panel discussion Wednesday on their vision for the future of Lahaina. It is one of many presentations held at the 22nd Annual Native Hawaiian Convention, which concluded on Friday at the Maui Arts & Cultural Center in Kahului.
The wildfires and their destructive aftermath created a prominent backdrop in the discussions about Lahaina and the town's road to recovery. Residents Kaipo Kekona, Archie Kalepa and Keʻeaumoku Kapu reflected on their vision for the future of Lahaina and what the beloved town has to offer moving forward.
This is Part 2 in a 3 part series. (Part 1 is posted here).
All hands on deck: Navigating a sail plan
"I was not there on Aug. 8. I question myself, 'Why was I not there?' I probably would not be standing here if I was home," said Archie Kalepa during a keynote address.
That fateful day, Kalepa was on the mainland. He woke up at 3 a.m. to find breaking news of what was happening in Lahaina, and immediately made his way to the airport with plans to return home to Maui.
ARTICLE CONTINUES BELOW AD
ARTICLE CONTINUES BELOW AD
But with Maui airport operations shut down, Kalepa ended up on the Big Island where he bought four generators, and rallied a group of friends with boats and jet skis to help. Upon arrival at Kahului Harbor on Maui, Kalepa called a police officer friend who suggested that he launch from Māʻalaea since the roads into Lahaina were closed.
"I got to Māʻalaea, and it was chaos—a lot of confusion," Kalepa recalled. "We began to organize all the boats and all the people that were staring to deliver supplies. On our way to Lahaina, I had four jet skis and a big boat loaded with everything [including] my family. On the way to Lahaina, I made it a point to sit behind everyone so that they could not see me crying."
Kalepa pulled around to Māla Wharf and sat there for about an hour as the group devised a plan to get to shore. This included contact with lifeguards who provided access and enabled the offloading of supplies.
Making his way home, Kalepa observed his surroundings. "All that was left of Lahaina was Lealiʻi. I'm worried about my family—my sister, my niece, my aunty—our family's homes. I had to be strong," he said.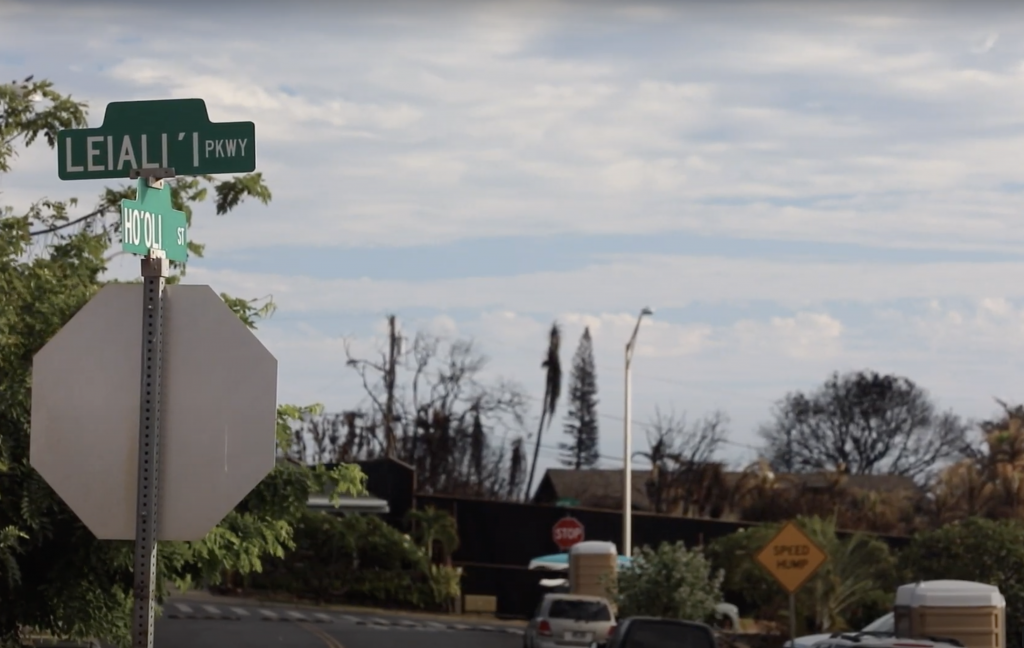 ARTICLE CONTINUES BELOW AD
"We stood up the first hub in Lahaina. We also stood up Ground Zero EOC (Emergency Operations Center)," said Kalepa, who was among a group that also included Amos Lonokailua-Hewett, Makalapua Kanuha and Keʻeaumoku Kapu.
"Because this fire engulfed Lahaina so quickly, there was confusion. It wasn't about blame, because it happened too fast," said Kalepa, who called the mayor to coordinate further.
When asked about his vision for the future of Lahaina, Kalepa responded: "It's really hard for me to say… because the way I see it, it's important for everyone to have a contribution to that sail plan."
In humility, Kalepa said he struggled with having the right to answer the question. "I think about all of it and how important it is. I just want to say that I'm not ready to answer that question… in all fairness to this audience… because I want them to have that right first," he said.
Abundance: Finding comfort in the shade of Lele
ARTICLE CONTINUES BELOW AD
Kaipo Kekona, who was instrumental in standing up distribution point in Nāpili to help friends and neighbors in need during the early days of the fire aftermath, embraced the sail plan metaphor. He envisions a place full of abundance, reminiscent of the landscape he knows not through experience, but from an ancestral bond and stories from generations past.
"I'm only one person in a large community. What I have as visions and what I can see is a fruitful future for our people and our community. It's only one person's perspective, but I'm happy to share," said Kekona.
He explained that there's a lot involved in making a sail plan, including thought and materials.
"If you plan on sailing anywhere, you need that waʻa (canoe). In order to have a waʻa, you need the lāʻau (plant), and not only the lāʻau, but the sennit/cordage to lash your implements. You need the lāʻau to make handles," said Kekona.
All these parts, he said, are metaphors that represent the community coming together to accomplish a great task.
"All of the little intricate things that we need—water to sustain a voyage, the food—all of those are all of our community. Those are the little intricate parts that we need in order to build this vessel and prepare and nurture the people that will go on to it," but as Kekona explained, he will not be among those on the journey.
"Our children, our children's children—they are the ones that are going to sail that waʻa. We're just going to build it. We're going to nurture them, and feed them, and make them strong and healthy so that when this voyage goes on, they can get to that destination confidently and have a strong relationship with each other and continue to build that pilina," said Kekona.
"When we speak of what that looks like, and you know the understanding of Ka Malu Ulu O Lele [The shade of the breadfruit trees of Lele, (the old name for Lahaina)], what it was full of. There's descriptions when you read into the testimony, both native and foreign—they describe Lahaina's landscape so full of abundance that even the rockiest crevices were producing food or sustenance needed to maintain a healthy community," said Kekona.
"I think of Kahoma, Kanahā, and I think of dry rocky cliff sides, and I'm trying to imagine: 'Wow. Imagine having so much stuff everywhere, that there was no room for anything else, so you decide to try and grow something on the rocky cliff.' That's how much we were producing and kept pouring into that ʻāina. We kept giving and giving, growing more… never seeing an end," said Kekona.
He spoke of references to the forest systems of kauila and uhiuhi. "Trees that are no longer available, we had forests of them in Lahaina. Hālona was an uhiuhi forest up on the slopes of Kuʻia, known to find multiple different hardwoods. Luakoʻi on Mauna Kawahine—legends told of protocols to harvest lāʻau and go to the stone quarry to harvest your koʻi (adze) in order to carve whatever it was they were making—waʻa, hale (house), implements for farming… implements for fishing. All of those resources were found in Ka Mala Ulu O Lele," said Kekona.
"I pray for our children. I feel like we are in unprecedented times. I feel like our children will be the results of some study, and all we can do is try to figure out how we are going to move forward," he said.
Restoration: Pushing the reset button
Since the August wildfires, Kauaʻula Valley resident, Keʻeaumoku Kapu, has often referred to a "reset button." He believes changes were supposed to come with the creation of a Historical Restoration Preservation Plan for Lahaina in 1961.
Lahaina served as the Capital of the Kingdom of Hawaiʻi from 1820 to 1845.
The Lahaina Historic District was designated in 1962, and Hale Paʻi on the Lahainaluna campus was added to the National Register of Historic Places list in 1976. In 1997, more areas were added to the National Register of Historic Places including: King Kamehameha III's Royal Residential Complex, which includes Mokuʻula, Loko Mokuhinia and Hale Piula.
The Lahaina Restoration Foundation notes that Lahaina had over 60 significant sites, museums and buildings that represented the history and culture of the town over a period of more than 500 years.
"All these areas are recognized to make sure Hawaiʻiʻs character and identity of this place known as Lele, was to blossom… This is the capital of the Kingdom. The Bill of Rights was signed here by Kauikeaouli. The resurgence of Lā Kūʻokoʻa by Timoteo Haʻalilio, when he left Lahaina in [1842] to go to Europe to solidify the relationship of other countries—Belgium, France… Great Britain, the United States of America acknowledging that Hawaiʻi is a sovereign monarchy. We cannot forget who we are," said Kapu.
"All these areas were supposed to be lifted up from the billows of the ash to know that we are people who are resilient, but nothing came of it," Kapu said. "Recommendations that were given for all of these areas—the courthouse, Mokuʻula, all these areas… It never got to that full potential."
"These properties are under the government entity of the state of Hawaiʻi. These are lands that were seized. These are lands that should be returned," said Kapu. "I think we have to have this discussion, and bring the dialogue to the forefront so we can go forward to make sure that the town is well set and the people that flourish throughout that town will have dignity."