Weekend Round-Up: Smoke Out, Holiday Hoops, Ralphie May
November 18, 2011, 10:38 AM HST · Updated November 18, 12:01 PM

0 Comments

By Madeline Ziecker

THE GREAT AMERICAN SMOKE OUT Saturday, November 19 at Maui Mall from 9 a.m. – 12:30 p.m. 

The Coalition for a Tobacco-Free Maui is hosting the "Great American Smoke Out" all around the Maui Mall. The event will feature food, entertainment, family activities to raise awareness about the dangers tobacco use and how to quit smoking.

The Smoke Out on Saturday  is one of many being held across the US this November to celebrate the 36th anniversary of the event.

Follow the link to find out more about The Great American Smoke Out.

FIRST ANNUAL MAUI CHILDREN'S FESTIVAL Saturday, November 19 at Cary & Eddie's Hideaway  from 11 a.m. – 6 p.m. Free.

Cary & Eddie's Hideaway Restaurant And Bar will host the First Annual Maui Children's Festival, an all-ages family event offering craft vendors, a silent auction, art projects, games, live entertainment, and food.

Proceeds from the event will go to Pomaika'i Elementary School's Music Program.

GOLDAWN WON CD RELEASE PARTY Saturday, November 19 at Earth Runnins Hawaii starting at 9 p.m. $20 cover charge.

Maui Hip-hop artist Goldawn Won will celebrate his new album release by performing and hosting a party at Earth Runnins in Kahului.

Guests have the option of paying only a $5 cover charge by visiting the Facebook event page and clicking "Attending."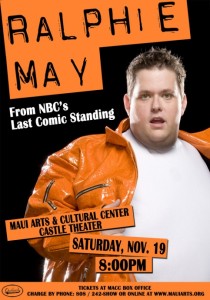 RALPHIE MAY STANDUP PERFORMANCE Saturday, November 19 at the MACC. Starts 8 p.m. Ticket's $28.
Standup comedian Ralphie May from NBC's Last Comic Standing will give Maui a standup performance, likely covering topics such as family, religion, and his relationship with food.
In addition to finishing second in Last Comic Standing, May has also been featured on The Wayne Brady Show and The Tonight Show With Jay Leno.
Tickets are still available at the MACC Box Office 242-SHOW or online at MauiArts.org.
HOLIDAY HOOPS CLINIC Sunday, November 20 in the Lahainaluna Gym at 5:30 p.m. Free.
Basketball players aged 8-18 will have the opportunity to learn some basketball-playing tips from well-known guest coaches.
Former UCLA Head Coach Jim Harrick as well as current UCLA Head Coach Ben Howland will be featured at the clinic among other esteemed basketball coaches.
In addition to the clinic, "Coach's Corner" will be an opportunity for both parents and kids at the event to meet and talk with the coaches.