Mix of NNE & NNW Swells Today
March 18, 2016, 1:26 AM HST · Updated March 17, 7:43 PM Meteorologist Malika Dudley ·

0 Comments

Alerts (as of 1:00 a.m.)

A Small Craft Advisory is posted for all island waters through 6 p.m Friday.

A High Surf Advisory is posted through 6 p.m. Friday for rising surf along north shores of Maui and Molokai.

A Marine Weather Statement has been issued by the National Weather Service for a large north-northwest swell and strong northeast winds. Waves will likely produce moderate surges and large breaking waves at harbor entrances. Areas that will potentially be impacted are Maliko Boat Ramp and Kahului Harbor.

Check our breaking news section for any urgent weather alerts or updates to the weather alerts listed above.

**Click directly on the images below to make them larger. Charts include: Maui County projected winds, tides, swell direction & period and expected wave heights.**
+
Maui Surf Forecast
North: Many spots are expected to be overhead to double overhead today depending on the amount of exposure the spot is getting.
West: Ankle/waist high surf is expected. A mix of north-northeast and northwest swell will get up to overhead or more for exposed breaks.
South: Wave heights are waist high or less today.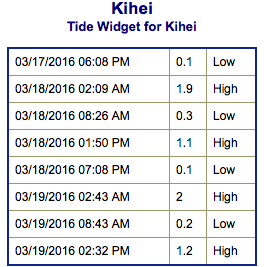 Our current south-southwest bump continues to fade as a new small south-southwest swell fills in Friday and into the weekend. Sunday this swell will begin a fading trend.
A shorter period north-northwest swell is present for the islands. The period is forecast to become longer from Friday into Saturday and the swell will shift more northerly as well. This swell energy should continue through the weekend. Another dose of northwest swell is expected to move in late Saturday and peak Sunday before fading out early next week.
Keep in mind, surf heights are measured on the face of the wave from trough to crest. Heights vary from beach to beach, and at the same beach, from break to break.  
**Click here for your detailed Maui County weather report.**