Maui News
Maui Keiki Take Top Honors at Robotics Tournament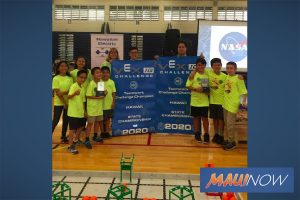 Students from Maui earned numerous awards at the 2020 Hawaiian Electric Hawaiʻi State Elementary School VEX IQ Championships, which was held at Kamehameha Schools' Kapālama Campus on earlier this month.
Pukalani Elementary team 10704B and Mililani's Cornerstone Engineering team 10612A were named the tournament champions, while Pukalani Elementary team 101704A and Kaunakakai Elementary team 11516E earned their way to the Teamwork 2nd Place Award.
Those teams are among 11 Hawaiʻi elementary school robotics teams that qualified for the 2020 VEX IQ World Championships in Louisville, Ky., in April.
Students from St. Anthony School won this yearʻs Create Award; Lihikai Elementary students won the Energy Award; and Students from Kaunakakai Elementary School won the Inspire Award.
ARTICLE CONTINUES BELOW AD
A total of 39 Hawaiʻi VEX IQ teams from Hawaiʻi Island, Maui, Molokaʻi, and Oʻahu participated in the state robotics championships, which has been sponsored by Hawaiian Electric since 2013. All VEX programs including elementary, middle school, and high school represent 367 teams statewide.
ARTICLE CONTINUES BELOW AD
The 2020 VEX IQ Challenge, called Squared Away, is played on a 4' x 8' rectangular field. The object of the game is to attain as many points possible by scoring balls in or on cubes, and scoring cubes into corner goals or platforms. Two robots compete in the Teamwork Challenge as an alliance in 60-second matches, working collaboratively to score points. Teams also compete in the Robot Skills Challenge where one robot takes the field to score as many points as possible. The matches involve driving skills, which is entirely driver controlled, and programming skills, which is autonomous with limited human interaction.