Maui Business
Maui Out-of-State Passenger Arrivals By Air Totaled 22 on Saturday: 6 Crew, 8 Residents, 8 Visitors
***The table above shows the number of people who arrived by air from out-of-state on Saturday, April 11, and does NOT include inter-island travel.
A total of 404 people arrived in Hawaiʻi from out-of-state on Saturday, including 89 visitors, 147 residents, 34 transit, 35 intended residents and 99 crew members, according to new data compiled by the Hawaiʻi Tourism Authority.
Air arrivals to Maui totaled 22 on Saturday with a single flight arriving from out-of-state. This included 6 crew members, 8 residents and 8 visitors.
In comparison, during this same time last year, nearly 30,000 passengers arrived in Hawaiʻi daily, including residents and visitors.
ARTICLE CONTINUES BELOW AD
ARTICLE CONTINUES BELOW AD
Thursday marked two weeks since the state's mandatory 14-day self-quarantine started for all passengers arriving in Hawaiʻi from out of state. The quarantine order was expanded on April 1st to include interisland travelers.
Department of Business, Economic Development & Tourism:
DBEDT reports the following interisland travel numbers for April 7, 2020. Please note reporting is delayed due to processing of visitor arrival forms.
ARTICLE CONTINUES BELOW AD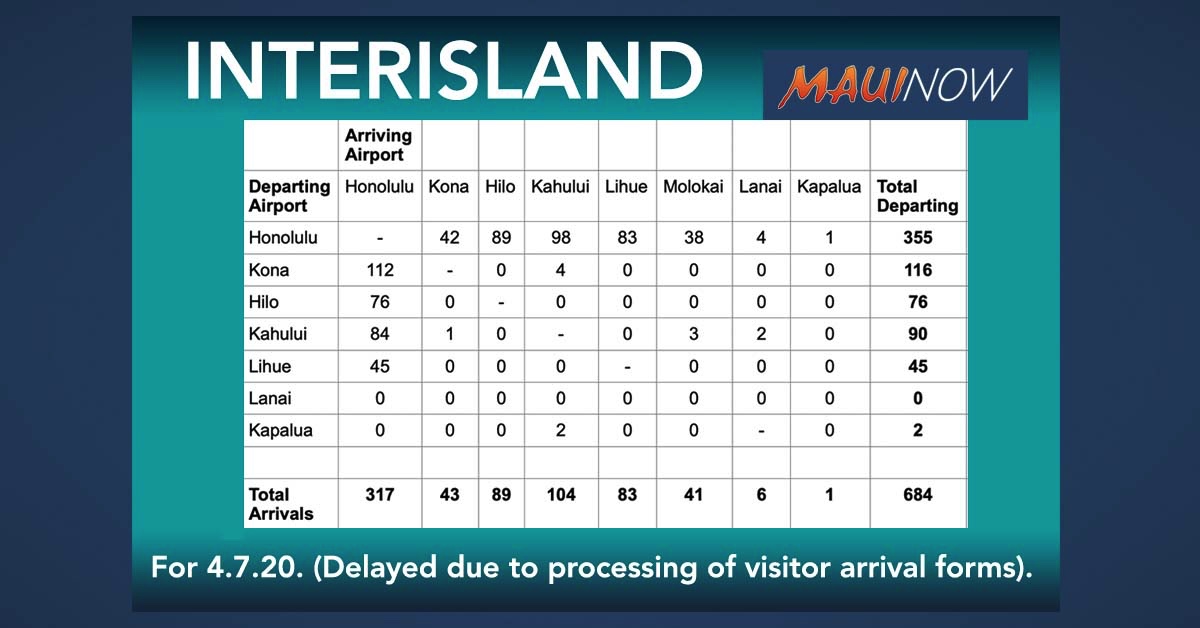 Hawai'i State House of Representatives:Fourth Select Committee on Economic & Financial Preparedness Scheduled
The House Select Committee on COVID-19 Economic and Financial Preparedness will hold its 4th informational briefing tomorrow, Monday, April 13 at 10 a.m. The briefing will focus on the CARES Act Paycheck Protection Program loans, including an in-depth discussion on planning to reopen Hawai'i's economy post coronavirus. The briefing will be held via community television and online and no in-person testimony will be accepted.  You can watch the meeting on 'Olelo Channel 49 or on the House webcast page.
ARTICLE CONTINUES BELOW AD
https://olelo.org/ or http://olelo.granicus.com/ViewPublisher.php?view_id=31