Maui Coronavirus Updates
New Rules Proposed for Maui Would Reduce Gatherings to 5; Further Limit Occupancy and Require 10 p.m. Closing Time at Restaurants and Bars
By Wendy Osher

December 30, 2020, 7:05 PM HST
* Updated
January 1, 3:16 AM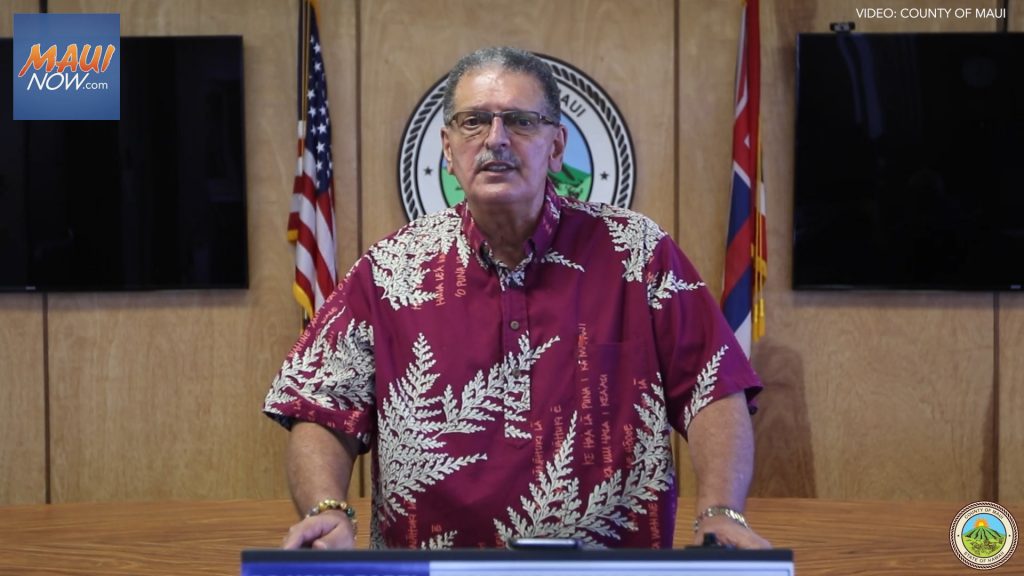 New Emergency Rules for Maui County are proposed to take effect at 12:01 a.m. on Jan. 2, 2021, that seek to:
Reducing social gathering size to five or less people (this is for individuals not from the same household);
Limiting bar and restaurant occupancy to no more than 30 percent of allowed interior occupancy; and
Requiring bars and restaurants to close by 10 p.m.
If approved, the rules would remain in effect for two weeks before a reassessment takes place in mid-January.
Maui Mayor Michael Victorino had anticipated a response from the Governor on his request on Wednesday, Dec. 30; however there was no determination as of 4 p.m. when the Mayor's Office hosted a media briefing to provide updates on COVID-19 related topics.
Mayor Victorino was absent from the conference due to meetings off-island, but Maui County Managing Director Sandy Baz explained the proposal and reasoning behind the request.
ARTICLE CONTINUES BELOW AD
ARTICLE CONTINUES BELOW AD
"Tomorrow is New Year's Eve. We want to remind everyone that gathering is a chance and opportunity for spread of the virus; so we're asking everybody to prevent gatherings. Definitely you can celebrate the New Year, but we hope to do it in different ways," he said, urging caution in terms of gathering size as well as with the use of fireworks.
"This is definitely a time for families to get together. I know a lot of us are very much celebrating the end of 2020, looking forward to 2021 and hopefully back to a little bit better normalcy of life to what we are used to," said Baz.
"The actions that we have taken today that the mayor has requested the governor to approve, are interim steps to help to slow down the number of cases and spread that has been happening. If you look at the epidemiology curve that's been occurring, it has peaked and we would have expected it to go down after the holiday season and after the closure of the bars, but it's been kind of steady," said Baz, noting that the seven day rolling average of cases is around 18.
There were 108 new COVID-19 cases reported in Hawai'i on Wednesday, including 17 on Maui. Baz said Maui's cases averaged 10.84 per day per 100,000 population. Maui's test positivity rate was 3.1 percent for the past seven days.
ARTICLE CONTINUES BELOW AD
"So we're doing these interim steps to prevent any future action. Of course you know, no guarantees in the middle of January if the case counts are still high or have peaked even more, then that may require other actions," Baz said in response to media questions.
He noted that although the rollout of the vaccine has started, "it will take a while to have enough vaccine out there to allow us to be maybe a little bit more relaxed on certain rules."
"For now, wear your mask, wash your hands, watch your physical distancing, go out to wide open spaces. If you are going to get together, it's much better if you get together outside," said Baz.
Baz said he hopes that the revisions, if approved, are short term. "Mayor is expecting this to last hopefully two weeks, and then again we'll look at the numbers."
ARTICLE CONTINUES BELOW AD
When asked about further limits on occupancy and what can be done to help already struggling businesses survive, Baz said the county has provided different opportunities for restaurants to expand their outdoor seating areas so that they can provide more service to people outside.
"We encourage more takeout and things like that. We have provided expedited opportunities for expedited permits so that restaurants and bars who would like to expand their service areas can do so in a quick manner with very little red tape. There's still things that we have to know and have to approve, but we try to make it as quick as possible for those establishments," said Baz.
A follow-up press conference will take place on New Year's Eve, Dec. 31, at 4 p.m., which is expected to include a recap on rules and what to look forward to in the New Year.