Maui Arts & Entertainment
Film producer Burgmaier brings passion and persistence to his love of jazz, Hawaiiana
By Gary Kubota

March 11, 2023, 6:00 AM HST
* Updated
March 12, 5:47 PM
Maui Now: A People Of Maui Interview
Maui resident Ken Martinez Burgmaier started working at the age of 8 as a dishwasher at his family's Mexican restaurant in Colorado and eventually worked his way up to become the chef and kitchen manager while still in high school.
His plan was to work part-time selling cars at a Ford Dealership while he attended college, but he became so good at sales he eventually became a manager of car sales for various dealerships, including Porsche.
Burgmaier then made a career switch, moving from car sales to producing movies and earning an Emmy and two Nā Hōkū Hano Hano Awards. He's also won a great number of film advertising and festival awards, including Telly, Aurora, Billboard, and best documentary feature awards at the Hawaiʻi Film Festival and the Temecula Vally International Film Festival.
His most recent project on Maui is developing an entertainment venue at Ocean Vodka Organic Farm in lower Kula, where he hopes to produce jazz, blues, ʻukulele and slack key events.
ARTICLE CONTINUES BELOW AD
ARTICLE CONTINUES BELOW AD
On Hawaiʻi Island, he's planning to produce his 10th Annual Big Island Jazz and Blues Festival on June 3. He'll be filming the festival as well to add to his Jazz Alley TV series at jazzalleytv.com where his films feature jazz performances at festivals, night clubs and other venues internationally.
On his HawaiiOnTV.com, his productions include a variety of island entertainment, including hula and slack key music. Maui Now's Gary Kubota interviewed Burgmaier for this People on Maui feature.
KUBOTA: How did you move into producing films?
BURGMAIER: I was just burned out on the car business and was looking for a change. A dear friend David Drucker purchased a TV station in Denver and offered me a position to help with marketing the station. I came on board and started to learn the TV film business. I learned how to operate cameras, editing, producing, directing and other aspects of production. I made TV commercials and produced a weekly rock n' roll video program that filmed music at theatres, night clubs, and festivals, including the Red Rocks Amphitheatre. We filmed artists like Stevie Ray Vaughn, Todd Rungren and Cheap Trick.
KUBOTA: That sounds like a great learning opportunity. Was there any turning point?
ARTICLE CONTINUES BELOW AD
BURGMAIER: In 1990, I had the idea of filming the Telluride Bluegrass Festival and approached the founders. I served as the film producer for the Festival working with James Taylor, Bill Monroe, Bela Fleck, Shawn Colvin and other greats. I really got the feel of how to film a music festival. A&E aired the film nationally, and we were nominated for a Cable ACE Award.
KUBOTA: Wow. What happened to your college education?
BURGMAIER: I started to attend the University of Colorado Film School to learn as much as possible about film production. You learn so much about creating a script, storyboard, music, voice overs, graphics and filming. I had University of Colorado friends Derek Cianfrance and Joey Curtis who were writing a film called "Brother Tied" in 1996. I came on board as one of the producers. Cianfrance directed Brother Tied. The film was a Cain and Abel tragedy and love story. Both actually lived at my home for a time as roommates. They also worked for my Jazz Alley TV series that I launched in 1992. Cianfrance who was the director of photography received the Cinematography Award for the drama Quattro Noza at the Sundance Film Festival. Joey Curtis was the director. We were selected to screen at the Sundance twice, and once at Taos and Edinburgh, and we won at the Mannheim film festival in Germany.

KUBOTA: Why jazz?
BURGMAIER: My grandmother, Sylvia Baca Martinez, loved music and movies. She would take me to see films every week in the afternoon after we closed our restaurant. She and my grandfather Trinidad Chavez Martinez had a local cantina in LaJunta, Colorado and loved jazz, blues and Mexican music. My grandmother told me she'd go to see jazz greats like Louis Armstrong and Duke Ellington in Denver in the 1930s and 1940s and tell me the stories…"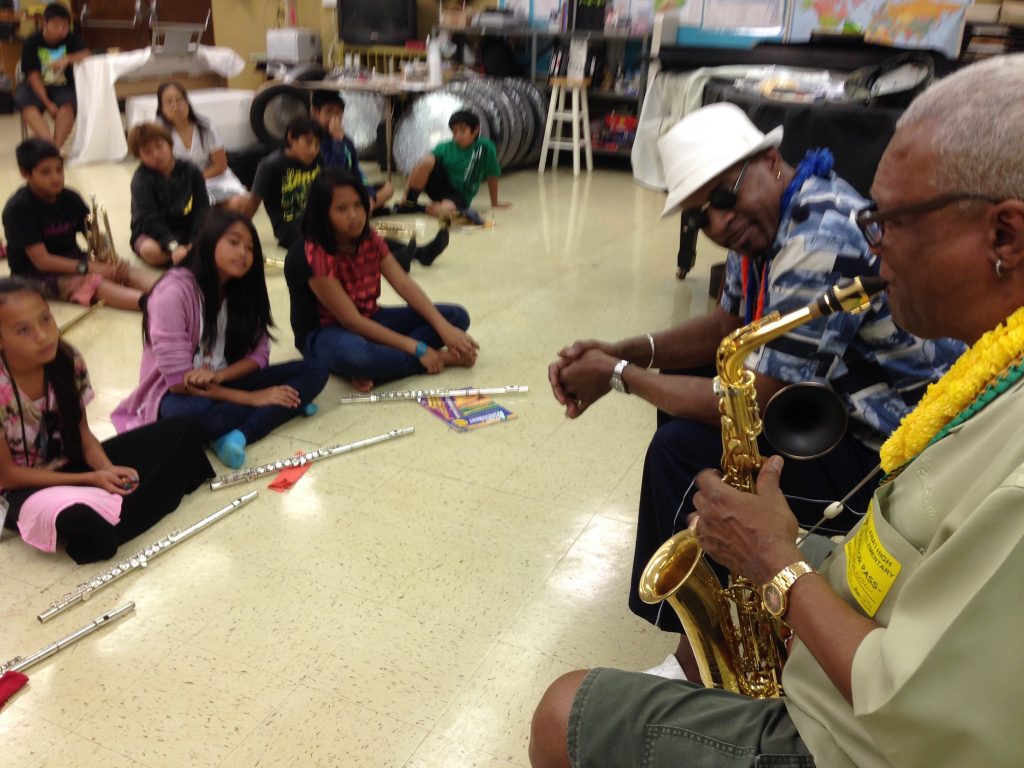 KUBOTA: How did you go from local to national film work?
ARTICLE CONTINUES BELOW AD
BURGMAIER: We started out at a local Denver TV Station KUBD TV, airing late night every Saturday for 30 minutes. After three months, the American Family TV Network contacted me and offered to syndicate us nationwide if we could produce one-hour segments. It was exciting and overwhelming at the same time. Back then, VH1 and MTV were going strong with Rock and Pop videos, and I had to figure a way to obtain jazz, blues and world music content. So I flew to the Big Apple NYC to meet with the record executives at Warner Bros. Records, Columbia Records, RCA, Capitol, Blue Note records, etc. They all loved that I created Jazz Alley TV. However, none of them had music videos for these genre of artists and no budgets to produce jazz, blues and world music videos. So, I came up with the concept that we would go to festivals, jazz clubs, venues, studios… and produce the content… We hit the road going on a world tour with our Jazz Alley TV crews and started filming.
KUBOTA: What was your role in the film unit?
BURGMAIER: I wore many hats. I was the director, producer, TV host, executive producer. I always loved filming behind the camera and oversaw the audio on all levels. I loved scuba diving since I was 22 years old, and I always filmed underwater to add that incredible footage to our projects. I actually had some gigs filming with National Geographic.
KUBOTA: Isn't that an expensive proposition?
BURGMAIER: I had my own production company, and in this business there are independent freelance talent like sound engineers, lighting directors, editors, graphic artists, camera operators. Some have turned into lifelong friends. One of the best cameramen and friends in the business was Hubie Vigreux from New Orleans, my jib operator Rich Golish, along with Lower Pierce, Chuck Richardson from Colorado along with my Maui and Hawai'i Production team.
KUBOTA: What happened?
BURGMAIER: It was incredible, traveling to over 50 countries. The doors opened up to us from the world biggest music festivals and venues, and we started to produce Jazz Alley TV Specials at Jazz festivals around the world in places like Japan, St. Lucia, Mexico, Aruba, Barbados, Holland, Indonesia, Thailand, Italy, Switzerland, France, New Zealand, Morocco, Canada, and Australia. We were invited to produce film festivals in the US including Washington, D.C., New Orleans, Pasadena, West Palm Beach, New York City, Key West and Aspen.
KUBOTA: What were the spinoff benefits?
BURGMAIER: Because of my associations with the festivals, I also began directing short music videos for the artists and also long form videos for major record labels promoting artists. It was like our Jazz Alley TV crews were suddenly part of the tour. Then, Viacom contacted me, and we were syndicated on the BET and BET Jazz Networks, and then the Voice Of America networks contacted me and took us worldwide to over 80 countries. Our exclusive Jazz Alley TV footage has been aired worldwide and seen on CNN, E!, HBO, the History Channel, ABC World News Tonight, CBS Morning, NBC Today Show, PBS and Australia TV News. I also was commissioned to direct and produce other national TV series for Viacom — the Jazz PADS TV Series, and also a national PBS special called "Jazz Colony," with Oscar winner Michael Douglas as the host. Out of that work came two Billboard Music Awards for a series.
KUBOTA: Awesome! What lies ahead?
BURMAIER: I seem to always be in the multi-tasking mode. Joey Curtis and I also have a script – "American Princess" – that we hope to produce someday. I'm currently directing and producing a new Hawaiian documentary film entitled, "Hawaiian Breath of Aloha." And a couple of feature films I wrote "Pono Warrior," about a local Hawaiian Maui guy fighting the ICE drug cartel here in Hawaiʻi. I'm currently directing and producing a new Hawaiian documentary film entitled, "Hawaiian Breath of Aloha."
KUBOTA: What's that about?
BURGMAIER: The film explores the true meaning of Hā," the breath of the Hawaiian spirit. Being indigenous Native American Indian, from Hopi and Navajo nations on my grandmothers' side, I've felt driven to feature native Hawaiians telling their stories. It has brought me close to creating lifelong friendships with my Hawaiian brothers and sisters and has guided my journey in life to produce over 20 Hawaiian documentary films. My film "Nona Beamer Mālama Ko Aloha" was life-changing for me.
KUBOTA: In what way?
BURGMAIER: Aunty Nona Beamer was instrumental in bringing back Hawaiian language, including the hula and chant. I spent many hours talking story with her on her life and her teachings on living true aloha and the amazing stories she would share about Hawaiian culture touched my soul. We became friends, and I would be there when she needed anything. When she needed to move from Wailuku to Lahaina, I was there to help her pack her boxes. She was and is an Hawaiian treasure.
BURGMAIER: I spent a few years hanging with aunty, and her telling her stories. The film also won a Gold Pele award from the American Advertising Federation and screened at film festivals and on National TV.
KUBOTA: Your Emmy involved the Beamer family too?
BURMAIER: Yes. I received an Emmy as an audio engineer and principal of the Maui-based Jazz Alley TV Inc. for my national PBS film special "Kī hōʻalu Keola Beamer" featuring the slack key music of Keola Beamer and his mother Winona.
KUBOTA: That's great!
BURGMAIER: I must mention that the Beamer film is included along with hundreds of other programs in HawaiiOnTV.com. My business partner Dave Lower and I created HawaiiOnTV.com 14 years ago. It was one of Hawaii's first TV internet networks and created during the beginning of the iPhone, YouTube, Google and Facebook explosion.
There was a need to give business owners an extremely affordable option to have a website, and their own TV commercial. Radio, TV and publications were a very expensive way to advertise. Many business owners had no concept of this new internet thing, and we showed them the way.
We offered to produce free TV commercials to businesses and put them in search engines, on Google Maps, created Facebook pages – all for as little as $100 a month. We had some of Maui, Lānaʻi, Oʻahu, Big Island, Molokaʻi top retail companies and local ma and pa stores and other businesses with us like: Duke's, Hula Grill, Ocean Vodka, Whole Foods, Maui Toyota, BMW, Acura, Subaru, Amigos, Teddys Bigger Burgers, Kahului Florist, Pet Shop, Kula Hardware, Komoda Bakery, and hundreds more. It was a huge business we created. We also produced exclusive HawaiiONTV TV News segments on events, including festivals, concerts, anniversaries, ocean sports that aired on many on the Hawaii'i TV news stations and on national TV news outlets with our HawaiiONTV LOGO always being credited.
KUBOTA: You've done other Hawaiian film productions and placed them on HawaiiONTV?
BURGMAIER: I was happy to do the film "Waʻa Hoʻolaulea Festival of Canoes," looking at Polynesia's greatest canoe builders.
There also was a film entitled "Kahoʻolawe, An Island of Healing" that showed children paddling for the Hawaiian Canoe Club from Maui to Kahoʻolawe to learn the importance of reviving the island and restoring its culture.
Another Hawaiian film that touched my heart includes the "Sarah Joe-Hāna Remembers Her Sons" about five Hāna fishermen lost at sea and "Massacre at Kaupōa Beach," a short film I did with my son nick on an 8-year-old boy's perception on the destruction of a sacred Hawaiian beach on Molokaʻi.
KUBOTA: What are the other projects you're doing now?
BURGMAIER: My two other films, "Hawaiian Spiritual Guardians 'Aumakua" and "30 Years of Aloha" have both been selected to be shown at 60 film festivals. They won many awards. I'm very happy that "30 Years Of Aloha" will have an official homecoming at the 31st Celebration of the Arts at the Ritz Carlton Kapalua.
My film "Hawai'i Big Island Jazz and Blues Festival vs. COVID 19" has screened in Sweden, Rotterdam, Rhode Island, and New Orleans and was just selected to screen in France at the Nice International Film Festival in May. It recently won as Best Documentary at the California Film, TV and Music Awards in San Francisco and also at the Tokyo Film Festival in Japan.
KUBOTA: What was the "Hawaiʻi Big Island Jazz and Blues Festival vs. COVID 19" about?
BURGMAIER: My Big Island Jazz and Blues Festival was cancelled three times during COVID. We filmed the documentary in June 2022 at the event. I felt that the documentary could be a very cool music film on the crazy times we all went through during COVID. As it turned out, the "Hawai'i Big Island Jazz and Blues Festival vs. Covid 19" was not only accepted to be shown at the Nice Internationl Film Festival. I've also been nominated for "Best Director of a Feature Documentary."
KUBOTA: What has been a major highlight in your career?
BURGMAIER: I was very humbled when I was commissioned by the Thelonius Monk Institute of Jazz and Herbie Hancock Institute of Jazz out of Washington DC to be the director and producer of films and TV specials.
KUBOTA: What did the work involve?
BURMAIER: Every year, the Institute has an international competition with young music students competing to win a scholarship and record deal and the judges are world-renown artists.
The specials included tributes to BB King, Aretha Franklin, Quincy Jones, Herbie Hancock, Wayne Shorter, Stevie Wonder, Madeline Albright, President Clinton, and working and actually directing Sting, Bono, Chris Botti, The Edge, Joni Mitchell, Helen Mirren, Don Cheadle, Jamie Fox, Seth MacFarlane, Goldie Hawn, Louis Gossett Jr., Billie Dee Williams, Dave Grusin, Pat Metheny, Terrence Blanchard, and Ron Carter.
The work took place at the prestigious Dolby Theatre, once known as the Kodak Theatre, where the Oscars are filmed, and also at the Kennedy Center in Washington DC.
KUBOTA: You've also had some luck pursuing feature film opportunities?
BURMAIER: Yes. A SCI-Fi film I produced "2307: Winter's Dream" was distributed by Netflix, Amazon Prime and ITunes, after it debut in 13 U.S. cities. It was shot in the Lake Erie area in New York.
KUBOTA: In your spare time, when you have any, what makes you the happiest?
BURGMAIER: I love nature. I enjoy having quiet time hiking, camping, road trips, riding my mountain bike in the forest, coast, jungle, and exploring the ocean in different ways from scuba diving to paddling in my one-man canoe. It is peaceful and serene and grounds me. Family is a must.