Advisory Level SSW Peaks Today, NNW Fills in
October 17, 2015, 1:55 AM HST · Updated October 16, 11:08 PM Meteorologist Malika Dudley ·

0 Comments

Alerts

A High Surf Advisory is posted for south facing shores of Molokai and Maui through 6 a.m. Sunday. Expect strong breaking waves, shore break and strong longshore and rip currents making swimming difficult and dangerous.

Check our breaking news section for any urgent weather alerts.

**Click directly on the images below to make them larger. Charts include: Maui County projected winds, tides, swell direction & period and expected wave heights.**
+
Maui Surf Forecast
North: Wave heights are expected head high to overhead today. The best breaks could get sets a few feet overhead.
West:  Wave heights shoulder/head high are expected today. Spots shadowed by other islands will be smaller.
South: The south-southwest is expected to bring chest/head high waves today. The best breaks could see overhead sets.
Our current north-northwest fills in late in the day. The new swell is forecast to peak late Saturday and fade through the rest of the weekend. Another shot of northwest is expected midweek.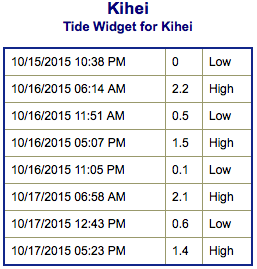 Our current south-southwest swell is expected to continue filling in and peak Saturday before trending down on Sunday. New swell out of the southern hemisphere is expected Thursday.
Tropical swell is possible for the second half of next week. Will keep an eye on it.
Keep in mind, surf heights are measured on the face of the wave from trough to crest. Heights vary from beach to beach, and at the same beach, from break to break.  
**Click here for your detailed Maui County weather report.**