Maui Coronavirus Updates
Governor: Lifting Interisland Travel Quarantine is "Top-Of-Mind," No Target Date Set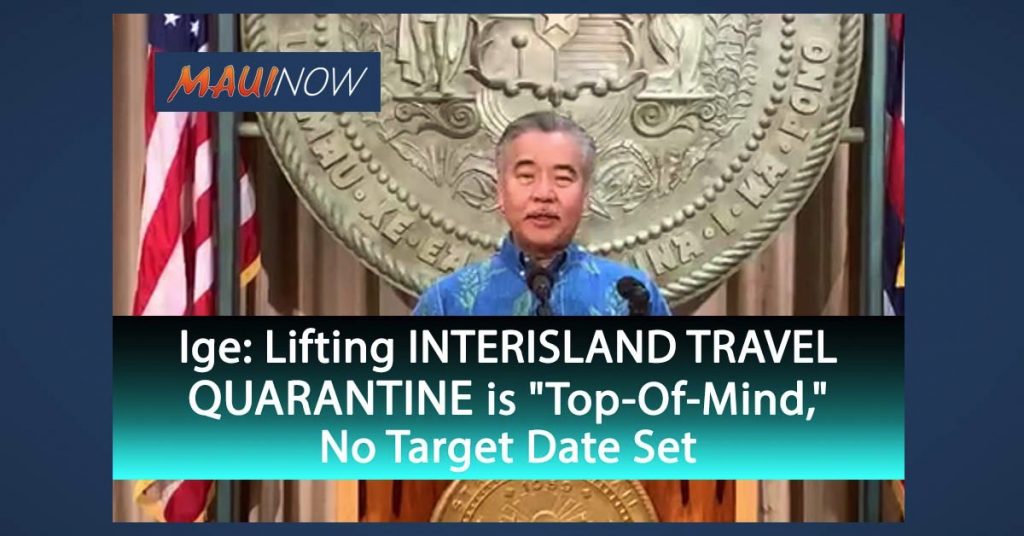 Update:
In an Instagram video message on May 22, Lt. Gov. Josh Green said to prepare for June 1, 2020.  "What I mean by that is we should be able to do interisland travel.  We're getting the forms straightened out without quarantines.  So I'm hopeful that that will happen."
We asked Maui Mayor Michael Victorino today if this is something that he would support and if so, what preparations are being made at Kahului Airport to support the transition.
Mayor Victorino responded saying, "At this time, we're not ready to comment on that statement. I've got to be honest with you, there are more things… and more procedures that have to be in place to make sure that we allow the reopening for interisland travel.  I think June 1st may be stretching it a bit; but we're looking at June… some time in early June to reopen to local travel–for residents to travel between the islands.  But a number of issues have not been resolved and today's discussion with the leadership team, which is the Governor and the four Mayors–we brought up a number of questions, and they're assuring us by next week Wednesday's meeting (May 27) that hopefully we'll have answers so that we can start making decisions when and where."
Previous Post:
ARTICLE CONTINUES BELOW AD
ARTICLE CONTINUES BELOW AD
Currently both quarantines for out-of-state arrivals and interisland travel are in place through June 30th; however, Gov. Ige has noted that lifting the 14-day quarantine for interisland travel "is top-of-mind."
During an afternoon press conference, Gov. Ige said, "Health measures are pointing in the right direction to make this move..with infection levels appearing to be under control across the state," however, he could not pinpoint a target date for making this happen and instead said he hopes to finalize a plan shortly.
The reopening of interisland travel without a quarantine is listed as an item to be considered under the current Phase 2 of the governor's four step "Beyond Recovery," reopening strategy for the state.
Gov. Ige said he is in discussions with the counties and airlines to address key issues of screening, testing and contact tracing. Staffing and resource requirements are also being discussed.
When asked about a target date, Gov. Ige said:
ARTICLE CONTINUES BELOW AD

"We're working with all of the stakeholders.  We do understand and I know that my office has received many calls of individuals that would like to know when the interisland travel quarantine will be lifted.  It's very important that we have all of the processes in place–working with the counties, airports and other state officials–so that people can be assured that we have a system that we will know who will be traveling.  We have a way to screen them so clearly if they have a temperature, we can do the further health assessment to make sure they are not a risk to others.  And most importantly that we can keep the line of communications between the different counties and the different government officials open.  It's really important that it ends up that we're creating a new traveling process. We want to ensure that it's health focused, that we will be asking appropriate questions, if someone should become ill that we can get them the services they need.  And most importantly that we can contact them, isolate them, and keep them from infecting others."
In response to reporter follow-up questions seeking a more solid date, Gov. Ige said:
"We don't have a hard timeline.  It's making sure that we have the systems in place.  I would just like to remind everyone that four (or) five weeks ago we had nothing.  People traveled all around the world, between interisland freely with no limitations and in the post COVID-19 era, in order to keep our community safe, interisland as well as domestically and internationally, we have to create a new system of screening, of healthcare providers, of being able to test those that we believe are infectious, and most importantly to be able to isolate them and keep them isolated from infecting others."
As for the quarantine in place for out-of-state visitors, Gov. Ige was asked if he planned any more extensions beyond the current June 30th timeline. He responded:
"We will continue to look at and evaluate the extension of the quarantine for all incoming travelers on a monthly basis. We definitely know a lot more and we are able to implement I think, a better system of identifying those who should be in quarantine and ensuring that they have a place to quarantine, and most importantly have the information should someone break quarantine for us to enforce the requirements of the quarantine order. All of these are very important as we consider lifting the quarantine orders. We want to make sure that we have other systems in place of screening individuals, of identifying those who may be sick, of being able to get them tested if that's appropriate… Also to be able to get them to receive the medical care that they need and be able to isolate them and prevent them from infecting others in our community."
We asked the governor what's the progress of the proposal seeking COVID-19 testing of arriving passengers to the state. We also asked it it is something that he supports or if he's working towards this.  Gov. Ige responded saying:
ARTICLE CONTINUES BELOW AD

"I have been working with Congressman Case and the others in the congressional delegation to see if we can get testing done by TSA and confirmation before they get on an airplane.  It is something that would allow us to reach.  We continue to advocate for it, but it certainly is something that will be difficult to implement, unless it is implemented across the country.  I would like to note that 22 states have ordered mandatory quarantines and there is only one state that is actively enforcing implementing and ensuring that all of those orders are actually quarantining.  I know that the state of Alaska is doing some activity. But Hawaii is the only state that has ordered a quarantine and as I said 22 states have ordered quarantines, but no one else is implementing them.  So we are actively promoting that TSA change their procedures to allow for some kind of requirement of testing before getting on planes. And then obviously we would be working to pursue legislation at the federal level that might create a broader network that may be able to have orders in place all across the air travel system that would make being able to require a test before getting on a plane more pragmatic or realistic."
Gov. Ige said when the interisland travel quarantine is lifted there will likely be additional COVID-19 cases, and Hawaiʻi has the capacity to handle it. However, if a new surge occurs, some restrictions might need to be reinstated.
Gov. Ige encouraged everyone to continue engaging in best practices like maintaining social distancing, washing hands, wearing masks, avoiding large gatherings and staying home when sick.
Lt. Governor Josh Green said the state is working to build up PPE inventory in the event of a "worst case scenario" of a major outbreak in the state. He said from a medical standpoint, Hawaiʻi needs to continue to rely on public health officials to provide guidance on when it's safe to lift quarantines. From a "compassion standpoint" he talked about several recent incidents in which family members needed to fly between islands for sick or dying relatives.