Maui Coronavirus Updates
Hawai'i Coronavirus Total Now 586: 2 New Cases, Maui Total is 110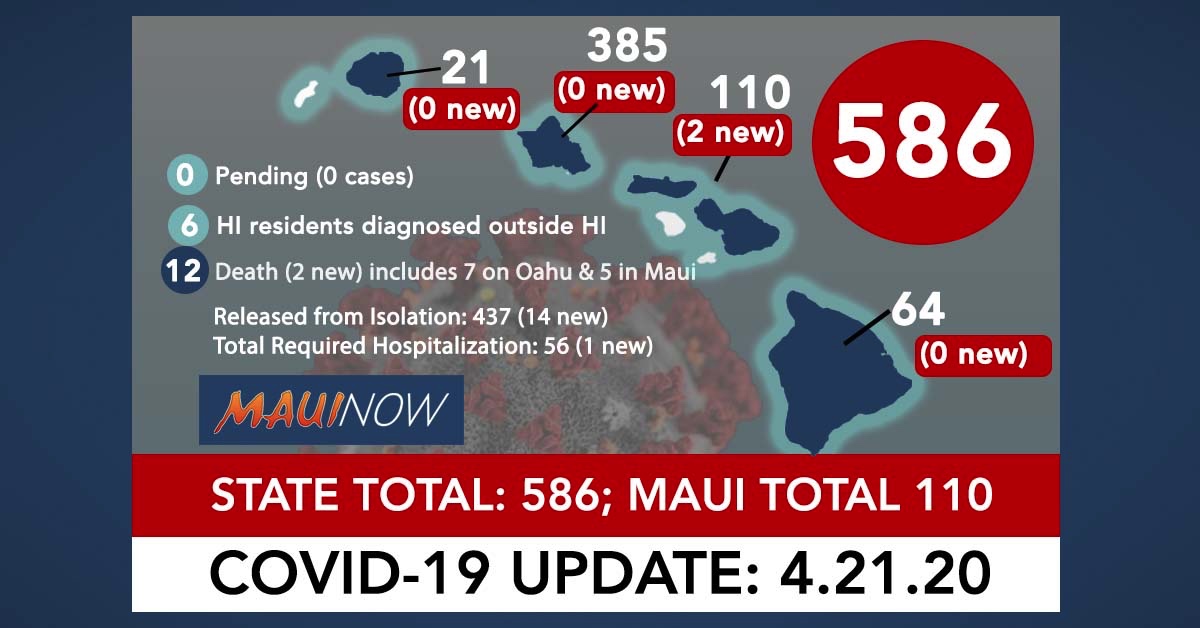 The Hawai'i Dept. of Health reports that two additional coronavirus related deaths occurred late last night, bringing the total in the state to 12 since tracking began on Feb. 28, 2020.  The deaths occurred on O'ahu and on Maui and both are men, 65-years-old, or older.
As of noon on Tuesday, April 21, 2020, there are 586 cases of COVID-19 identified in Hawaiʻi with 2 new cases, both in Maui County. The total includes:
0 new cases on Oʻahu for a total of 385 confirmed positive,
2 new cases in Maui County for a total of 110 confirmed positive,
0 new cases on Hawaiʻi Island for a total of 64 confirmed positive; and
0 new cases on Kauaʻi for a total of 21 confirmed positive.
There are no pending cases, where the island of residency has not been determined, which remains unchanged from yesterday's count.  There were also six cases that are identified as Hawaiʻi residents who were diagnosed outside of Hawaiʻi.
The Hawaiʻi State Department of Health reports that there were 437 individuals released from isolation; and 56 cases that have required hospitalization.
ARTICLE CONTINUES BELOW AD
ARTICLE CONTINUES BELOW AD
Maui County has 2 new cases for a total of 110 confirmed positive. Of the 110 cases in Maui County, at least 60 have been released from isolation, and 7 have required hospitalization.
Maui County now has five COVID-19 related deaths.
56 Individuals in Maui Hospital Cluster: 
ARTICLE CONTINUES BELOW AD
There is a COVID-19 cluster on Maui at the Maui Memorial Medical Center.  The state adjusted the Maui Hospital cluster count upward to 56 individuals under investigation, including 36 staff and 20 patients. The DOH's investigation at MMMC continues and DOH officials say "it appears the outbreak may have been driven by a single healthcare worker who was allowed to work while ill."
Other Highlights for Maui County:
Two individuals from the Ka Hale A Ke Ola Homeless Resource Center on Waiale Road in Wailuku on Maui have been moved to a Department of Health quarantine facility after one of them tested positive for COVID-19 and the other is awaiting test results.
ARTICLE CONTINUES BELOW AD
There's also two home health patients with Hale Makua Health Services and a nursing home resident from Hale Makua Kahului that tested positive for COVID-19.
There was also a confirmed case of a physical therapy worker at the Kula Hospital who tested positive for COVID-19.  A total of 16 individuals who received care were tested and so far, no positive cases have been reported as a result.
The Maui positive count includes at least one resident of the rural community of Hāna in East Maui and at least two residents of Molokaʻi.
*includes presumptive and confirmed cases, data are preliminary and subject to change; note that CDC provides case counts according to states of residence.
†Isolation should be maintained until at least 3 days (72 hours) after resolution of fever and myalgia without the use of antipyretics OR at least 7 days have passed since symptom onset, whichever is longer.