Maui News
Maui Obituaries: Week Ending Oct. 3, 2021
Maui Obituaries for the week ending Oct. 3, 2021. May they rest in peace.
Aug. 29, 1963 – Sept. 29, 2021
Nelson Serrano Buemio Sr., 58, of Lahaina passed away on Sept. 29, 2021 at Maui Memorial Medical Center. He was born on Aug. 29, 1963 in the Philippines.
Nelson is survived by his wife, Guadalupe Manantan Buemio; children, Noel (Reylyn) Buemio, Norlie (May Plazo) Buemio, Nelson (Jeanzle Jangz) Buemio Jr.; mother, Esmenia S. Buemio; grandchildren, Zennymae Buemio, Christian Lloyd Buemio, Amhira Jannel Buemio, Charmaine Buemio, Princess Maui Buemio, Normel Zian Buemio; siblings, Arnold S. Buemio, Wilfredo S. Buemio, Elizabeth B. Brillantes.

He is predeceased by his father, Emiliano P. Buemio.
ARTICLE CONTINUES BELOW AD
Visitation will be held from 6 p.m. to 9 p.m. on Saturday, Oct. 16, 2021 at Ballard Family Mortuary in Kahului. Cremation to follow.
---
ARTICLE CONTINUES BELOW AD
April 3, 1943 – Sept. 14, 2021
Clifford "Dahlin" Prais of Kahului, Maui passed away with his wife and daughter by his side at Maui Memorial Medical Center on Sept. 14, 2021. He was born on April 3, 1943 in Puʻunene, Maui.
Clifford is survived by his wife of 48 years, Ellen Prais; daughter Leah (Ama) Quiniola; grandson, Laʻi; brothers Sam (Irish) Kaeo, Francis Prais, Michael Prais, and sister Ann (Benny) Lurendez. He was predeceased by his parents Graciano and Emily (Kaeo) Prais, brothers Jimmy Kaeo, Phillip Prais, and Kalani Prais. He is also survived and loved by many nieces and nephews.
ARTICLE CONTINUES BELOW AD
After 30 long years, Clifford sadly retired after working as a custodian at Kahului Elementary School. He took great pride in his job. He loved helping teachers and keeping the students safe was always a priority to him. He worked till the age of 76 because it brought him so much joy.
Clifford loved traveling and seeing new places with family, cruising the island in his truck and throwing net. He had a very special gift and was asked to bless peopleʻs homes and schools often. He was a hard-working man who will be remembered for his kind heart, friendly smile, and his immense love for God, his entire ʻohana and especially for his one and only moʻopuna, Laʻi.
Due to covid, a service for Clifford will be held online only. A drive-thru viewing will be held at Ballard Family Mortuary located at 440 Ala Makani Street, Kahului, Hawaiʻi 96732 on Thursday, Oct. 7, 2021 from 12 p.m. through 1 p.m.
Ballard Family Mortuary has requested as a precaution and for the safety of everyone, all who attend are required to wear a mask and practice social distancing. We kindly ask to please refrain from hugging and hand shaking.
---
July 23, 1942 – Sept. 24, 2021
Jerry-Jean Leimomi Viela of Wailuku, Maui, passed away on Sept. 24, 2021, at her home under the care of Hospice Maui, with family at her side. She was born on July 23, 1942 in Honolulu, O'ahu. Jerry is survived by her husband, Norman Viela; children, Norma (Kelvin) Viela-Verzosa, Jay (Lynn) Viela, Jon (Maile) Viela; seven grandchildren, Jaymie Viela (Kimo Ballesteros), Chassie (Senituli) Vainikolo, Jrae Viela, Kiera Viela, Kalena Viela, Jrew Kupono Viela (predeceased), Jai Viela and one great grandchild, Jaxx Ballesteros. Jerry is survived by her twin brother, Jerry-Meyer (Julia) Neumann and Cindy Manzano. She is preceded by her sister, Dale Robinson.
A "drive-by" visitation will be held from 2:30 p.m. to 4:30 p.m. on Friday, Oct. 8, 2021, at St. Anthony Church. The family would appreciate it if you could include your name and address on envelopes. The family is also requesting no flowers. A private service will be held at 5 p.m. and livestreamed at bit.ly/VielaService.
Due to COVID-19, the use of masks and social distancing practices will be required.
---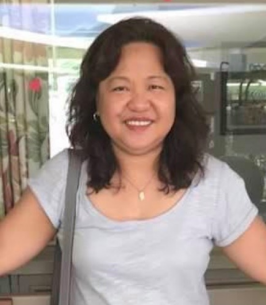 Oct. 16, 1962 – Sept. 12, 2021
Margarita "Margie" Tabios Nelson went home to Jesus on Sept. 12, 2021 at the age of 58. Margie was born to Monica and Faustino Tabios in San Nicolas, Ilocos Norte, Philippines. She moved to Maui with her mom and two brothers in 1967. She grew up in Lahaina, Maui and attended Kamehameha III Elementary School and graduated from Lahainaluna High School.
After high school, she attended college at University of Hawaiʻi and later graduated from the Travel Institute of the Pacific. After college, she moved back to Maui and worked at several resorts. During this time, Margie met her husband Bob on a blind date in 1989 and they ended up marrying in Las Vegas six years later. Margie and Bob lived in Kihei for several years and then ultimately moved to Tacoma, Washington where Bob had his job at Port of Tacoma and to be closer to his family. While living in Tacoma, Margie spent the better part of her career working at JC Penney's where she made lots of friends. Unexpectedly, Bob passed away last October after they have been happily married for 22 years. Together, they enjoyed spending time at their cabin along with their two dogs, Pootie and Lucy Ann. As this was life changing event, Margie moved back to Maui to be closer to her own family. As she was setting back into the Maui lifestyle, she enjoyed spending time with her family, shopping, driving and visiting scenic places with friends, trying out new restaurants, and visiting her father who is 99 years old two to three times a week at Hale Makua. If you knew Margie, you might have been one of her close friend or family member that spent hours with her on the phone chatting with her. This is something she did really well and her way of staying in contact with those she cared about.
Margie comes from a large family that cared deeply for her including Faustino Tabios (father), Monica Tabios (mother-deceased), Erlinda (sister) and Elpidio (brother in law deceased) Delos Santos with 6 children, Marilyn (deceased), Myrna (Patrick) Kittredge, Maria (deceased), Magdalena (deceased), Marissa (deceased) and Sam. Florendo (brother), Alma (sister in law) with two children Floyd (Alyssa, Apolonia, and Anna) and Alona (David, Chandler, and Cameron) Watson, Melandrino (brother), Myrna (sister in law) with two children Myles and Crystal along with a host of many devoted aunts, uncles, cousins, nieces, nephews and friends. Margie's beautiful life, generosity and smile will be cherished and deeply missed by her family and numerous friends and all those that knew her.
Her celebration of life will be held on Friday, Oct. 8, 2021 at Ballard's Mortuary. Private family visitation from 8 a.m. to 9 a.m. Public visitation and services from 9 a.m to 10 a.m. Burial to follow at 10:30 a.m. at Garden of Meditation.
---
Aug. 5, 1961 – Sept. 14, 2021
Wendell Saffery Kula Tolentino, 60, of Kahului, passed away on Sept. 14, 2021. He was born in Kaunakakai, Molokai, on Aug. 15, 1961.
Wendell worked at Aloha Poi Factory and Printer Pete's.
He is survived by his children, Shannan (Brandon) Felipe, Kaleohano Tolentino, Kanohokula Tolentino, and Naalehu Tolentino; father, Wendell (Rose) Tolentino; siblings, June (Keoki) Denison, Pierson (Nahula) Kapuni, Marlene (Darryl) Kalua, and Helene Cannella; two grandchildren, Kahoku and Palenapa.
Wendell is predeceased by his mother, Leilani Kapuni, and brother, Saffery Tolentino.
Visitation will be held from 6 p.m. to 9 p.m. on Thursday, Oct. 7, 2021 with services beginning at 6:30 p.m.; cremation will follow.
Due to the COVID-19 pandemic, use of masks and social distancing practices are required.