Maui Business
Old Maui Palms Hotel site in Kahului will be new 136-room Hampton Inn and Suites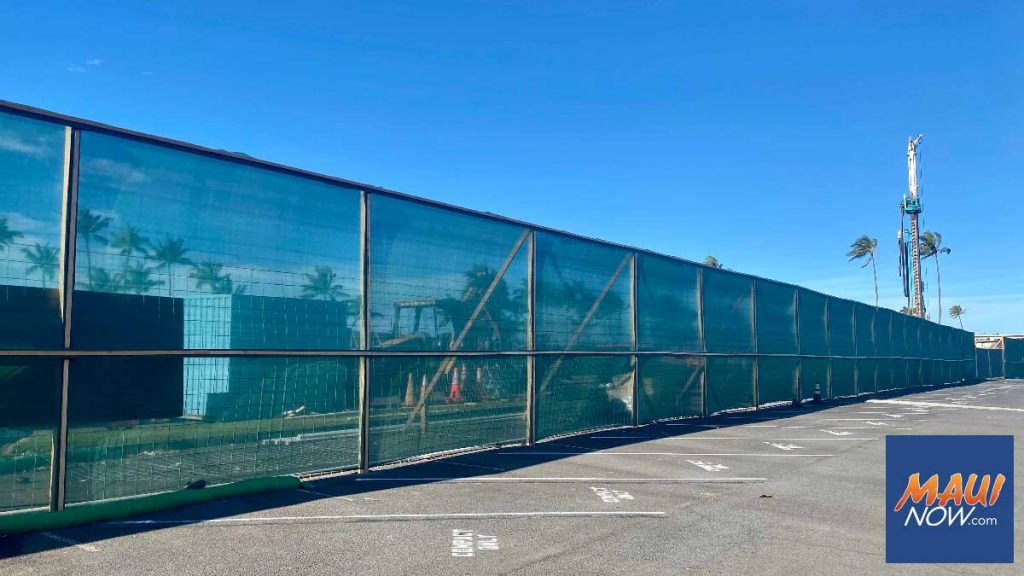 After several ownership changes, the old Maui Palms Hotel site between Maui Beach and Maui Seaside hotels in Kahului is under construction to become Maui Palms Hampton Inn and Suites by Hilton.
Owners on Thursday told Maui Now that the 136-room Maui Palms Hampton Inn and Suites by Hilton has an estimated completion date of 2025.
The hotel, geared toward inter-island business travelers, is a joint venture among Pennsylvania-based Argosy Real Estate Partners, Georgia-based Peachtree Hotel Group and Colorado-based Blackridge Group.
Neighboring Maui Seaside Hotel, recently acquired by California-based ASAP Holdings, will eventually be converted to a hotel in the Tapestry Collection by Hilton.
ARTICLE CONTINUES BELOW AD
ARTICLE CONTINUES BELOW AD
The old Maui Palms Hotel site comprises about five acres at 170 W. Kaʻahumanu Ave. Currently, silt fencing is lining the construction project area, with heavy equipment onsite.
Maui Palms Hampton Inn and Suites will have three buildings: A central, single-story, open-air lobby with two adjacent four-story guest room wings, according to Tim Wilson, Blackridge Group owner.
The lobby building will have a bar and a small-plate restaurant open to the public. Also, a pool is planned along with extensive landscape improvements, Wilson said.
The hotel intends to service independent travelers wanting to stay in Central Maui for "sports and family," and kamaʻāina discounted room rates will be available, he added.
ARTICLE CONTINUES BELOW AD
"While we cannot restrict who buys a room on a given night, our hope is we can provide lodging for locals traveling inter-island for family and leisure, local business commuter travel, and tourists alike looking to experience local culture and amenities," Wilson said.
Maui Palms hotel, advertised as a new hotel in the 1950s, operated into the 1990s. It was then closed and mostly demolished by 2002.
County records show that Elleair Hawaiʻi initially sought to redevelop the Maui Palms site in the early 2000s. However, no construction commenced, and Hawaiʻi real estate developer Peter Savio purchased the Maui Beach and Maui Palms hotel properties in 2014. 
In recent years, Savio, who owns Pagoda Hotel on Oʻahu, discussed his intent to develop Maui Pagoda Hotel, and several county documents show potential renderings of the 136-room facility.
ARTICLE CONTINUES BELOW AD
Savio told Maui Now this week that he sold the Maui Palms lot but stayed on as an investor, retaining a small part of ownership. The land was sold in December 2022, according to county documents, but the sales price was not recorded.
The hotel-zoned property that includes Maui Beach Hotel, which was built in the 1960s, is bordered by Kaʻahumanu Avenue to the south, Kahului Beach Road to the west, Maui Seaside Hotel to the east and Kahului Harbor to the north.
Maui Palms Hampton Inn and Suites, a redevelopment project, has several permits and approvals, including a Special Management Area Use Permit, Maui County building and grading permits, a National Pollutant Discharge Elimination System Permit from the state Department of Health and an Archaeological Monitoring Plan by the State Historic Preservation Division.
The Hampton Inn by Hilton brand would be the first of its kind on Maui. According to the Hampton Inn by Hilton website, the brand serves "quality-driven and value-conscious travelers" with modern and spacious rooms, complimentary Wi-Fi and free hot breakfast. There are more than 2,800 properties in 36 countries and territories around the world, with one location on Oʻahu at Hampton Inn & Suites in Kapolei.
Hilton did not respond to a request for comment.