High Surf Advisory Posted, New Swell Builds Late
January 9, 2016, 1:56 AM HST · Updated January 8, 11:06 PM Meteorologist Malika Dudley ·

0 Comments

Alerts

A High Surf Advisory is posted through 6 p.m. Saturday for north and west facing shores of Molokai and the north shore of Maui.

Check our breaking news section for any urgent weather alerts or updates to the weather alerts listed above.

**Click directly on the images below to make them larger. Charts include: Maui County projected winds, tides, swell direction & period and expected wave heights.**
+
Maui Surf Forecast
North: Double overhead surf is expected for the best spots today in the morning. New NW swell starts to filter in late in the day.
West: Wrap from a northwest swell will bring waist/shoulder/head high surf to West Maui spots that have northern exposure in the morning. Out of the south-southwest just knee high waves expected.
South: Wave heights are knee/waist high today out of the south-southwest.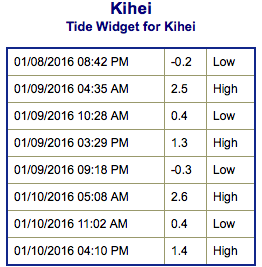 Another round of swell continues to fill in out of the west-northwest today with an XL northwest swell on its heels for Saturday night, peaking early Sunday morning before easing through the day Sunday and Monday.
Trade swell is expected to remain pretty small through the weekend.
Our current south-southwest lingers through the weekend with wave heights topping out in the knee high range.
Keep in mind, surf heights are measured on the face of the wave from trough to crest. Heights vary from beach to beach, and at the same beach, from break to break.  
**Click here for your detailed Maui County weather report.**