Maui Coronavirus Updates
Maui District Health Office on Vaccine Rollout: Everybody Should Get a Dose if they want it by Labor Day
By Wendy Osher

December 29, 2020, 10:17 AM HST
* Updated
December 29, 10:27 AM
Health officials on Maui are asking the public to be patient by waiting their turn in the distribution timeline, and continue health care precautions as the state carries out its vaccination plan.
"The vaccine is here, but we have very limited doses," said Mayor Michael Victorino. "Our first responders and our critical health care providers and front line works are the first to get vaccinated."
Maui Health received a shipment of its first 975 doses of Pfizer-BioNTech vaccines last week.
Meantime, the Maui District Health Office is working in coordination with the National Guard and volunteers at the University of Hawaiʻi Maui College to conduct drive-up vaccinations on priority groups outside of the hospital setting, using the Moderna vaccine.
An estimated 80 people work at the UHMC drive-up site, three days a week, from 9 a.m. to 12 p.m. and 1 to 4 p.m.
ARTICLE CONTINUES BELOW AD
ARTICLE CONTINUES BELOW AD
The goal is to vaccinate 800 people a day once supplies increase, according to an update provided by Maui Health officials.
Last week Wednesday, the site began with 210 doses administered. On Saturday, Dec. 26, 470 doses were administered for a total of 680 doses. Yesterday, the MDHO had planned to administer an additional 550 doses for a total of 1100-1200 vaccinations completed to date at the UHMC drive-up site.
"It's very orderly. Nobody waits more than 40 minutes and they stay in their car," said Dr. Lorrin Pang, Maui District Health Officer.
"We have to plan on short notice," said Dr. Pang, noting that the Maui just received 2,000 additional doses of the Moderna vaccine on Monday.
To date more than 9,000 vaccines have been administered statewide.
ARTICLE CONTINUES BELOW AD
"Everybody should get a dose if they want it by Labor Day. Some groups should get it before Valentine's Day; Another group–the second priority–between Valentine's and maybe May 1; And the third priority–maybe May 1 to Labor Day. That's the target."
In the meantime, he said, "the best vaccine is masks, good hygiene and physical distancing."
Dr. Pang said contrary to timelines, some registration forms have been distributed to elderly residents in non-health care settings and others not on the first tier priority listing. "I feel bad, but it's not their turn. Some elderly came by and they're not really health care workers… but can we not do this– recruiting themselves. We don't have plenty vaccine. I'm telling everybody here to sit tight… then when it's released, we have short notice, about a day, to call them up, and it seems to work. We get better as we go along."
Dr. Pang reminded the public that although the vaccine offers a light at the end of the tunnel, he urged people not to "cut loose on the bad behavior." He said, "We're going to ask you guys every celebration–watch those gatherings."
Maui Mayor Michael Victorino said that as the New Year rolls around, the good news is that another COVID-19 relief fund has been approved by the president. "This money will not be coming directly to the counties like the last time around. This time it will likely go directly to people like the Department of Health, Department of Education, Department of Transportation. It is more designed for agency help and things that need to be done."
ARTICLE CONTINUES BELOW AD
Rep. Tulsi Gabbard to Ige, Green: Protect Hawaiʻi's Kūpuna First
In an effort to save the lives of vulnerable kūpuna and protect our frontline medical workers and first responders, Rep. Tulsi Gabbard called upon Gov. David Ige and Lt. Gov. Josh Green to prioritize senior citizens over the age of 65 ahead of non-medical essential workers in the distribution of COVID-19 vaccines.
In a press release issued today, Rep. Gabbard pointed to Centers for Disease Control and Prevention data on mortality rates, saying kūpuna ages 65-74 are 90 times less likely to survive a COVID-19 infection than the baseline 18-29 year old group. Nationwide, she said, nearly 79% of total COVID-19 related deaths have occurred in elderly Americans over the age of 65.
"As you know well, our kūpuna have been most impacted by COVID-19, suffering severe health complications and loss of life," said Rep. Tulsi Gabbard wrote. "Our kūpuna should not have to compete for the limited supply of vaccines with the tens of thousands of younger healthy people categorized as 'essential workers'—which could mean anything from liquor store workers to lawyers to phone company employees."
Rep. Gabbard argues, the science points to prioritizing the delivery of vaccines to kūpuna over 65 years of age before providing it to others who are under 65 and not frontline healthcare workers.
"Vaccinating large numbers of people under 65 could easily put our kūpuna at even greater danger if they have not already been vaccinated. This is because those who have been vaccinated may erroneously believe that because they've gotten the vaccine, they will not be able to transmit the disease to others," the Congresswoman wrote.
"The only way to prevent this disaster is by vaccinating the 46,000 frontline healthcare workers/first responders and those over 65, before vaccinating over 162,000 younger healthy "essential workers"; and by clearly informing every individual that getting the vaccinations will not keep them from being able to infect others," she said.
Find Your Place in the Vaccine Timeline:
The public in Hawaiʻi is invited to find their place in the vaccine timeline by visiting HawaiiCOVID19.com/vaccine.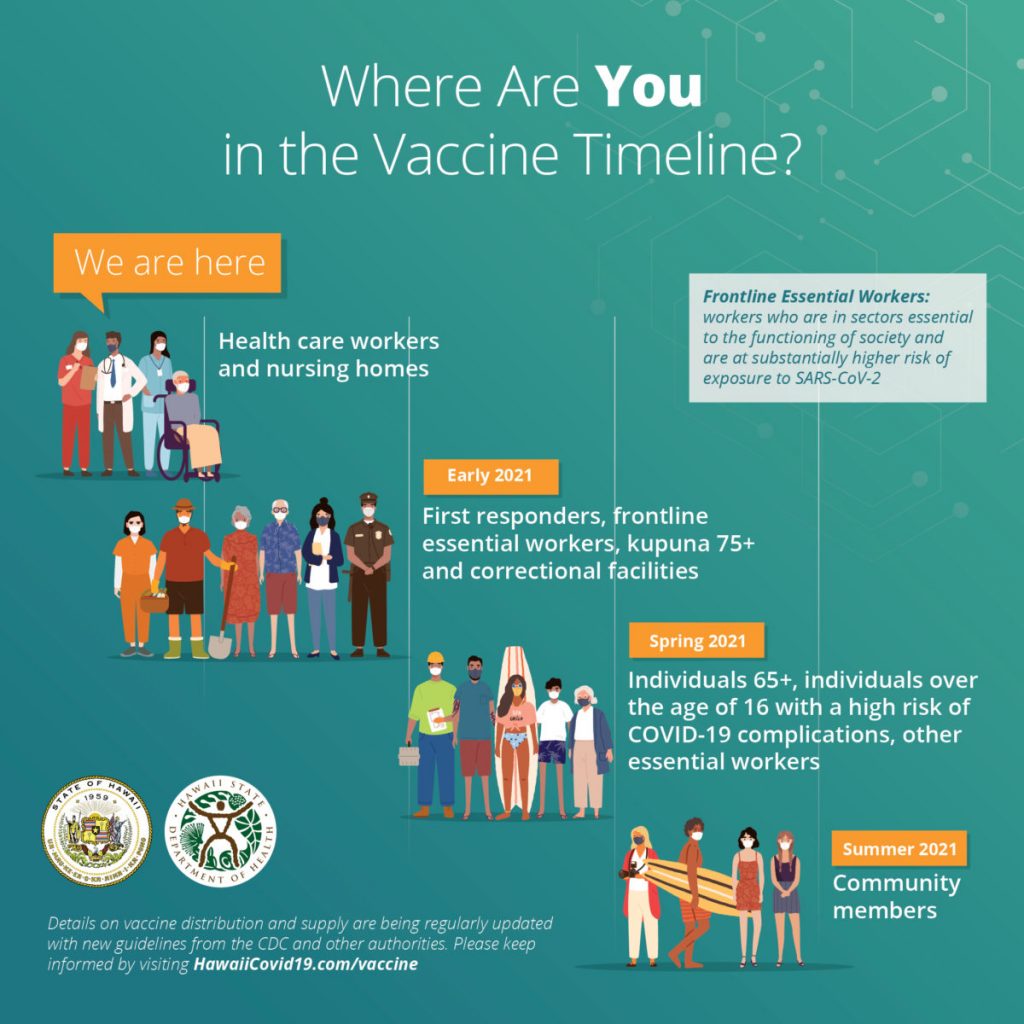 The Draft COVID-19 Vaccine Plan recommends that the vaccine be provided to certain high-risk individuals first.
Other groups will receive vaccines in coming months, as more vaccines are made available.