Maui News
Maui Police Department Raised Over $11,000 for Childhood Cancer Research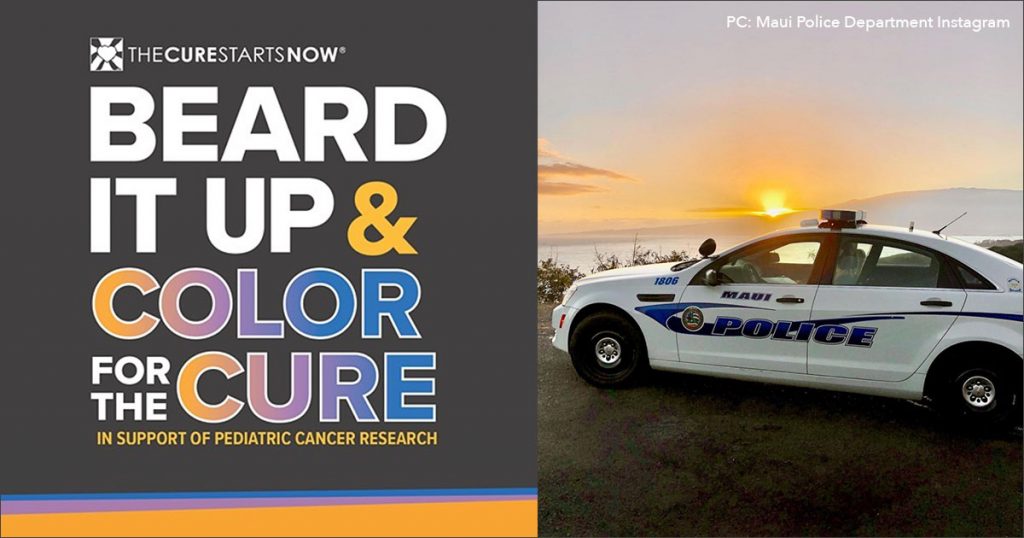 The Maui Police Department surpassed its fundraising goal for its third year participating in "The Cure Starts Now – Beard It up / Color for the Cure" campaigns, supporting pediatric cancer research.
In 2019, the department raised $8,000 and set a goal for 2020 of $10,000. Between October 2020 and December 2020, the department surpassed its goal of $10,000 by raising a total of $11,475.12, which ranked MPD #1 throughout the nation.
There were a total of 128 participating employees, both civilian and sworn.
ARTICLE CONTINUES BELOW AD
ARTICLE CONTINUES BELOW AD
Participating divisions included the Chief's Office, Technical Services, Community Relations Section, Criminal Investigation Division, Wailuku Patrol, Wailuku Community Police Officers, Internal Affairs, Juvenile Crime Prevention Division, Receiving Desk, Traffic, Special Response Team, Plans and Training Division, Crime Reduction Unit, Vice, Dispatch, Motor Pool, Administrative Services, Records, Quality Assurance, Lānaʻi Patrol, Lānaʻi School Resource Officers, Hāna Patrol, Hāna School Resource Officers, Lahaina Criminal Investigation Division, Lahaina Patrol, Lahaina Community Police Officers, Molokaʻi Patrol, Kīhei Criminal Investigation Division, Kīhei Patrol and Kīhei Public Safety Aides.