Maui News
Hawaiian Islands Land Trust's Dr. Fisher Featured on Public Zoom Presentation Feb. 10 about Paleoecology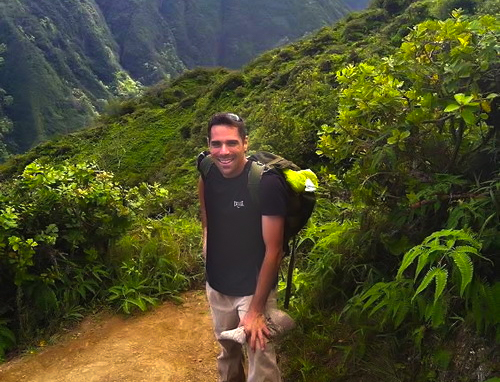 Hawaiian Islands Land Trust's Scott Fisher, PhD, is the featured speaker at a free public Zoom presentation Feb. 10 about how the distant past can be used as a guide for future decision-making regarding present ecological challenges.
Maui Nui Marine Resource Council is hosting the talk as part of its "Know Your Ocean Speaker Series."  The presentation will focus on the science of paleoecology, which is the study of interactions between organisms and their environments across geologic timescales.
Advance reservations are required. To reserve your spot, visit http://bit.ly/HILTpast.
ARTICLE CONTINUES BELOW AD
ARTICLE CONTINUES BELOW AD
Fisher, the Chief Conservation Officer at the Hawaiian Islands Land Trust (HILT), and other staff are using sediment coring at locations such as Nuʻu Pond to extract and examine micro-fossils embedded in the sediment. They are working to understand past ecosystems on HILT lands, particularly the function and composition of vegetation across landscapes.
For example, what plants and organisms were most dominant approximately 2,000 years ago, long before the first humans arrived on Maui? How were they capable of withstanding substantial ecological disturbances, such as floods and tsunami? What can be learned from this natural history to better manage coastal lands in Waiheʻe and other parts of Hawaiʻi to make them more resilient to a changing global climate?
 "As climate change brings about substantive changes to our islands, we need to discern ways of adapting to more intense storms, sea level rise and loss of coastal ecosystems," Dr. Fisher said. "The past holds the key to the future, and by learning about the past, we can better understand how to restore, adapt and change in order to make our islands and nearshore coral reefs more resilient."
ARTICLE CONTINUES BELOW AD
Maui Nui Marine Resource Council's "Know Your Ocean Speaker Series" events are held monthly via Zoom. Support for these events is provided by the County of Maui Mayor's Office of Economic Development.
The emcee for this event is Darla Palmer-Ellingson, local radio show host of the public affairs program, Island Environment 360. It is Maui's only commercially broadcast public affairs show on environmental and related Hawaiian cultural topics, aired on the stations of H-Hawaii Media.
About Scott Fisher, PhD:
ARTICLE CONTINUES BELOW AD
Fisher grew up in Kula, and at age 17 enlisted in the US Marine Corps. After his discharge, he studied at Colorado State University.  His graduate work includes an M.A. in Peace Studies with a concentration in Native Hawaiian Strategies of Peacemaking and Reconciliation. 
His PhD explored the dynamics of post-conflict recovery in a civil war on the island of Bougainville, Papua New Guinea, with a particular emphasis on how communities make wise decisions about conflicts over natural resources.  Fisher also holds a graduate certificate in ecological restoration from the University of Idaho.
Since 2003, Fisher has worked for the Maui Coastal Land Trust, first as a project manager at the land trust's 277-acre Waihe'e Coastal Dunes and Wetlands Refuge, and now as the Chief Conservation Officer for the Hawaiian Islands Land Trust.  In this capacity he has been involved in all aspects of ecological restoration work on land trust properties. 
In 2017, Fisher began a three-year research fellowship in Paleoecology with the University of Leicester in England.  With materials collected in Hawaiʻi, and with the assistance of the Quaternary Palaeoecology Working Group, his research was able to reconstruct the dominant floral species at Waiheʻe over the past 12,000 years (since the beginning of the Holocene).  More recently Fisher has been consulting with the US Forest Service on a wetlands restoration project in western Madagascar.