Maui News
Maui Obituaries: Week Ending Nov. 14, 2021
Maui Obituaries for the week ending Nov. 14, 2021. May they rest in peace.
June 14, 1938 – Oct. 30, 2021
Stanley Y. Takushi 83, of Pāʻia passed away on Oct. 30, 2021.
He was raised in Pāʻia, attended Maui High School and Northroph Institute of Technology Aeronautical School in Los Angeles. In 1961, Stanley owned and operated the Shell Station across from Maui Beach Hotel. Then in 1969, he opened Smiles Auto Specialtist on Ano Street in Kahului.
Stanley is survived by his wife of 62 years, Mary Takushi. Together they raised three sons, Craig (Nora), Wayne (Ivy), Kelly (Aimee). He has eight grandchildren, seven great-grandchildren, sister Jane "Aiko" (Shige-Deceased) Inouye of Molokaʻi, and several nieces and nephews.
ARTICLE CONTINUES BELOW AD
ARTICLE CONTINUES BELOW AD
He was predeceased by his parents Yasuichi and Shigeko Shirota Takushi, and brother Karl "Kully" (Patricia) Takushi.
Services will be held at Norman's Mortuary on Tuesday, Nov. 23, 2021 following all COVID-19 precautions and protocols.
Doors will be open to the public at 9 a.m. with prayer service at 10 a.m.
---
Aug. 1, 1941 – Oct. 24, 2021
Harriet "Haleaka Koa" Corpuz, 80 of Lahaina has gone home to be with Jesus on Oct. 24, 2021 peacefully under the care of Islands Hospice.
ARTICLE CONTINUES BELOW AD
Harriet was born on Aug. 1, 1941 to David Koa and Adaline Pe'a.
She grew up in the Honolua-Honokohau area she went to school at Sacred Hearts in Lahaina then Honolua School. After finishing the 8th grade she wanted to help her mom and dad so she went to work for Maui Land and Pine as a pineapple picker alongside her dad and who was the boom truck operator.
In 1964 she got married to Jose Corpuz, and they moved to Lahaina at Keawe Camp. Then later moved to Lahaina Pump Camp. After having her three children she went to work for the Pioneer Mill as a seed cutter, she also worked on the planter. Her last position was a D9 bulldozer operator til the mill closed down.
Harriet is survived by her husband the late Jose B. Corpuz Sr. Her children the late Linda Marie Kainoa Corpuz Latuselu, Harriet Ekekela Corpuz, Jose B. Corpuz Jr. (Darla). Hanai daughter Katherine "Lei" Estrella. Grandchildren: Christine Marie Latuselu (Fano Sulunga), + Kuha'o Latuselu (Jana Laborte), Zane Corpuz (Liz), Jose B. Corpuz III, Joshua Corpuz, Joey Corpuz, Jarred Corpuz, Jordan Corpuz, Hanai Grandchildren: Sakapo Latuselu, Kilisitina Latuselu, Great Grandchildren: Wysemyn Kuha'o Latuselu, Zane Corpuz Jr., Ezra Corpuz. Her Parents: + David Koa Sr., + Adaline Pe'a. Her Siblings: + Louise "Sista" Smith (+ John), + George "Keoki" Koa, + David "Kaika" Koa Jr. (Dorthy "Pake"), + Katherine "Tita" Jackson (+ Leonard), + Albert "Abe" Koa(Annabel "Anne"), + John "Kinona" Koa (Gladis), + Francis "Lono" Koa (+ Bertha), + Mary Ann Brown (+ George), Josephine "Jolobean" Kahahane (+ George).
Celebration of Life for Harriet will be held at Norman's Mortuary in Wailuku 8:30 a.m. for family, public viewing will start at 9 a.m. Service will start at 11:30 a.m.
ARTICLE CONTINUES BELOW AD
Due to Covid-19 the Mortuary will only allow audience of 82 people for inside seating during service time. Mask and social distancing required. There will be a short grave site service at Maui Memorial Park 2 p.m.
Mahalo Nui Loa to the staff at Kahana Liberty Dialysis: Aileen Rachel, Lani, Bliss, Sheila, Josephine, Caitlyn, Christine, Sky, Stacey and Franco. To the staff at Islands Hospice: Tiare, Ashley, Noel, Gloria, Ohana, especially to Julia for taking care of my mom….We are so grateful!
---
Dec. 4, 1950 – Nov. 9, 2021
Bernard Fujishiro Jr. of Keʻanae passed away on Nov. 9, 2021. He was born on Dec. 4, 1950 to Mr. and Mrs. Bernard Fujishiro, Sr. He is survived by Antone and Christina Kinores, Kaleokalani Kau and James Silva.
Funeral services for Bernard will be held at Ballard Family Mortuary located at 440 Ala Makani Street, Kahului, Hawaiʻi 96732 on Friday, Dec. 3, 2021.
Please note that the public viewing will be at 9 a.m. through 10 a.m.
Ballard Family Mortuary has requested that as precaution and for the safety of everyone, all who attend are required to use facial masks and practice social distancing during this time.
---
May 3, 1952 – Nov. 8, 2021
---
May 14, 1936 – Oct. 9, 2021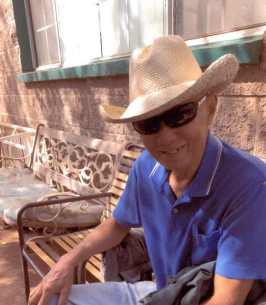 Bonifacio Ibe Yadao, 85, of Kīhei, Maui, went home to the Lord peacefully on Saturday, Oct. 9, 2021. He was born on May 14, 1936 in Sinait, Ilocos Sur, Philippines and he was the only son with four sisters to parents Eulalio Yadao and Teodosia Ibe.
He immigrated to Hawaiʻi in 1967, at the age of 30, to work for Del Monte Corporation on the island of Moloka'i as a laborer until 1977. Then he moved his family to the island of Maui and was employed by Wailea Ekahi as a landscaper.
He then retired at the age of 75. Bonifacio enjoyed spending time with his family, fishing, gathering seaweed and gardening.
He is survived by his wife Corazon of 60 years, sons, Mellie Rodrigo
(Susan) Yadao, Carmelo Yadao and Joe (Jin) Yadao and daughters Melanie Yadao and Evelyn (Brian) Iwankiw.
He also leaves behind 16 grandchildren and six great grandchildren.

Visitation will be held at Norman's Mortuary on Wednesday, Nov. 10, 9 – 11 a.m. with burial to follow at the Maui Memorial Park 12:30 p.m.
---
Nov. 12, 1952 – Oct. 13, 2021
---
Dec. 1, 1939 – Oct. 19, 2021
James Rodney Enriques, 81, passed away on Oct. 19, 2021. He was born in Puʻunēnē, Maui on Dec. 1, 1939.
After high school, he enlisted in the U.S. Army. In 1961 he was hired by Hawaiian Electric on Oʻahu. His love and longing for Maui brought him home where he was able to transfer to Maui Electric. He was a Working Foreman and retired in 1999 after 38 years.
He was an active Lion's Club member, and a proud U.S. Army veteran. His warmth, love, laughter and joy of story telling will be deeply missed by us all.
He was preceded by his loving wife, Rosa (Siarot) and son John Reed Enriques.
He is survived by his children Melissa (Maghanoy) Stoppiello, James R. Enriques, Jr., Robert Enriques, Jacquelynn (Enriques) Wolff, Marcie (Enriques) Schuler; surviving brothers George, John Wayne and Kenneth Enriques; his grandchildren, nieces and nephews.
Service will be held on Nov. 17, 2021 at Norman's Mortuary in Wailuku at 10 a.m. Burial to follow at Maui Veterans Cemetery in Makawao at 1 p.m.
---
Oct. 29, 2021 – Oct. 29, 2021
---
Aug. 7, 1940 – Oct. 30, 2021
Jane A. Leong, 81
Predeceased by:
Husband – Ernest Leong
Parents – Julia and Mamerto Acain
Siblings – Sister Julia Acain, Richard Acain, Leroy Acain, William Acain
Survivors:
Children – Lilli Leong, Eleanor Leong, Ernez Leong, Corey Kampford
Grandchildren – Alana Egan, Lehua Egan, Joshua Meyers
Great grandchildren – Helene Andaya, Leo Kampford
Siblings – Myrna Ham, Lucy Acain, Sister Catherine Acain, Catherine Tsue, Eddie Acain, John Acain, Gilbert Acain, George Dilera
Schedule:
Wednesday, Nov. 10 – viewing from 6 p.m. – 9 p.m. (Norman's mortuary)
Thursday, Nov. 11 – biewing from 9 a.m. – 12 p.m. (Norman's mortuary)
Mass and burial to follow at St. Joseph's Church, Makawao
---
Sept. 10, 1942 – Nov. 2, 2021
Mary Jane Ballio, 79, of Pahala, peacefully passed away with her family by her side on Nov. 2, 2021 at her home.
Born in Kealakekua, she was a retired laborer for Ka'u Plantation, member of the Catholic Youth Organization, Ka'u Christmas Parade organization and board member of The I Love Jesus Church.
Memorial service to be held at a later date.
She is survived by her husband, Raymond Ballio; hanai son, Roscoe "Kawika" Young; daughters, Jammie (Joe) Palacat, Leslie (Alan) Young, and Donnie (Nathan) Almazan; hanai daughter, Leila (Travis) Nelson; brother, Ernest (Gail) Kalani; eight grandchildren, and 15 great-grandchildren, numerous nieces and nephews.
Arrangements by Ballard Family Mortuary Hilo.