Maui News
American Medical Response Maui welcomes new therapy dog and handler
The caregivers of American Medical Response Maui have two new colleagues – and one has four paws and a cute curly coat.
Handler Michael Romo and Rampart, a 2-year-old Goldendoodle, are now bringing comfort and providing emotional support to Maui County's EMS professionals, first responders and community members.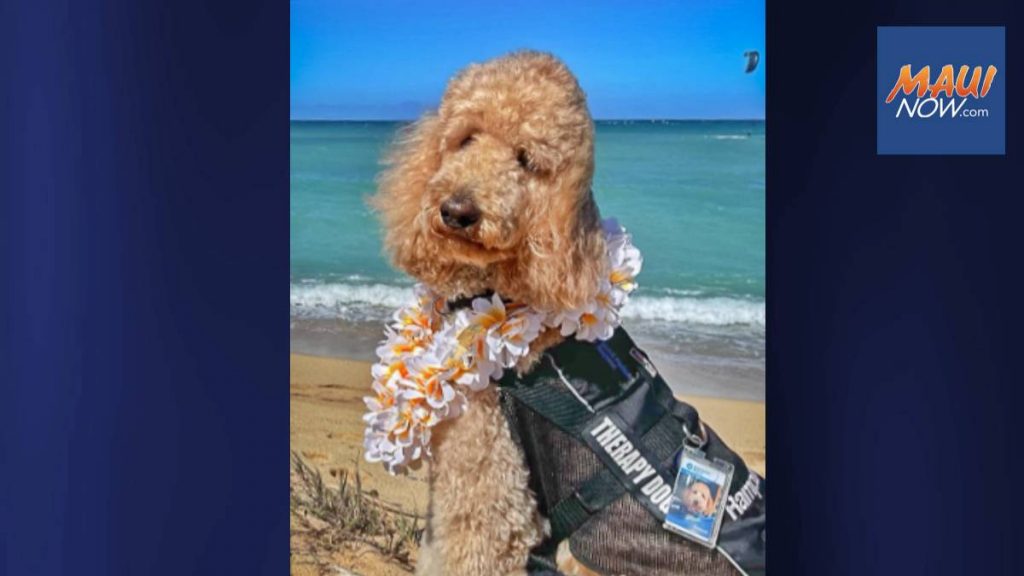 "We are thrilled to welcome Michael and Rampart to AMR Maui," said Speedy Bailey, Regional Director for AMR. "As part of our team, Michael and Rampart assume a very critical role in helping our caregivers manage the stress and emotional challenges that can come from working in such a demanding environment.
"Additionally, they will help other Maui County first responders and community members and will be available for deployments ranging from natural disasters and mass-casualty events to more local emergencies."
ARTICLE CONTINUES BELOW AD
ARTICLE CONTINUES BELOW AD
Romo has worked for AMR as an operations manager and paramedic for more than 20 years and comes to the Valley Isle from San Bernardino County, Calif. He will assume the operations manager role at AMR Maui County.
Rampart has been a part of the AMR team for just two years and completed his therapy dog certification last October. The certification process took a lot of work from both Romo and Rampart. They worked with a professional trainer to complete obedience training, the American Kennel Club Canine Good Citizen program, and a rigorous internal evaluation to become certified members of the therapy dog team. 
"I initially got involved with the GMR Therapy Dog team after I witnessed first-hand the difference they made while I was on a disaster deployment," Romo said. "I enjoy this role immensely. I know I am helping our employees manage those moments of critical stress, and I am bringing smiles and happiness each day just by bringing Rampart to work."
ARTICLE CONTINUES BELOW AD
American Medical Response parent company, Global Medical Response, started the GMR Therapy Dog Program in 2016 in Amarillo, Tex. The team includes more than 33 certified therapy dogs from Florida to the Hawaiian Islands.
In 2017, GMR sent therapy dogs to help first responders in Las Vegas after the Route 91 Music Festival mass shooting. In August 2019, GMR sent therapy dogs to help El Paso first responders after a mass shooting, and most recently, they sent dogs to Louisiana following Hurricane Ida.