Maui News
School bus service to begin from West Maui to designated Central and South Maui schools
The Hawai'i State Department of Education begins free bus service on Sept. 7, for impacted elementary and intermediate students from Lahaina to attend designated schools in Central and South Maui. 
To participate, families from King Kamehameha III Elementary, Princess Nāhi'ena'ena Elementary and Lahaina Intermediate must enroll their students temporarily at the designated schools – Wailuku Elementary or Kamali'i Elementary in Kīhei, and Lokelani Intermediate in Kīhei. The pick-up and drop-off schedule from centralized West Maui locations is listed below.
West Maui families still interested in enrolling at the designated schools may go to the new school to obtain and complete enrollment and bus application forms or show up at one of the bus stops to obtain and complete enrollment and bus application forms.
ARTICLE CONTINUES BELOW AD
ARTICLE CONTINUES BELOW AD
Starting Thursday, Sept. 14, Lahainaluna High School will begin meeting at Kūlanihākoʻi High School in Kīhei. Students who want to take advantage of free school bus transportation from West Maui to Lahainaluna's temporary campus in Kihei are encouraged to sign up in advance at bit.ly/485vRXh. Lahainaluna students will remain enrolled at Lahainaluna and do not need to enroll at Kūlanihākoʻi. Bus schedules will be provided to Lahainaluna families.
Any student who has already submitted a bus application does not need to submit a new application.
The Department will be providing security personnel at pick-up and drop-off locations and will have HIDOE staff on board the bus to support students' well-being.
ARTICLE CONTINUES BELOW AD
"We are still on track to reopen Lahaina schools after fall break in mid-October," said Superintendent Keith Hayashi. "As we await the results of environmental testing to safely reopen campuses, families who continue to live in Lahaina are encouraged to consider attending designated schools in Central or South Maui or applying for distance learning."
Bus schedules for elementary and intermediate students, effective Sept. 7, 2023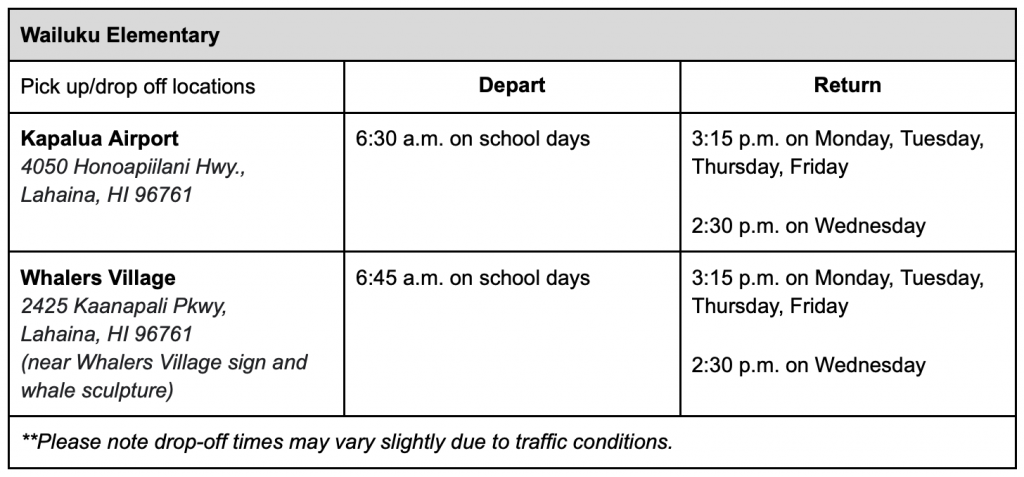 The Department's State Distance Learning Program is currently accepting applications at bit.ly/MauiDistanceLearning; however, due to high demand, applicants are being waitlisted and will be processed in approximately two weeks. Families may register for the State Kaiapuni (Hawaiian language immersion) Distance Learning Program at bit.ly/SKDLPMaui.
ARTICLE CONTINUES BELOW AD
Families who need assistance can call the Department's support hotline at 808-727-6880 or text SUPPORT to 808-736-1427, Monday through Friday, from 7:30 a.m. to 4:30 p.m.