Maui News
Charter Commission Adopts Proposal To Establish Independent Nomination Board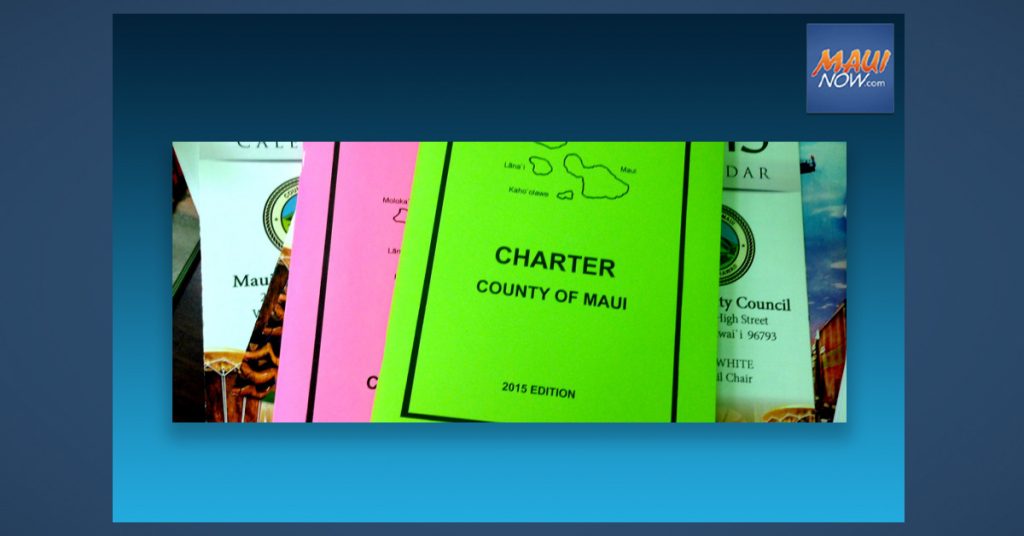 At last Thursday's Maui County Charter Commission meeting, proposals were adopted that would significantly change the selection process and requirements for people serving on County boards and commissions.
Debate was deferred on a proposal to establish community boards, similar to neighborhood boards on O'ahu. 
The 11-citizens Charter Commission is in the midst of a year-long review of the County Charter, which takes place every 10 years. The goal is to improve County government by looking for problems or deficiencies in the way the County now operates or seeking new ways to improve the system of local government by amending the County Charter.
Over the next several months, Commissioners will hear public testimony on almost 70 proposals related to planning, the police, the executive branch (other than planning and police), and a variety of miscellaneous and new provisions.  
ARTICLE CONTINUES BELOW AD
ARTICLE CONTINUES BELOW AD
The Commission members have reviewed an equal number since the Commission convened in March. The community is encouraged to join in and provide testimony at the regularly scheduled meetings.
The first proposal adopted last Thursday — which is found under the heading Theme F – General Provisions and Boards/Commissions — would establish an independent nomination board to formulate a list of qualified applicants from which the Mayor would select his nominees to County Boards, Commissions and Advisory Committees.  
Additionally, the Commission voted for a proposal to repeal "political party membership" criteria, and one that would change member terms to five full years regardless of their appointment date.  
These three proposals align with the Commission's goal of promoting greater representation and diversity among the County's boards and commissions.
ARTICLE CONTINUES BELOW AD
Also under Theme "F," the Commission endorsed a proposal allowing electronic signatures on documents and one to remove the penalty ceiling for violations of Charter provisions. 
A proposed amendment to limit exemptions related to affordable housing development was deemed not appropriate for the County Charter, and was rejected.
The Commission heard public testimony on Theme G – Planning, under which numerous competing charter amendment proposals would significantly alter the makeup and operations of the Planning Department.  
Two similar proposals to create a Planning Commission for each Community Plan area were defeated, and following lengthy discussion, the Charter Commission elected to defer the vote on a proposal to create community boards in Maui County.  
ARTICLE CONTINUES BELOW AD
The Commission will debate community boards and the 18 remaining proposals under Theme "G" at its next meeting scheduled on Oct. 21.
Among the agenda items still pending are proposals to abolish the Board of Variances and Appeals; delete or change Citizen Advisory Committees; and to create a Cultural Resources Commission that would identify and report on County lands deemed culturally or historically significant.
There also is a suggestion to give some regulatory authority over the Kalaupapa Settlement area to the Molokaʻi Planning Commission and to remove Kahoʻolawe as a Maui Community Plan area.  
Other proposals seek to revise timelines placed on those involved with land use decisions, and to make Planning Commission membership an elected position rather than a mayoral appointment.
Agenda items are subject to cancellation and will be taken up in the order listed, as time permits. The Commission receives testimony on the topics on its agenda as it moves from one "Theme" to the next. During the meetings, the public can provide testimony via video or by telephone. Written testimony can be sent at any time.  Due to COVID-19 restrictions, public meetings are held online via BlueJeans.
The Charter Commission wants to hear your thoughts on these, and other, important topics concerning Maui County government.  To offer your recommendations visit mauichartersurvey.org.  The public is also encouraged to send written testimony via email to  [email protected].
To ensure timely distribution to the Commissioners, written testimony should be submitted at least two business days prior to the meetings. For more information and to join Maui Charter Commission meetings via BlueJeans follow the link on the Commission website http://www.mauicounty.gov/CharterCommission.