Maui News
Maui Obituaries: Week ending Feb. 26, 2023
Maui Obituaries for the week ending Feb. 26, 2023. May they rest in peace.
Oct. 16, 1938 – Jan. 13, 2023
Joseph Fletcher, Maui Plein Air Painter, passed away Jan. 13, 2023 at Maui Memorial Hospital.
Big-hearted, laughing eyes, impish smile–Joseph Fletcher, 84, was, and still is, an enormous presence in the lives of all those fortunate enough to know him. The husband of Kathy Fletcher, wife and heart-companion of 63 years, father to Dr. Garrett Fletcher (deceased), Greg Fletcher, Mindy Fletcher-Sistar, grandfather to Isabella Fletcher, Connor Sistar and Cameron Sistar. Father-figure to daughter-in-law Iris Fletcher and hānai daughter Monique Rietcheck, Joe was a dedicated family man, a loyal and generous friend and a good neighbor.
Most people on Maui knew Joe a one of the island's foremost plein air painters. A professional artist for over 50 years, it was a rare day (or night) that didn't find Joe in his studio in Kula, paintbrush in hand. A familiar sight along roadsides and beaches, in towns and on hilltops, Joe could be found at his easel pretty much anywhere, capturing the alluring beauty and vibrancy of Maui, along with the island's history in its vintage buildings and the more than occasional old rusty truck. Someone once asked him if he'd ever retire and Joe just laughed. "Retire?" he said. "Isn't that when you bring a chair along when you go out painting?"
Joe's studio was as open as his heart, welcoming visitors from all over the world for decades, enchanting them with his stories and his incredible ability to capture life on canvas and make it shine. Some of his paintings remain on view at Viewpoints Gallery in Makawao, Village Gallery in Lahaina, Maui Hands in Pāʻia, and Hāna Coast Gallery in Hāna. Joe's many students from over the years continue to blossom in their art, aided by his encouraging words and deft pointers. He leaves behind a stunning legacy in his thousands of paintings, in his life stories, and in the love and beauty he continually demonstrated and thus evoked in the hearts of others.
Celebration of Life to be held at Waipuna Chapel, Kula, Feb. 24, 2023, at 11 a.m.
Internment at Makawao Veterans Cemetary, Makawao at 1 p.m.
Reception to follow at 54 Kaui Place, Kula, at 2:30 p.m.
May 6, 1954 – Jan. 28, 2023
Donnette Kahelelani Kaaihue-Johnson, 68, of Wailuku, Maui passed away on Jan. 28, 2023. She was born to Herman and Miriam Kaaihue on May 6, 1954 in Lahaina, Maui.
Raised in the Kahauiki Valley of Honolua, Donnette was one of five children and enjoyed basketball, volleyball and was a talented artist and painter. Donnette was a beloved mother raising two boys and a granddaughter in Kāʻanapali. Later, life brought her to Santa Cruz where she was always drawn to the ocean and piers and enjoyed the entertainment found there. Grand Junction Colorado was a special home in the heart of the Rockies where she had winter wonder adventures with her sister Lei. Finally, she returned home to Maui to reconnect and help support family, always making a big deal about the special occasions and holidays. The true hub of the Meyers ʻOhana.
Donnette's presence was a vibrant and powerful one and will always be remembered for the sincere care and wisdom for which her friends and family loved and enjoyed.
A beloved friend, sister, mother, and great grandmother, Donnette is survived by her sisters, Miriam Kaaihue and Veronica (Bruce) Braun, sons, Mano (Shannon) Meyers and Lukela Meyers; grandchildren, Kula Meyers and Eon Meyers; and great grandchild, Lilinoe Alexander.
Visitations will be held on Saturday, March 4, 2023 at Ballard Family Mortuary in Kahului to begin at 11 a.m.
Jan. 29, 1929 – Feb. 5, 2023
Leslie (Dodo) Capilla, 94, passed away peacefully on Feb. 5, 2023 in Honokaʻa, Hawaiʻi. He was born on Jan. 29, 1929, in California, raised in Kailua, Oʻahu, and worked on his grandfather's dairy, the Campus Dairy for many years before moving to San Jose, California. He retired as a transporter at Los Gatos Community Hospital.
He is survived by sons Allen Capilla of Kamuela, Hawaiʻi; Douglas Capilla of San Jose, California; daughters Laverne Wills of Arlington, Texas; Valerie (Wally) Lono of Honolulu, Hawaiʻi; nine grandchildren; 14 great-grandchildren; and two great-great-grandchildren.
A Celebration of Leslie's Life will be held March 4, 2023 at 11 a.m. at Kailua Beach Park on Oʻahu.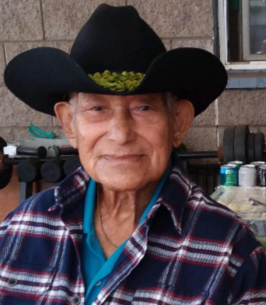 March 26, 1925 – Feb. 11, 2023
Marco Molina Jr., 97 of Waiheʻe, Maui passed away on Saturday, Feb. 11 , 2023. He was born on March 26, 1925 to Marco Molina and Juanita Caravalho of Waiheʻe.
He is survived by his wife, Evelyn Molina; his children, Duane (Corazon) Molina, Donna (Fred) Ventura, Jerome Molina and Wendell Molina; his eight grandchildren and 14 great-grandchildren; his sister, Clara Torres; and brother, Stephen Molina.
Marco worked as a cowboy for the Waiheʻe Dairy, until its closure in 1969 and transferred to Wailuku Sugar Co. where he retired as a seed-bath operator. His passion was for his animals, his favorite horse Queenie and raising cows and pigs. He became fluent in Spanish, Ilocano, and Hawaiian. Dad was a devout Catholic, he loved the Lord and his church family.
One day funeral service will be held at St. Ann's Church, Sat. March 4 2023 with private family 8:30 a.m. to 9 a.m. Public visitation, 9 a.m. to 10:30 a.m. Eulogy at 10:45 a.m. and mass at 11 a.m. Burial at 12 p.m. at Waiheʻe Saint Ann's Parish Cemetery.
Many thanks to the Hospice Maui Team and Hale Makua's East Unit for the tender, loving care they gave dad and us.
Arrangements by Norman's Mortuary with Online Condolences: www.normansmortuary.com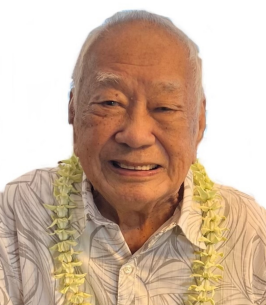 Feb. 10, 1934 – Feb. 15, 2023
Guillermo Patubo Parilla, (aka Immong), 89, of Kahului, Maui, Hawaiʻi passed away peacefully at home surrounded by loved ones. Guillermo was born on Feb. 10, 1934 in Bantay, Ilocos Sur, Philippines, to Paulo and Cornelia Parilla, He is the eldest of four children. He was preceded in death by his parents, brother Orlando, and his beloved wife, Laurata Barlongo Parilla. Guillermo and Laurata were married for 65 years and together they raised six children.
Guillermo enjoyed dancing, cooking and was known as the best story teller of the family. Together with his wife, they loved traveling to the mainland to spend time with family, driving his grandchildren to school and activities. He had a magnetic personality which brought smiles to people he met.
Guillermo worked as a construction laborer for numerous companies in Maui until his retirement in 1994. He leaves to cherish his memory, his six children Melchor (Erlinda) Parilla, Myrna Parilla, Mario (Henie) Parilla, Merlita (Melvin) Cortez, Miriam (Fernando) Encarnacion, Marlon (Carolina) Parilla; brother, Floro and sister, Librada; and 17 grandchildren and 10 great-grandchildren.
Visitation will be held on Monday, Feb. 27, 2023, 9:30 am at Christ the King Church, Kahului. Followed by celebration of life at 10:30 a.m. and mass at 11:00 a.m. Final resting place in Valley Isle Memorial Park in Haʻikū at 2 p.m.
The family expresses gratitude to family and friends for their love and support and to Maui Medical Group, Hale Mahaolu, Maui Memorial Lanai North, and Hospice Maui for their compassionate care.
Arrangements by Norman's Mortuary with Online Condolences: www.normansmortuary.com