Maui wildfire recovery: Resources and updates for Sept. 5
FIRE UPDATE
The destructive fire in Lahaina that started four weeks ago on Aug. 8, 2023, was declared 100% contained over the weekend, according to an update issued by the County of Maui.
The fire has burned an estimated 2,170 acres. Its path of destruction claimed the lives of at least 115 people, and damaged or destroyed 2,207 structures. Another 385 people remain unaccounted for according to an updated list issued by the FBI on Friday.
County officials say full containment of fires in Kula and Olinda has not been achieved. The Olinda fire is 90% contained and has burned 1,081 acres. The Kula fire is 95% contained and has burned 202 acres.
Olinda fire: 90% contained. Estimated 1,081 acres.
Kula fire: 95% contained. Estimated 202 acres.
Lahaina fire: 100% contained. Estimated 2,170 acres.
Pulehunui fire: A brush fire reported at about 11 a.m. Monday, Sept. 4, near Pulehunui Industrial Park off Maui Veterans Highway burned approximately 4 acres of brush before it was contained at 11:40 a.m. No damage was reported from the fire.
The Maui Fire Department advises the public that "extinguishing the Upcountry fires may take an extended period of time given the large burn area and the nature of the rural terrain. Although containment percentages have not changed over recent days, MFD continues to reassure the public there are no active threats among the three ongoing fires."
ARTICLE CONTINUES BELOW AD
ARTICLE CONTINUES BELOW AD
WEATHER
Variable winds with mostly dry conditions are expected today, Sept. 5. In Lahaina, dry conditions are expected with daytime sea breezes and nighttime land breezes. The Kula area should see gently upslope winds during the day with isolated showers during the afternoon and evening. Light downslope winds with gradual clearing is expected at night. A moderate south swell should peak today, Sept. 5 into Wednesday near or just below the High Surf Advisory threshold. Moderate trade winds will return on Wednesday, becoming breezy by the end of the week.
FATALITY AND SEARCH UPDATE
There are 115 confirmed fatalities with 55 individuals now identified publicly following notification of next of kin.
The police said that five other people have been identified, but their families have not been located and/or notified.
ARTICLE CONTINUES BELOW AD
Previously announced victims of the Maui wildfire disaster:
Louise Abihai, 97, of Lahaina
Nicholas Turbin III, 71, of Lahaina;
Anthony "Tony" Simpson, 43, of Lahaina
Glenda Yabes, 48, of Lahaina
John "Thumper" McCarthy, 74, of Lahaina
Tim Nakamoto, 69, of Lahaina
Leroy Wagner, 69, of Lahaina
Joseph Lara, 86, of Lahaina
Gwendolyn Puou, 83, of Lahaina
Edward Sato, 76, of Lahaina
Eugene Recolizado, 50, of Lahaina
Mark Kaminsky, 59, of Lahaina
David Nuesca Jr., 59, of Lahaina
Poomaikai Losano, 28, of Lahaina
Carolyn Ono, 73, of Lahaina
Pablo Pagdilao III, 75, Lahaina
Coleen Jones, 59, Lahaina
Roxanne Ibara-Hinau, 68, Lahaina
Rogelio Mabalot, 68, Lahaina
George Hall III, 67, Kahului
Todd Nakamura, 61, Lahaina
Bernard Portabes, 75, Lahaina
Tony Takafua, 7, Lahaina
Salote Tone, 39, Lahaina
Faaoso Tone, 70, Lahaina
Maluifonua Tone, 73, Lahaina
Bette Jo Dyckman, 73, Lahaina
Rebecca Rans, 57, Lahaina
Tau Ponali, 66, Lahaina
Valerie Kauffman, 78, Lahaina
Salvador Coloma, 77, Lahaina
Carlo Tobias, 54, Lahaina
Albert Kitaguchi, 62, of Lahaina
Lynn Manibog, 74, Lahaina
Clyde Wakida, 74, Lahaina
Todd Yamafuji, 68, Lahaina
Antonia Molina, 64, Lahaina
Freeman Tam Lung, 80, Lahaina
Theresa Cook, 72, California
Joseph Schilling, 67, Lahaina
Narciso Baylosis Jr., 67, Lahaina
Vanessa Baylosis, 67, Lahaina
Douglas Gloege, 59, Lahaina
Juan Deleon, 45, Lahaina
Conchita Sagudang, 75, Lahaina
Danilo Sagudang, 55, Lahaina
Rodolfo Rocutan, 76, Lahaina
Jonathan Somaoang, 76, Lahaina
Angelita Vasquez, 88, Lahaina
Donna Gomes, 71, Lahaina
Melva Benjamin, 71, Lahaina
Virginia Dofa, 90, Lahaina
Alfredo Galinato, 79, Lahaina
Robert Dyckman, 74, Lahaina
Buddy Jantoc, 79, Lahaina
While 100% of the land search has been completed, the FBI continues to search nearshore waters for personal effects and potential remains.
ENTRY INTO DISASTER AREAS
At this time, there is no list allowing residents to return to the disaster area in Lahaina. There will be a coordinated effort to develop a plan for the safe return of residents. Currently, the disaster area is restricted to authorized personnel only. Dangers include ash that may contain toxic, cancer-causing chemicals with debris including broken glass, exposed electrical wire, and other objects. Unstable structures may contain hazardous materials and could collapse, causing injury. For those who can return to their properties, county officials urge all individuals to utilize Personal Protective Equipment (PPE). More recommendations regarding PPE are available here.
UNSAFE WATER ADVISORY
ARTICLE CONTINUES BELOW AD
The County of Maui Department of Water Supply continues collecting water samples for daily testing in Unsafe Water Advisory areas of Lahaina and Kula. Results take several days to obtain, and the department must replicate the results several times before the Unsafe Water Advisory can be lifted. The department is working with the Hawaiʻi Department of Health, US Environmental Protection Agency, and a Purdue University expert to ensure the water is safe before canceling the Unsafe Water Advisory.
Until further notice, residents in Unsafe Water Advisory areas of Lahaina and Kula should only use bottled water or potable water provided from tankers for things like drinking, brushing teeth, ice-making and food preparation. Residents in impacted areas are not able to treat the water in any way to make it safe to consume, with contaminants possibly having entered the water system.
For potable water, please bring large, sterilized water containers to:
Lahaina: Lahaina Gateway Center, Honokōhau Valley, Behind Lahaina Baseyard, Kahoma Village, Hawaiian Homes/Lahaina Civic Center
Upper Kula: Crater Road, Copp Road, Holy Ghost Church, Rice Park, Ching Store, ʻUlupalakua Ranch Store
An interactive map depicting the precise location of the Unsafe Water Advisory is available online 
Solar shower bags available today for Upcountry residents in Unsafe Water Advisory areas
Solar shower bags are available today (Sept. 5, 2023) for Upcountry residents affected by an Unsafe Water Advisory issued following recent wildfires.
Upcountry Strong is distributing one solar bag per household member while supplies last at its headquarters located at the Pukalani Terrace Shopping Center. The location is open from 2 to 6 p.m. Monday through Friday and from 9 a.m. to 1 p.m. Saturday. Details are posted HERE.
UNACCOUNTED-FOR INDIVIDUALS
Authorities still need your help identifying individuals reported unaccounted for following the Lahaina wildfire disaster. The validated list of names is available at mauinuistrong.info/unaccountedfor. If you recognize a name on the list and know the person to be safe, or have additional information that may help locate them, please contact the Federal Bureau of Investigation at 888-814-7693 or go to www.fbi.gov/MauiFires.
Anyone wishing to report an individual who is still unaccounted for is asked to email [email protected] and provide the following information:
Person reporting: first and last name, contact information and relationship with the unaccounted for individual.
Unaccounted individual: first and last name, age or date of birth, last known location and last known physical address of residence.
For those seeking information regarding those who are unaccounted for, the Family Assistance Center is located at the Hyatt Regency's Monarchy Ballroom, 200 Nohea Kai Drive, Kāʻanapali. It is open daily from 10 a.m. to 8 p.m.
If you live on a neighbor island or the US Mainland, are the immediate family member of a person missing as the result of the Maui wildfires, and you wish to provide a DNA sample to assist, please call the FBI Honolulu Division at 808-566-4300 or email [email protected].
Police say DNA samples are only for identification of wildfire victims and survivors, and will not be stored or used for any other purpose.
The FAC has received reports about Maui community members receiving calls from individuals or organizations claiming to be with "DNA Services." These telephone calls are scams, and anyone receiving them should hang up immediately and report them to the Maui Police Department's non-emergency number at 808-244-6400.
HAZARDOUS MATERIALS REMOVAL
The US Environmental Protection Agency has been assigned by the Federal Emergency Management Agency to survey, remove, and dispose of hazardous material from properties affected by the wildfires in Lahaina, Kula, and Olinda. Hazardous materials could include compressed gas cylinders, pesticides, fertilizers and ammunition, as well as lithium-ion batteries, and in particular solar battery storage on homes.
As of Sept. 4, the EPA has two reconnaissance teams and six removal teams in Lahaina performing assessment and removal of hazardous materials for Phase 1. EPA has completed work in Kula and has completed removal of hazardous material at 268 properties in total, which is roughly 15% of the total number of properties. EPA is adding three more teams to have a total of nine removal teams working in Lahaina.
LAHAINA HARBOR ACCESS
For the most up-to-date information regarding Lahaina Harbor access, future salvage operations and available resources, please go to the US Coast Guard Homeport, Sector Honolulu website at https://homeport.uscg.mil/port-directory/honolulu. The information is under Safety Notifications within the Safety Alerts. Select "Western Maui Wildfires Stakeholder Guide," dated Aug. 28, 2023.
TRANSPORTATION
Restrictions for late-night vehicular access into West Maui via Honoapiʻilani Highway have been lifted recently. The Maui Police Department will cite and tow vehicles parked at the Lahaina Bypass, where no-parking signs are posted. The impact zone remains off limits, as outlined in the second emergency proclamation signed on August 8, 2023, by Mayor Richard Bissen.
RESOURCE UPDATES:
FOOD DISTRIBUTION / DONATIONS
Food and supplies will be distributed to West Maui residents at Lahaina Gateway, 325 Keawe St.: 10 a.m. to 4 p.m. Wednesday, Sept. 6. The selection and quantity of items will be reduced in preparation for a move to a new location at Kahana Gateway, 4405 Lower Honoapiʻilani Road. On-site mobile health vehicle. On-site mobile health vehicle.
The old Kahului Safeway at 170 E. Kamehameha Ave. is open as a new location to accept donations of non-perishable food, water and paper supplies only. Donations will be accepted on Monday, Wednesday and Friday 10 a.m. to 4 p.m. Those impacted by the fires can also pick up supplies. Donations are no longer being accepted at the former location at Queen Kaʻahumanu Center.
Feed my Sheep mobile food distribution sites are set up at:
150 South Puʻunēnē Ave. in Kahului: on Saturdays from 9:30 a.m. to 12 p.m.
In the parking lot next to Living Way Church, at the corner of Market and Mokuhau streets in Happy Valley: on Fridays from 10:30 a.m. to 11:30 a.m.
County of Maui Division of Motor Vehicles and Licensing staff assisting with replacement identification Wednesday, Sept. 6 at Lahaina Civic Center
Staff from the County of Maui Division of Motor Vehicles and Licensing will be at the Lahaina Civic Center from 9 a.m. to noon Wednesday, Sept. 6 to assist those affected by fires who lost their State of Hawaiʻi driverʻs licenses or State of Hawaiʻi identification cards in obtaining replacements.
THE SALVATION ARMY PIVOTS TO LONG-TERM RECOVERY ON MAUI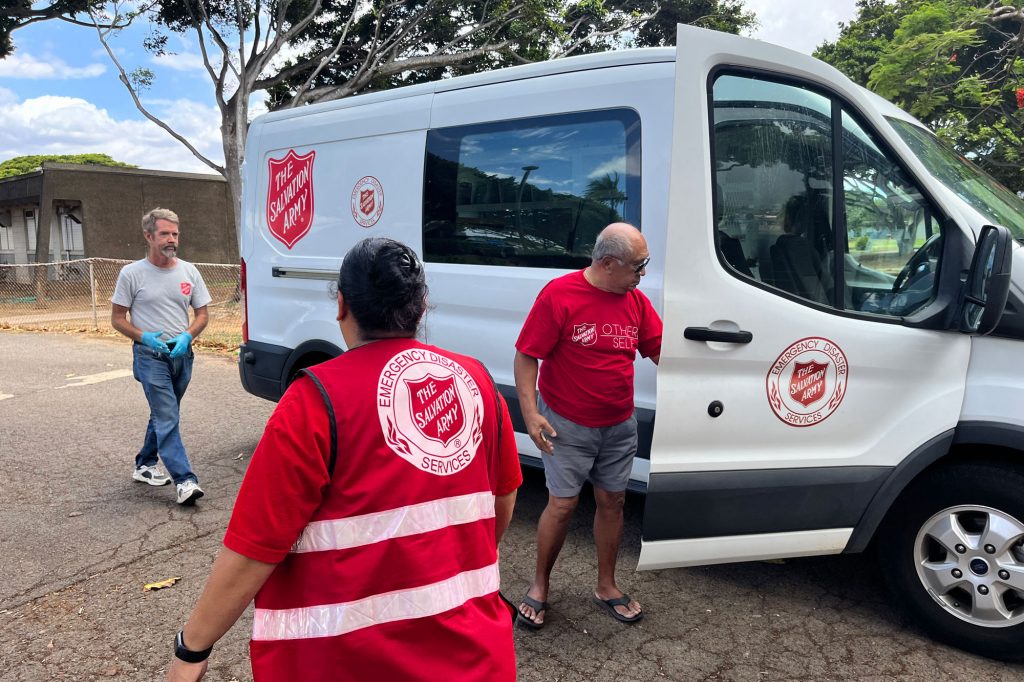 As Maui pivots to provide stability to the community affected by the historic wildfires in Lahaina and Kula, The Salvation Army continues providing meals and care to survivors.
Activated from the first moments of the Maui fires on Aug. 8, 2023, The Salvation Army has prepared 55,303 meals and coordinated a total of 352,597 meals through local and nonprofit partnerships at 39 feeding locations during the initial phase of the relief effort, now transitioned from shelters to local hotels.
"The Salvation Army continues to provide and coordinate thousands of hot meals, snacks and drinks to survivors of the Maui wildfires. We are also providing Emotional and Spiritual Care to a community experiencing catastrophic loss. The effects of this disaster will have a lasting impact on the future of this community, and The Salvation Army is committed to the well-being and recovery of Maui residents", said Major Troy Trimmer, The Salvation Army's Hawaiian and Pacific Islands Divisional Commander. "We are grateful for the partnerships of local restaurants, vendors and trades who have stepped up to help us provide resources to this community."
Here's how The Salvation Army is currently involved in serving Maui residents:
Food Service – In collaboration with The American Red Cross on Transitional Shelter Assistance (TSA) program at area hotels, The Salvation Army is providing and coordinating daily hot meals to survivors.
Emotional & Spiritual Care – Emotional & Spiritual Care staff are on the island providing care and comfort through The Salvation Army's "ministry of presence." They are the eyes and ears of The Salvation Army Emergency Disaster Services. As they minister throughout the community, they provide information on available resources and also share information about survivors' needs with the Army's Incident Management Team.
Needs Assessments – The Salvation Army is on site at FEMA's Disaster Recovery Centers (DRC) and the Maui County Family Assistance Center (FAC) from 9 a.m. to 5 p.m. daily to meet with Maui residents who have registered for federal assistance. We are meeting with individuals and families to make long-term needs assessments.
FEMA Disaster Resource Center (DRC)
University of Hawaii Maui College (UHMC)
310 W. Kaʻahumanu Avenue
Kahului, Maui 96732
FEMA's MEGA Disaster Resource Center (DRC)
Lahaina Civic Center
1830 HI-30
Lahaina, Maui 96761
Family Assistance Center (FAC)
Hyatt Regency Maui Resort & Spa – Kāʻanapali
200 Nohea Kai Drive
Lahaina, Maui 96761
The Salvation Army is an active member of the State of Hawaiʻi Voluntary Organizations Active in Disaster (VOAD) and is coordinating with partners on the island and beyond to maximize food and resources to get to people in need," said Victor Leonardi, The Salvation Army's Divisional Director of Emergency Service & Safety and VOAD Chairman. We are asking for financial gifts at this time, as it allows us to maximize purchase power and reinvest in Maui's economy, which has taken a tremendous hit. We would like to increase our capacity to respond to the needs of the community. As we identify unmet needs and work to provide short-term assistance and long-term solutions, warehouse space and cold food storage would allow us to expand our operations.
Donations may be made online at Hawaii.SalvationArmy.org or text HAWAIIFIRE to 51555. Listings of current volunteer opportunities also may be found at Hawaii.SalvationArmy.org.
HEALTH CARE:
Kaiser Permanente now has two mobile health vehicles and one first aid station providing care on Maui. See below for locations and hours of operation. 
Kaiser Permanente's Mobile Health Vehicle location and hours:
Nāpili Park: Monday through Friday, 9 a.m. – 4 p.m.; closed Saturdays and Sundays

Providing first aid, pediatric services, and OB/GYN services
OB/GYN services are offered every Friday
Pharmacy courier services to the mobile health vehicle are available to people picking up medications

Royal Lahaina Hotel: Monday through Friday, 9 a.m. – 4 p.m.; closed Saturdays and Sundays

Providing first aid services
Starting Wednesday, Sept. 6, pharmacy courier services to the mobile health vehicle are available to people picking up medications

Kaiser Permanente's First Aid Station location and hours:

Hyatt Regency in Kāʻanapali, Maui Suites, Promenade Lower Level: Monday through Friday, 9 a.m. – 4 p.m.; closed Saturdays and Sundays

Providing first aid and wound care services
Pharmacy courier services from the mobile health vehicle are available as needed
RESOURCE HUB: DONATION & VOLUNTEER INFORMATION
An online, centralized hub to respond to the impacts of the Maui Wildfire Disaster is available at mauinuistrong.info. The County of Maui's "Maui Nui Strong" site offers information on how to donate, volunteer, offer services and locate support. Support information on the Maui Nui Strong site includes resources for Financial Assistance, Government Services, Medical Care, Mental Health Services and more.
CALL CENTER
The State of Hawaiʻi and Maui County have launched the Maui Disaster Support Call Center. The call center can be reached at (808) 727-1550 between 6 a.m. to 10 p.m. daily, and provides a central assistance hub for community members affected by the Maui wildfires.
COMMUNITY INFORMATION BOARDS
Information boards are now located at these locations:
Kula Lodge Water Hub – 15200 Haleakalā Hwy., Kula
Nāpili Park – 22 Maiha Street, Nāpili
Nāpili Plaza – 5095 Nāpilihau St., Lahaina
S-Turns Pohaku Park ʻOhana – Lower Honoapi'ilani Rd., Honowokai
Times Supermarket Honokōwai – 3350 Lower Honoapi'ilani Rd., Lahaina
Sheraton Maui Resort & Spa – 2605 Kā'anapali Parkway, Kā'anapali
Hyatt Regency Maui – 200 Nohea Kai Dr., Lahaina
Lahaina Gateway Center – 325 Keawe St., Lahaina
Kelawea Mauka 2 – Niheu Street (Lahainaluna Road)
Kelawea Mauka 3 – North Hopoe Place (Lahainaluna Road)

Kelawea Mauka Makai Park Hub, near Lahainaluna Road and Lahaina Bypass

Safeway Kīhei – 277 Pi'ikea Ave., Kīhei
SHELTERS
Hotel shelter locations are open at 24 locations around Maui, in coordination with the American Red Cross. There were 5,852 people housed overnight Monday at the locations, which provide a temporary solution to give families and individuals a comfortable and safe place to stay near their community while more permanent housing plans are developed. Residents in hotels receive the same Red Cross services previously provided in shelters, including meals, mental health support, health services, reunification services, spiritual care, financial assistance and casework. As part of the recovery process, Red Cross caseworkers connect one-on-one with people to create recovery plans, navigate complex paperwork and locate help from other agencies.
Residents who are sheltering in hotels will be asked to show proof of prior residency within impacted areas of Maui County by September 15. People who are unable to provide proof of residency, including non-citizens and those who did not have stable housing prior to the disaster, should call 800-733-2767 for help.
Anyone who meets requirements once the Safe Harbor Sheltering program ends can expect to receive lodging support for the next six months to a year. The determination for a continued stay beyond the Safe Harbor end date is based on meeting eligibility criteria, which is a determination of the state and FEMA and not a decision made by the Red Cross.
To register with FEMA for shelter or financial assistance, call 1 800-621-3362, visit disasterassistance.gov, or apply through the FEMA smartphone app. You can also get assistance in person.
A Disaster Recovery Center operates daily from 8 a.m. to 7 p.m. at the University of Hawai'i Maui College (310 W. Ka'ahumanu Ave., Community Services Building 205).
A Disaster Recovery Center is now available at the Lahaina Civic Center gymnasium, 1840 Honoapiʻilani Highway from 8 a.m. to 7 p.m. daily.
An additional FEMA Disaster Recovery Center is open at the Mayor Hannibal Tavares Community Center, located at 91 Pukalani St., Makawao. Services are available from 8 a.m. to 7 p.m. daily.
People who do not meet FEMA qualifications will be eligible for hotel emergency lodging through the Red Cross, including non-citizens and those who were homeless prior to the fires. For information, call 1 800-733-2767.
COMMUNICATIONS
The Federal Communications Commission has temporarily waived certain eligibility rules to ensure that people receiving federal disaster assistance due to the Maui fires can easily apply for and enroll in Lifeline, a federal program that helps lower the cost of phone and internet service. More information, including how to enroll, is available at https://www.lifelinesupport.org/.
POSTAL SERVICE
Vacant PO Boxes at Post Offices across Maui will be temporarily made available at no charge to Lahaina residents who lost their homes or their Lahaina Downtown Post Office PO Boxes. Qualifying residents may request their free PO Boxes at any Maui post office. The latest updates on mail service are available by calling 808-423-6000. Displaced customers who would like to redirect their mail to new addresses should submit US Postal Service Change of Address requests as soon as possible online or at their local post office.
UNEMPLOYMENT
Workers, business owners and self-employed residents of Maui who became unemployed or had reduced work hours due to the wildfires may be eligible for disaster unemployment benefits from Aug. 13, 2023 to Feb. 10, 2024 if unemployment continues to be a direct result of the disaster. Regular unemployment insurance and disaster unemployment benefits cannot be paid at the same time. The deadline to apply is Sept. 25. To apply go to https://uiclaims.hawaii.gov. Those who are not able to file online can apply toll-free: 833-901-2272; 833-901-2275; 808-762-5751 or 808-762-5752.
MENTAL HEALTH SUPPORT
Many people are experiencing strong emotions, anguish, and deep loss following the devastating Maui Wildfires. Mental health support is available. Visit www.mauinuistrong.info for a comprehensive list of resources for individuals, families and helpers. In addition, the Red Cross Disaster Distress Helpline is available 24/7 for counseling and support: 800-985-5990.